Earlier this week, the Florida Family Association announced that General Mills and realty company RE/MAX had caved to their demands that both companies pull advertising from the ABC Family show Pretty Little Liars because of its lesbian content, and the fear that it might be somehow permanently damaging to young impressionable viewers.
A reminder of the FFA's statement:
"Unlike any other show on unrestricted advertiser-supported television networks, the majority of the primary cast on 'Pretty Little Liars' are lesbians. The series has grown from one lesbian lead character to three. The majority of the viewers of 'Pretty Little Liars' lesbian show are children. More than half or 1.3 million of the 2.5 million female viewers are children — girls between the ages of 12 and 18 according to cable reports on Deadline.com. This report does not include girls younger than 12, but certainly they are also watching by the tens of thousands. ABC using salacious and glamorizing scenes portraying young, pretty women as lesbians sends the wrong message to these young girls, a message that reinforces and legitimizes this homosexual lifestyle in a manner that could affect these young girls' sexual identity for a lifetime."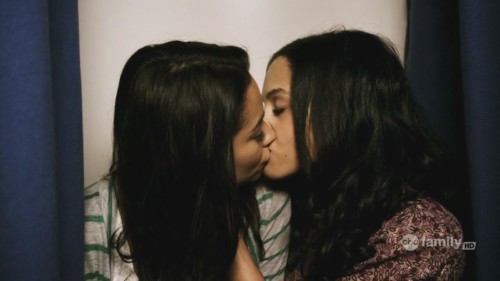 On their website,  the FFA publish communications from both General Mills Director of Consumer Services Jeff Hagen and RE/MAX CEO Margaret Kelly, claiming that both these companies have "said NO to Pretty Little Liars lesbian content." Specifically, they state that "Most companies that stop advertising during the programs monitored by Florida Family Association do not send a written acknowledgement of their decision.  However, Florida Family Association tries to inform supporters of the advertisers that do send an acknowledgement."
Given that, based on their "about" page, the Florida Family Association seems to be mostly one person, its founder and executive director David Caton (although THOUSANDS OF SUPPORTERS are alluded to, literally in all caps), it seems unlikely that all that many companies have stopped advertising because of the FFA's efforts. Actually, it seems kind of improbable that General Mills and RE/MAX did, either — they're major corporations with nationwide presence, and one apparently minor organization in Florida seems unlikely to have much pull with them. Is the FFA's story true? Did they manage to shift two huge corporations away from targeting preteens and high school students who like shiny hair and expensive clothes?
Upon contacting Jeff Hagen, he was quick to point out that he isn't the company's official spokesperson. But he claims that contrary to the FFA's story, General Mills already didn't advertise on Pretty Little Liars — and says that the media company's decision in that matter was for advertising and audience members, not because of "any individual characters." He's confirmed that he did in fact email David Caton — as a refresher, here's what FFA says that Jeff Hagen wrote: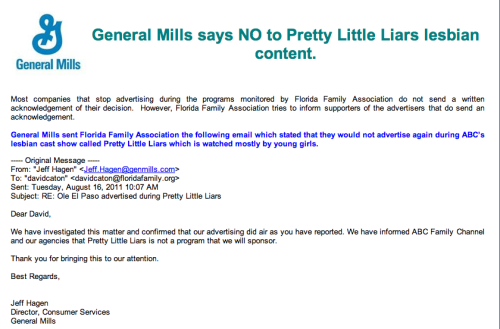 Autostraddle reader Katie has also contacted Hagen, and while he informed me that the company's decision not to advertise it was unrelated to the content of the show, Katie says he told her that "GM doesnt want to advertise on anything sexual or not family oriented," although Hagen also doesn't think it has anything to do with the FFA's allegation of "promoting a gay agenda." When questioned, a PR spokesperson said:
We make advertising decisions based on the audience demographic reach of a program and relevance for our brands, and we make changes to our ad buys all of the time. That should not be misinterpreted. The decision is entirely based on the relevance of the show's audience for our brands, not because of the sexual orientation of individual characters.
Hagen reiterated that he was not GM's spokesperson, and officially declined to comment on whether or not he felt the FFA had misrepresented or misconstrued his communication. It's undeniably confusing, however, that he says to the FFA that advertising did occur in this email, and said the opposite when contacted by phone. Mr. Hagen has declined to comment further. It's unclear whether the discrepancies in General Mill's communication with the FFA will be explained, but in the meantime the issue is gathering attention and momentum in the queer community.
UPDATE: General Mills published a blog post from their Vice President of Communications Tom Forsythe, which reads in part:
As we have explained to bloggers all weekend, the sexual orientation of characters was not a factor in our decision. General Mills does not make advertising placement decisions based on the sexual orientation of characters. Nor was our decision the result of external pressure from any group.
We made our decision based on audience demographics. We also considered program content, which has evolved into areas such as stalking and student-teacher relationships. The sexual orientation of characters on the program wasn't a factor. 
It does not confirm, deny or explain the email that Jeff Hagen sent, other than to declare that the FFA's statement that "General Mills says NO to Pretty Little Liars Lesbian Content" is "incorrect." (The FFA is not mentioned by name in the post.)
Ronda Scholting, Public Relations Manager for RE/MAX, said that she's never heard of the show and was unable to confirm whether Margaret Kelly really had sent the email in question to the FFA. The FFA's website says that Kelly told them "We have looked into this situation and discovered that while we purchase advertising on this cable station, we do not purchase advertising on that particular show… We have informed our media company to be sure to reference our list of shows that we do not want to advertise on …  this show is on the list. This should not happen again." Scholting said she would look into the issue before speaking further, and has made no comment as of press time. Kelly's (alleged) email communication didn't specifically mention the gay content of the show that was Canton's concern.
David Caton has historically opposed protections for gay and transgender people in Tampa, as well as "Gay Days" at Disney, GSAs, queer theory classes, selling porn at convenience stores, "raunchy radio," and perhaps most puzzling, light rail. The FFA has no phone number listed on their website, and emails to them went unanswered. How effective have they really been in trying to stop teenage girls across America from realizing that "young, pretty women" can in fact be lesbians? At this point, it may be up for debate. But to the extent that the FFA may or may not have seen any benefit from putting pressure on these corporations, there's certainly room for others to as well. Pretty Little Liars and shows like it aren't the key to equal rights for the queer community, but for kids who need to see themselves reflected back into their lives — the exact same girls that the FFA claims to be worried about — it's worth protecting.