While queer girls watching ABC's Pretty Little Liars may be upset that A is trying to ruin Emily's chances of ever having a cute girlfriend for more than three episodes, Emily's baby queer love life has worse problems in store. The Florida Family Association is so scandalized by what's currently one of the most accurate and generous portrayals of a young queer woman on TV that they're pressuring advertisers to pull out of PLL — including, most notably, General Mills.

Their campaign first began back in July, when they released a statement so unhinged (and inaccurate, as fans of the show will ruefully point out) that it seemed safe to assume it would never go anywhere.
"Unlike any other show on unrestricted advertiser-supported television networks, the majority of the primary cast on 'Pretty Little Liars' are lesbians. The series has grown from one lesbian lead character to three. The majority of the viewers of 'Pretty Little Liars' lesbian show are children. More than half or 1.3 million of the 2.5 million female viewers are children — girls between the ages of 12 and 18 according to cable reports on Deadline.com. This report does not include girls younger than 12, but certainly they are also watching by the tens of thousands. ABC using salacious and glamorizing scenes portraying young, pretty women as lesbians sends the wrong message to these young girls, a message that reinforces and legitimizes this homosexual lifestyle in a manner that could affect these young girls' sexual identity for a lifetime."
They apparently had no comment on The Real L Word. But despite the FFA's clearly unfounded and homophobic claims, it appears some companies advertising with ABC are actually listening to them. Realty corporation RE/MAX has issued a statement told the FFA that it wasn't aware of the advertising situation, because it deals with ABC as a whole and isn't aware of what specific shows it has spots on — but now that it is, PLL has been added to their media company's advertising blacklist.
(UPDATE: This was in fact an email communication, not a public statement by RE/MAX CEO Margaret Kelly — which means only the FFA knows the original context.) 
"We have looked into this situation and discovered that while we purchase advertising on this cable station, we do not purchase advertising on that particular show," Kelly wrote Caton. "We have informed our media company to be sure to reference our list of shows that we do not want to advertise on … this show is on the list. This should not happen again."
 Even worse? The FFA is citing General Mills, of all places. Lest you be forced to visit the Florida Family Association's website, here's their account:
The Florida Family Association also notes an extensive list of advertisers who did not advertise during Pretty Little Liars after receiving emails from the FFA and their supporters, but it's impossible to say which of these companies simply didn't have ads slated for that episode, perhaps never advertised on ABC Family to begin with, or pulled out for other reasons.
According to the 2011 GLAAD Network Responsibility Index for representation of gay characters and story lines, ABC topped the cable networks list and earned the report's second "excellent" ever. That was with 55% of its hours of programming being "LGBT-inclusive" — that doesn't even require having a queer primary character. In contrast, other networks fell far behind even that.
The broadcast networks' ratings fall in the same order as in 2009-10, with The CW in the lead with 33% of LGBT-inclusive hours of original programming, followed by Fox, ABC, NBC, and CBS, with 10%. In the cable networks, ABC Family has a significant lead with 55%, followed by Showtime, TNT, HBO, AMC, Syfy, FX, USA, and A&E and TBS, which both had a shameful 5%.
None of these numbers are dramatically different from years past — there hasn't been much major progress in terms of female LBT representation on TV, and what progress there has been is largely represented by Brittana, The Real L Word and PLL's Emily — who's yet to have a successful lesbian relationship, outfit that isn't a t-shirt and jeans or even really a facial expression. She's hardly a radical lesbian warrior princess.
There's no reason to really think that PLL or Emily's love life are in danger; the network won't rewrite the rest of the season to win over RE/MAX. It's ridiculous that in this day and age people are still fighting to prevent our representation — this is why we haven't been able to see our own stories until recently, and those network statistics still aren't changing.
But perhaps the most insane aspect of this entire campaign has nothing to do with Emily at all. Ladies and gentlemen, this is Aria. She's a junior in high school, so she's probably around 16 or 17: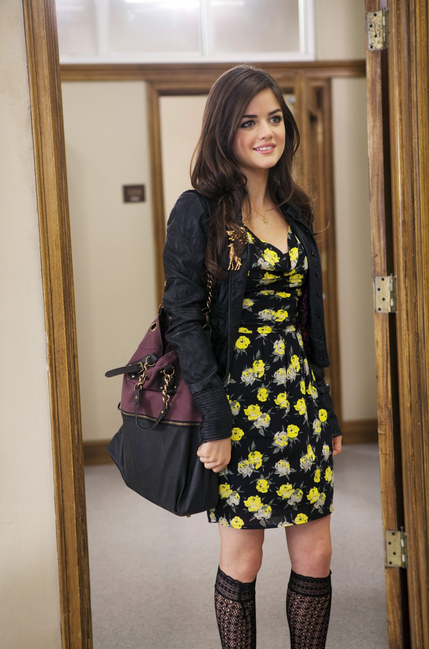 And here's Aria's boyfriend Ezra: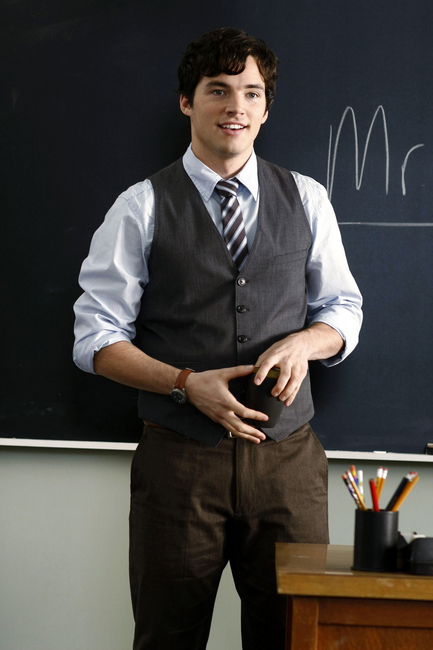 Aria and Ezra met at a bar and hooked up in the first episode and were super-surprised to see one another again when Ezra showed up for his first day of teaching at Rosewood High, where Aria was his student! But they did not let English class get in the way of their steamy affair! So Ezra is 22 or something and Aria is 16 or something…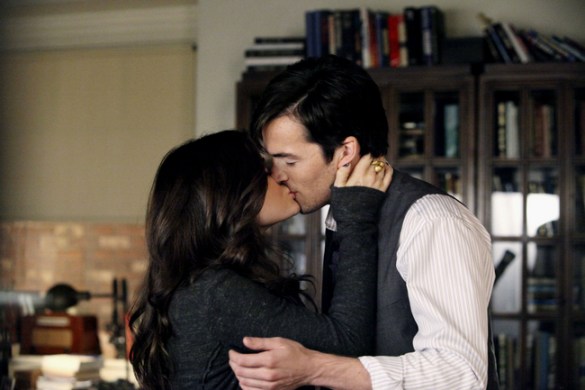 …and the Florida Family Association is concerned about glamorizing HOMOSEXUALITY of all things? Really? I'm not saying they should necessarily raise hell about Aria and Ezra, but their selective watchdogging looks especially ludicrous in this light.
I think it's pretty clear that if anyone's sending the wrong message here, it isn't Emily Fields.