This week on "Pretty Little Liars," neither Samara nor Paige showed up, Emily continued to dress in jeans and loose T-shirts, and Spencer didn't even wear a hat. Obviously, the fashion crew at PLL just wanted to mess with me. Obviously, the fashion crew at PLL is A. I'll do my best.
We kick off this week, like last week, with a scene too scary for me to comment on followed by Spencer at home. Spencer, who had apparently fallen asleep on the couch busted out with this little number.
This outfit totally makes sense, because who doesn't study/sleep in a full panted strappy romper? I had a whole thing prepared where I was going to say I looked all over but couldn't find it but that's probably okay… except then I found it. It's at Anthropologie, like all of Spencer's clothes.
Later, the girls all meet up in bathroom stalls in the girl's room which definitely isn't gay at all. Everyone is wearing skirts/dresses except Emily because ABC Family wants you to know that gay girls are just like other girls, except gay girls don't wear dresses. It's just science.
The most important part of this scene is that somehow Aria got cool feathers in her hair. While maybe we don't all need to walk around with matching one long feather earring, I still think the hair feathers are cool and queer for unknown reasons. Just look!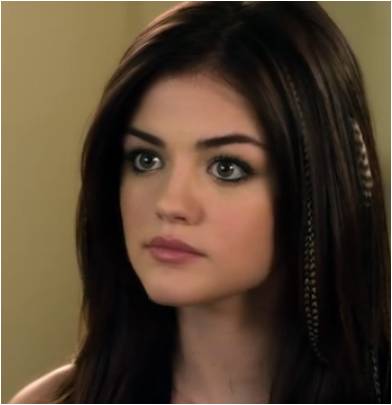 Moving on we get to my least favorite character on the show who, despite being the only age-appropriate male romantic lead, rocks the most lesbian outfit of the episode. Do you guys need me to show you olive V-necks, leather jackets and jeans? No, you already all own them? Right, because Toby wore that outfit specifically because he and Spencer had their picture for the yearbook's "class lesbian couple" photo to be taken after school.
Which leads us to the yearbook meeting. Actually, there was a flashback first, but everything was pastel and I felt really overwhelmed.
So there we are at the yearbook meeting and that lame dude who liked Hannah a hundred episodes ago is wearing a shirt that says "I heart apple pi." You guys, this is it. When I saw this, I literally jumped up and yelled "Oh shit! I need that!" and started looking for it. Wants it.
So the episode starts to wrap up, but Spencer swings by where Toby is working just to have some Truck Time. But wait. Wait. That jacket looks awfully familiar…
If I'm not mistaken, Spencer's jacket clearly came with Hannah's dress!
Indeed, if you have to buy a suit for a job or interview, you can totally split it apart and wear the pieces casually. Moreover, it's not actually surprising that these items might have been bought together because PLL costume designer Mandi Line only spends about 10K per episode on clothing (as oppose to Greek's 25K) and tries her best to keep outfits in an attainable range for high school students. So who knows, maybe Hannah borrowed that dress a year and a half ago and never gave it back. Sounds about right. I wanna be a hater, but lovers gotta love.
Thanks so much to intern Grace for screen shots! Hopefully next week Pretty Little Liars will showcase Paige and Samara in a dramatic (and well costumed) confrontation followed by A revealing why Emily's mom is the most adorably dressed middle aged woman ever.