Remember that beautiful week — when was it? It seems like so long ago. Was it only two weeks ago? Were we ever so young? Were we ever so teary-eyed and wet-pantsed and surprised and shocked and touched and awed and optimistic about everything in the whole wide world?
Reader: we were. And we had reason to be. You couldn't fly a crop-duster through a Burbank backlot without hitting the head of a lesbian/queer/bif-ckingcurious storyline.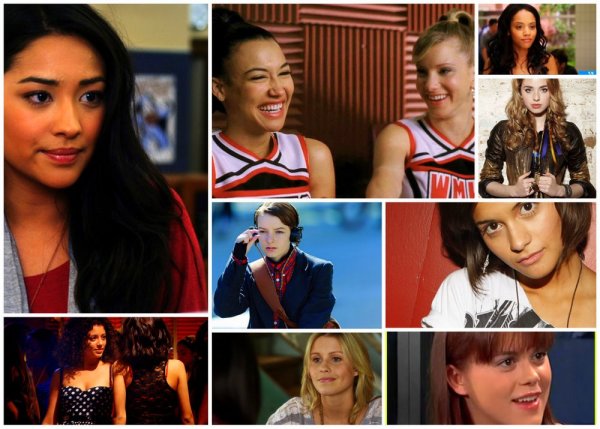 Now that your triweekly serving of Lez is officially over (for the time being) and we still don't know who A. is or which conventionally attractive lesbian Emily will take to next year's Winterdeath Ball or whatever it was, it's time to look back on the season that was. It's time to dwell excessively upon the clear-pored Sapphic or semi-Sapphic humans who graced the screen of my laptop this past winter (because I don't have a teevee, but you probably do, so this might just feel totally different for you than it does for me).
Am I watching "Landslide" again as I type this? Maybe.
This past season has been unquestionably the most lesbionic TV season of all time. This must be how gay men felt for the 356 years Will & Grace was on the air, along with Queer as Folk, Sex and the City, Dawson's Creek, The Office, Entourage, Noah's Arc, Degrassi, The Sopranos and Six Feet Under OR MAYBE even how they feel right now with Modern Family, Glee, Nurse Jackie, Shameless, Gossip Girl, 90210, Lost, Weeds, Big Love, Ugly Betty, Brothers & Sisters, Greek, Mad Men, True Blood, The United States of Tara and basically every single show on Logo.
I talked about why we're getting so much gay TV at the end of my Glee recap and so I've only got this to add: This season we were permitted to dream.
This had not been the case before now. Much like the feeling of ordering from Burger Fresh in the early 90s, we don't expect the people in charge to get everything right. We don't expect a homoerotic 'ship to sail or sexual tension to get a follow-up episode or parents to "come around" to their gay kid. We expect at least one dead and one converted lesbian.
But, again like the feeling of ordering from Burger Fresh in the early 90s, we tuned in just the same because TV provides convenient at-home delivery. That's right, Burger Fresh delivered. In MICHIGAN. So what do you want, a cheeseburger with the-wrong-kind-of-cheese and extra unordered-bacon-even-though-you're-Jewish delivered to your doorstep? Or do you want to look into your freezer to see what's worth re-heating from last year? You follow?
This season we felt slightly less like Lesbo Bevis & Butthead or desperate superfans because the little things we picked up on — Mini's attraction to Franky, Sanatana and Brittany's chemistry — actually got fleshed out, even just a little.
We'll be rating these shows on a Lesbo Rating Scale from "Angry Lesbian" to "Happy Lesbian."


+
Skins UK (e4)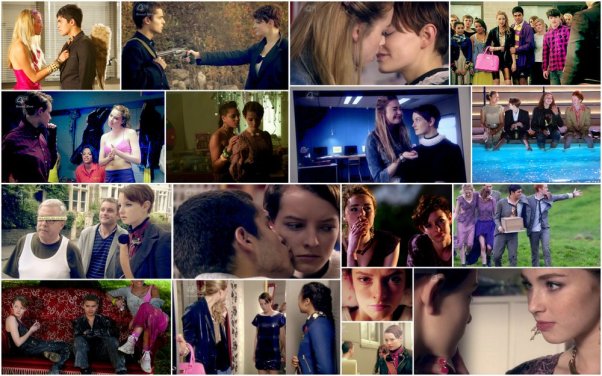 Queers:

Franky – genderqueer and pansexual (relatively confirmed)
Mini – bisexual or a lesbian (suspected)
Dude I Hate Who Coincidentally Ruins Everything: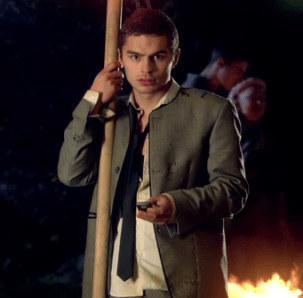 Oh, f- you in the ear Matty, you dark brooding super-complicated emo quasi-rebel, Avril Lavigne is darker than you are in your darkest hour. Courtney Love would smash your face in in a fist-fight and Jordan Catalano would be a better boyfriend. You thrive in the land of vulnerable women because you wear black a lot, which is edgy, and also you're SO SO loyal to your OH SO COMPLICATED heart and its OH SO COMPLICATED feelings and you think if you curl your lip like that then somehow your reckless disregard for the subjects of your emotional attention will pass as genuine confusion rather than selfish, fickle, and pretentious. UGH UGH UGH.
I do think it'd be interesting to see our favorite genderqueer pansexual fawn Franky to date a dude so I'm not even mad about the fact that she seemingly ended up with Matty instead of Mini for gender reasons.
Just — Lawd do I hate this character. Everything he did made me groan.
In the End:
In Skins' Season Five finale, our suspicions that Mini has a Big Fat Lesbian Crush on Franky are confirmed, mostly because she does that thing that you did to your best friend in high school where you pretend to be Dr. Phil ("you deserve better, don't go be with that boy") / Oprah ("You're my best friend! I protect you from the world!") to cover up that you're actually Ellen ("I like girls! Be with me! SURPRISE!") . But also because Mini stores photos of Franky in her cell-phone spank-bank, tries to kill Matty, and constantly wants to touch/hold Franky. Oh, and Liv calls Mini out for her "girl crush."
What precisely transpires in the poppyfields of Somewhere in the United Kingdom where Rich and Grace are going to get married is unclear — Franky thought 9/11 was beautiful, Franky just wanted to be normal for once, she takes a lot of drugs, freaks out when Matty tries to have sex with her which might be because she experienced some kind of sexual trauma earlier in life. Franky runs away, there's a scene in a church basement where Liv starts to kiss Franky's back to appeal to Matty but it doesn't, Liv and Matty break up, and then, at an impromptu wedding reception with a Midsummer's Night Dream theme, Franky arrives, texts with Matty about being a glorious headfuck thing, and then runs into his arms and is held. This could be a friendly hug or a love-forever hug, hopefully not the latter because as aforementioned I find Matty irritating.
Rating:
Skins was, per always, an excellent television program this season, which earns bonus points. Also extra for trotting out TV's first genderqueer pansexual and for making aforementioned genderqueer pansexual so f-cking cute!

Pretty Little Liars (ABC Family)
[read all our posts on pretty little liars]
Queers:
Emily – lesbian (confirmed)
Maya – lesbian (confirmed)
Paige – lesbian (confirmed)
Samara – lesbian (confirmed)
Dude I Hate Who Coincidentally Ruins Everything:
A., Ian, Officer Garret, Ezra, Aria's Dad, Caleb, Lucas, Noel Cahn and basically every male character on this show who took up minutes of the finale that should've been spent on Emily making out with girls.
In the End:
The final episode of Pretty Little Liars was super-busy with all of this "plot" and "murder mystery" nonsense and contained only one lesbian reference in the whole entire thing. Where was Paige? What if Paige is A and we didn't even know about it?! What if Sounder killed Jenny?
Emily's Mom wants to move to Texas to be with their Dad, but there's no way they're taking Shay off the show so let's not even bother with that besides to say that Hanna teases Emily regarding if Texas "beauty queens" are her type. Which is super-adorbs.
Emily is e-mailing Samara so that love connection is open, Paige is nowhere to be found and Maya is apparently completing her 16th week of the Most Intense Marijuana Treatment Program of all time. When she comes back she'll probably be allergic to everything.
Ultimately Emily's storyline was a refreshing departure from expectation. Emily stood up to her Mom (who eventually came around, somewhat), felt liberated after her secret was revealed, and even refused to participate in someone else's closeted antics.
The last lesbian scenes of the season are expounded upon in our recap of the second-to-last episode of Pretty Little Liars.
Rating:
For TV's most admirable lesbian character, a "9."



Next: Skins US and Glee
Pages: 1 2See entire article on one page