Good news, Australia. Over the next three months you're going to have multiple opportunities to experience the wit and charm of DeAnne Smith in person.
DeAnne is taking her act, "About Freakin' Time," to the Sydney and Melbourne comedy festivals. For 50 minutes, DeAnne vows to dissect that pesky fourth dimension, broaching time travel, God, vengeful dolphins, and more. Plus deliver at least 450 seconds of bonus unscripted hilarity!
She'll also be traveling around the country as part of the Melbourne International Comedy Festival roadshow.
Here's what the critics are saying.
"Smart. Accessible. Engaging. A winning combination." – The Age
"Witty, sideswipe punchlines. This gal's ready for the big leagues." – Time Out Sydney
"I'm quite good at comedy." – DeAnne Smith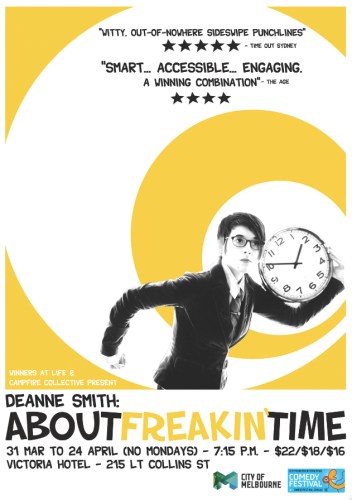 MELBOURNE
The Melbourne International Comedy Festival
31 March – 24 April
Info and tickets >
SYDNEY
Sydney Comedy Festival
4 – 7* May
More info  >
Buy tickets >
* On Saturday May 7 a group of Autostraddlers will be attending DeAnne's Sydney show and you should come too! Order your ticket/s online and then get in touch so that we can coordinate our plaid. crystal at autostraddle dot com
ELSEWHERE
The Melbourne International Comedy Festival Roadshow
According to the Roadshow website, a bunch of the Festival's finest Australian and international comedians are going to cram healthy egos into tiny suitcases and hit the highways of our mighty continent.
DeAnne will be performing on the dates below. Google or check your local paper for the full line up and event details.
April 28- Bayswater
April 29- Ringwood
April 30- Pakenham
May 1- Frankston
May 11- Morwell
May 12- Warburton
May 13, 14- Sale
May 17- Kununurra
May 20- Noosa
May 21- Nambour
May 22- Redcliffe
May 24, 25, 26- Cairns
May 27- Atherton
May 28- Innesfail
May 29- Gladstone
May 31- Gold Coast
June 3- Ballina
June 4- Yamba