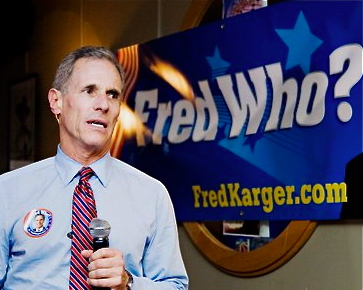 Fred Karger is set to become the first openly Gay Republican presidential candidate of all time. Although Karger announced his intent to run in April of 2010 at the Southern Republican Leadership Conference in New Orleans, today is the day that he is officially running because today is the day that he "filed his papers." In addition to being the first gay ever, he's also the first GOP candidate to register for 2012.
Karger's been campaigning, then, for some time now. He's run TV ads, met with young Republican activists and hit the streets of key primary states Iowa and New Hampshire to lay the groundwork for his 2012 campaign. He needs the grassroots support because — in a situation that honestly simply baffles me — the very party he is pledging to represent in front of the entire United States of America is chock-full of bigots who are going to do their damndest to shut the gay guy out of their debates and events.
Karger's pet cause? Exposing the Mormon involvement in the Prop 8 campaign. Yup. This guy is on our side, and it's kinda awesome. More on that in a minute.
Firstly, the process of shutting Karger out has already begun. In early March, Karger was deliberately not invited to the first major GOP event for the 2012 election, which was hosted by Ralph Reed's "Faith and Freedom Coalition" and organized by Conservative Christian activist Steve Scheffler. Newt Gingrich, Ron Paul, pro-marijuana Gary Johnson and John Thune were all invited despite the fact that none of those guys are likely to win the GOP nomination. Karger, much like many earnest young teenage boys all across America, was pretty sure he wasn't invited to the party because he's gay.
Karger filed a complaint with the Federal Election Commission to investigate Scheffler and The Iowa Faith and Freedom Coalition for violating federal election laws:
In his complaint to the FEC, Karger argues that the Iowa forum, if considered a debate, has used arbitrary criteria for deciding on whom could participate, in violation of explicit rules. If the FEC decides that the event—designed in more of a meet and greet format—isn't a debate, then Karger says it still violates the ban on corporate contributions because the Iowa Faith and Freedom Coalition would be breaching its nonprofit tax status by endorsing some candidates over others (namely Karger). Because the Iowa forum will be held on March 7, Karger has asked the FEC for an expedited ruling.
This wasn't the first time Kargar and Scheffler have butted heads —Last May Scheffler wrote Kargar a hideously scathing email:
You don't care about transparency—you and the radical homosexual community want to harass supporters of REAL marriage. I am the Republican National Committeeman for Iowa. As a private citizen and knowing literally thousands of caucus goers, I will work overtime to help ensure that your political aspirations are aborted right here in Iowa. Have you studied our past caucuses—you have NO chance here in Iowa!"
Karger isn't just openly gay, he's an active supporter of gay causes and also, hijinks in general:
+ He totally sent that email straight to The Des Moines Register.
+ He started Californians Against Hate. Their first event was a rally outside a hotel owned by a Prop 8 donor which turned into a boycott of that hotel group and subsequently a turnaround from that hotel group.
+ Tipped off The Wall Street Journal on the Mormon/Prop 8 connection, they subsequently broke the story.
+ Organized a protest outside the Mormon Bookstore where Mitt Romney was signing copies of his book
+ Took out ads in Iowa in anticipation of Romney's visit, asking the people of Iowa to call Romney and ask him to "urge the Mormon Church to stop its nasty campaign to ban gay marriage."
+ "In 2006, he waltzed into Vanity Fair's exclusive Academy Awards party with a fake Oscar statue and four hot chicks he'd met on the street, claiming to be part of the King Kong special effects team."
In February of 2010, Mother Jones did a cover story on Fred Karger, who noted "most of the prominent gay-marriage advocates are, well, married people: risk averse and unschooled in the political dark arts" and proceeded to declare "I'm a different kind of gay activist. I'm a little wilder."
Here's Fred's appearance on the news discussing his work as the founder of Californians Against Hate:
++
Despite being 30 years retired, Karger took a heightened interest to the Prop 8 situation in 2008 because it "struck a nerve." Back then, it looked like we'd win the Prop 8 vote. Hollywood was stuffing the No-on-8s with cash and the other side couldn't compete. Then, suddenly, Karger began noticing a dramatic, sharp and extreme uptick of funding pouring into ProtectMarriage.com, the initiative's primary backer, in the form of $500,000 a day. He began noticing "Mormons everywhere in the Prop 8 campaign: as actors in the TV ads, as volunteers, organizers, and political consultants" and became aware of NOM's involvement with Prop 8 and its deep ties to the Mormon church:
As a political professional, Karger—who for decades worked for one of California's premier campaign consulting firms, a shop that had helped invent modern opposition research—was grudgingly impressed with what the Mormons were doing. "They completely altered the landscape," he says. "They took over every aspect of the campaign." Karger estimates that Mormons ultimately contributed $30 million of the $42 million total raised in support of Prop 8, which passed easily in November 2008. (By contrast, anti-Prop 8 forces raised $64 million.)
But if the opponents of gay marriage won the battle, they also ensured themselves a big headache. In Karger, they galvanized an adversary who has now dug in to fight for the long haul—and who brings a dramatically different skill set than the rest of the marriage-equality movement.
The article details a variety of gutsy and covert moves Karger's made in his lifetime. Karger says "making a big splash" is "kind of my niche." This is good because we are in dire need of some kind of Lesbian Avenger type business in Washington.
So what we have here is a sort of radically social liberal embedded in the GOP in an election that may very well include Our Greatest Fear Sarah Palin. Often people run for president despite having no shot at it just so they have a chance to get their message on a national stage, which means really our concerns about Republican fiscal policies will probs not be relevant here. This can be nothing but good for us — similarly, it seems like Karger's antics might appeal to the same young, activist, gay or gay-friendly base that Obama is hoping to court in anticipation of his candidacy for a second term. This may mean Obama will have to step up his commitment to the homos in order to maintain his people.
Karger met with RNC officials including chairman Reince Priebus this week and all involved say it was a "warm meeting." That's hot. Here's his first little ad: