+
Skins US (MTV)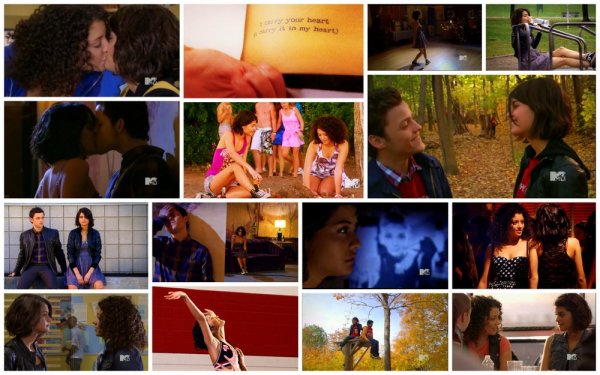 Queers:
Tea – lesbian (confirmed, then semi-unconfirmed, and then confirmed again)
Betty – lesbian (confirmed)
Some Notes:
This television season of our eventual content began with an apparently catastrophic disappointment named Tea on a show blasphemously named Skins as it vaguely resembled, insofar as a Beatles Tribute Band resembles The Beatles, the British original.
Tea, hyped as a fantastic raygun of Lesbian Character, was indeed a cool character with cute outfits. But then she had sex with a boy, thus igniting the kindling of lesbo-vadge-angry-rage boiling in the vagina of every lesbian who reads queer pop culture website AfterEllen.com as well as probably a lot of lesbians who don't even go on the internet.
I stopped recapping MTV's Skins (Episode 103) a week before I stopped watching MTV's Skins (Episode 104) because I don't have time to but also because it was just really terrible.  I felt more sorry for those actors than I do for the actors employed as servers at The Bubba Gump Shrimp Company in Times Square where they're made to present Forrest Gump trivia every hour. I mean those kids are never making it to Broadway.
It's surprising, then, that Tea was the only character in any of these shows to end up with anything semi-resembling a "girlfriend" at season's end. (Or, at least, the promise of a maybe-girlfriend for the future.)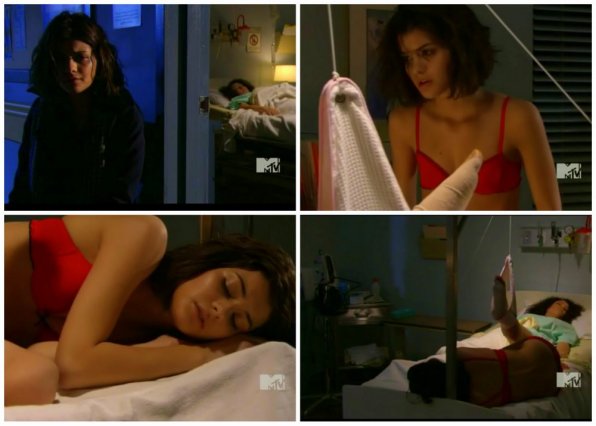 Dude I Hate Who Coincidentally Ruins Everything: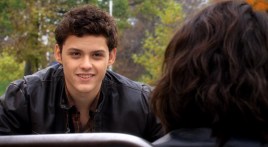 Nicholas Hoult played Tony as a crafty prick with a semi-sociopathic disregard for the concerns of others and, often, the demeanor of a snarky friendly serial killer. Underneath it all, UK Tony had an Omar Littleish affection for those truly close to his heart.
But this Tony — no thanks!
You know how if you go to a super tiny rural high school, the same guy will get cast in the lead of the school musical every year because he's literally the only boy in school who can kinda sing, wants to be in plays, and knows how to memorize lines? US's Tony is like that guy, only stupider.
If Tony was in Madame Tussaud's Wax Museum, his wax figure would look more like Tony than Tony does. Tony just came back from the dentist, every single day.
Furthermore, doggedly pursuing another woman — a lesbian, at that! (oh, the nerve! oh the ego! of course you can convert her, she just hasn't met the right man yet!) — who is involved with someone else and YOU YOURSELF have a girlfriend who's madly in love with you — is just shitty. His chlamydia is truly the antibiotic whipped cream on the ice cream sundae of his insufferable personality.
In the End:
So, it'd seem that Tea, inspired by the terrible sex she had with Tony the first time, proceeded to have terrible sex with Tony yet another time, and then tells Abbud (who I believe is speaking here on behalf of all lesbians everywhere):
Tea: "I think I did it to feel bad or something. To stop something else from happening. I'm scared of all of it. having a girl I could love, so I make it impossible."
Abbud: "What don't you get about being a lesbian? Lemme clue you in — a key component is not hooking up with guys, especially a guy like Tony. How could you do that to me?"
Tea: "I don't know. We have some weird connection, aren't I allowed to not know what I'm doing."
Abbud: "You're a fake."
Tony, who is both crazy and (as aforementioned) a waste of the air he breathes, just can't let go, so he becomes a sort of monotone stalker.
I'm not, really, fundamentally opposed to this plot — Tea explains why she's drawn to Tony, she never renounces her sexuality, and she says the sex is terrible both times. Because the thing is — a good story's gotta have conflict.
Unfortunately, the lesbian-gets-bicurious plotline has basically been used as a Lesbian Weapon of Mass Destruction for so long that we presently approach this plot with the same attitude with which I approach airplanes, which is to say I just take the Amtrak now. You follow? Tea could've betrayed Betty with other girls, but that would've been a less dramatic conflict and an entirely different story altogether. So it's not the plot itself that irks the Lezbos so much as it is the suspicion that Eisley pulled this to pander to a straight audience rather than because it was the most dramatic conflict he could summon to tell this story.
However, I might feel differently if I'd sat down to watch this teevee program for real every week in anticipation of something real/good instead of what I did do, which is half-watch episodes 104-110 today, fast-forwarding through every scene Tea wasn't in. Again, much like air travel — might seem like a good idea in theory, but feels much different in hour 5 of snackless torture.
Anyhow! Michelle finds out about Tony and Tea, Tony gives everyone an STD, and in the finale Tea apologizes to Tony for making him like her and tries to get Betty back. High on pain meds, Betty invites Tea into her hospital bed (she's got some ankle thing) and later on Tea returns to sleep together, almost leaves, then doubles back and slides in underneath the cast.
Rating:
I was excited about Skins US, legitimately. I went into it assuming I'd love it. Unfortunately, it sucked a lot. Also upset the Lezzers. So.

Glee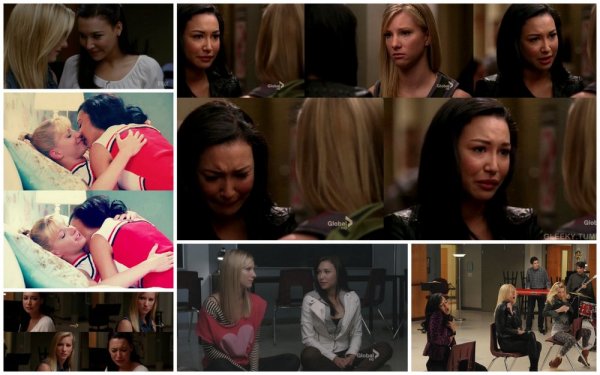 Queers:

Santana – lesbian (confirmed by the show's writers — on the show itself, it's unclear if Santana is lez, bisexual, or something else, as she ascribes to no label)
Brittany – bisexual (confirmed)
Kurt & Blaine – gay (confirmed)
Dude I Hate Who Coincidentally Ruins Everything: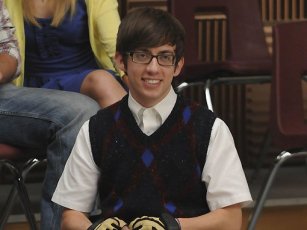 Artie was mean to Tina and says misogynistic things a lot of the time and he's a bad rapper and I don't like his face. THERE I SAID IT.
In the End:
Luckily that is already described for you here in this recap of the most recent episode of Glee. Furthermore, all of my important thoughts regarding Brittany and Santana can be found in this recap of the Homosexy Episode of Glee.
The writers of Glee say when the show returns in April, Santana will be grappling with her lesbian identity. Which is a thing to look forward to!
Rating:
This season featured some of Glee's stupidest episodes of all time, but the last three or four were arguably quite excellent.
What are your hopes & dreams for these shows when they pick back up?
+ Pretty Little Liars returns to ABC Family in June 2011
+ Glee returns to Fox on April 19th
+ Skins US has not been picked up for a second season yet, but we feel like it probably will be.
+ Skins UK will likely return next year.
Pages: 1 2See entire article on one page