I've got good news and bad news. The bad news is that Glee is on hiatus for the next four weeks and will return mid-April. The good news is that yesterday was Glee day at PaleyFest, the annual event where television writers and actors gather panel-style to chat about their wondrous contribution to pop culture. Much like Comic-Con, tons of spoilers and casting info comes out of the fest and boy did this one not disappoint.
Let's cut right to the chase. Santana is officially 100% gay, as told exclusively to AfterEllen:
"Santana is now out, internally. Whether she's dating somebody or not, we don't know. But we think we've made a big step in giving the world that character. Whether her and Brittany will work out we don't know. (Lesbian visibility) was our intention. We want to make sure everybody is included. Santana is a lesbian. She might not be ready to come out yet, but she is."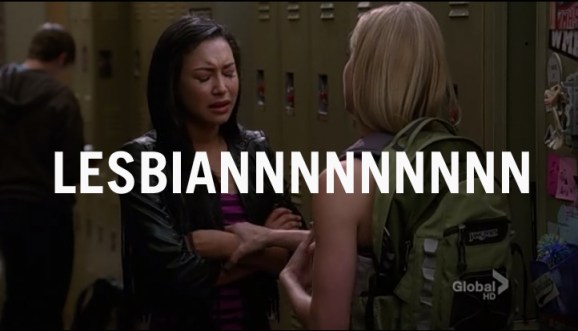 Writers Ryan Murphy and Brad Falchuk explained that while they love the Brittana dynamic (and who doesn't?), the focus will now be Santana's solo journey as she comes to terms with her sexuality. I actually think they are on the right track with this one — by having Santana deal with her identity independent from a relationship, it will probably come off as less of a gimmick and treated more seriously.
"A lot of people are very interested in that relationship. We now have a major character on one of the top shows on TV who is a lesbian. Whether she's dating someone or not is not really what we're getting at just yet. What we're trying to do is explore that character and what it means to be that character. We'll use Brittany as part of it, but we're more interested in seeing who Santana is and how hard it is for her to accept who she is. That doesn't mean they're not gonna be together, but we're more interested in the individual part of that relationship."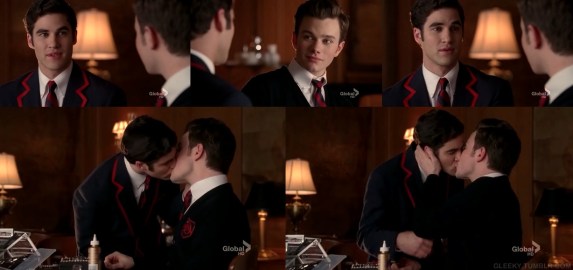 AE also got a hold of Chris Colfer and he has a few ideas that could change the perception that gay men and lesbians operate on different planes: "They're both very bitchy characters so I feel like they could bond. Maybe Kurt could teach her to be a little bit nicer — and a little bit more out." Elsewhere, on the Kurt and Blaine front, there is sure to be some Klaine (is that a thing now?) angst when Kurt returns to McKinley High and the two fight to attend prom together. That's awesome, but will it top Justin & Brian's "Save the Last Dance For Me?"
Ya'll up for some more Glee spoilers?  Good.
Close your eyes, ears and other portals if you wish to remain pure:
+ The "Born This Way" episode focuses primarily on the Karofsky bullying storyline.
+ Gwyneth will be back after the current four-week hiatus and hopefully again in season 3, adding that, "Gwyneth is sort of the muse of the show. I'm friendly with her. And Brad has become quite friendly with her. She's also somebody who I write on the weekends and say, 'What do you think about this for an episode even if you're not in it?' She has opinions. She's great."
+ Murphy says the show's creators have long wanted to do an episode devoted to an album as opposed to an artist, and their wish has come true: Glee has been granted the rights to Fleetwood Mac's epic record, Rumors.
+ Kristin Chenoweth returns later this season performing the original song , "It's 10 am, I'm Drunk." (She returns to pester Mr. Shu after her all-Caucasian production of The Wiz crashed and burned and she's now performing in a one-woman show called Crossroads.)
Hey, what ever happened to Anne Hathaway guest starring as Kurt's lesbian aunt?