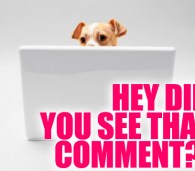 This week was depressing in news and everyone had to get real serious for a moment, so there weren't that many funny comments. But you guys Santana is a lesbian. Everyone rejoice. I've never even seen an episode of Glee.
Some other special things from this week: Anton Hysen came out and Lindsay tells you why this is super important, we did a feature on Bklyn Boihood which makes everyone want to move to NYC, we had a mini-interview with Hesta Prynn who got her name from the book The Scarlet Letter which I read two summers ago and hated, Sister Spit is going on tour and you need to go, and DeAnne Smith reminisces on the unfashionable-ness of lesbians of yore.
Also here is a summer music festival guide which is a BFD for some people.
AND it was A;ex Vega's birthday on Tuesday! Pure poetry week forever.
---
On 2011 Summer Music Festival Guide:
The You're Looking Very K-Stew Today Award to idolatry, findquiet, AG:

On Pure Poetry #23: NSFW Lesbosexy Sunday Knows Sex is Pure Poetry:
The Gay Marriage Award to Rockets:
I wish I was a rich gay. I'd totally love to spend a shit-ton of money on wedding favors and tuxedos… alas, (one day) it will probably end up being in a public park followed by a night out at the roller derby and a tailgate party finale in a bush somewhere. Oh yes… in a bush somewhere.
On Boehner Needs Your Money to Extend Your Gay Oppression via DOMA, is Clearly Bad at Budgets:
The No Quiche Left Behind Award to Bri, e, xglimpsex, Slevs, SomethingClever: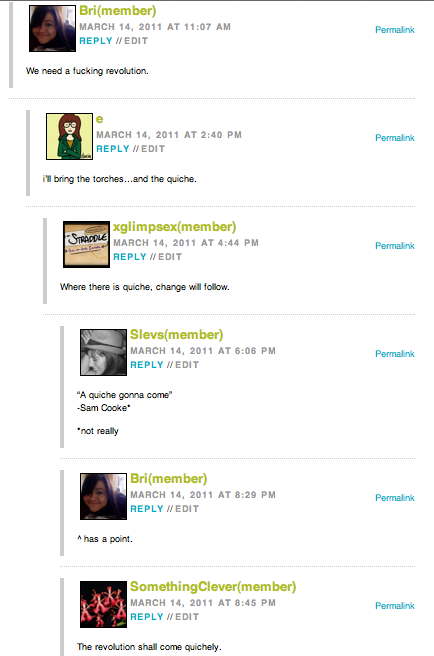 On Once More, With Feeling: DOMA Repeal Bill to be Introduced Wednesday, Celebrities Petition Obama:
The Picking & Choosing Award to MJ, Meer:

On It's Design Director Alex's Birthday!:
The All Of The Bad Romance Award to e:
i just noticed it and then showed the video to my three and five year old nephews. the three year old said "put that part again" and when i asked which part he said "every part".
The Gavega Award to cynthia:
I bet you if the various sleeping pics were made into a stop-action movie, we could set it to a Lady Gaga song & the dance could be called "The Ladalex Gavega Dance" & it would be sooooo epic.

On Pretty Little Liars Episode 121 Recap: There's a Monster at the End, She's Probably Femme:
The Mystery Solved Award to allie:
9. Emily will get artifically inseminated because she feels the urge to get pregnant which is usually by the 3rd date. Paige will be shown floating dead in the school pool AND NO ONE KNOWS WHO DUNNIT! The baby will then be revealed to have been A.
you guys can thank me later for solving the series.
The Line Crossed Award to LL:
I thought this day would never come.
THE BOUNDS OF EMILY'S COMPASSION HAS BEEN REACHED.
Paige, seriously, you should know better.
Emily will tolerate you trying to drown her but SHE WILL NOT TOLERATE MOTHERFUCKING RUDENESS. FUCK.

On DeAnne Smith and the Unfashionable Utopia of Yore:
The Weirdest Shit Ever Award to e, diver, terracottatoes, Squid: