If you're a music loving queer living in the USA then you're probably aware that the music festival season is just around the corner. In fact we should all be packing our bags / festival battle gear for South by Southwest right now.
In case it has escaped your attention, the lineups for this year's U.S. music festivals are killer. With so many amazing events and so little time (and money), we've asked a few of our team members to make some recommendations. Some of them may be attending / live-blogging their nominated festivals.
Which festivals are you looking forward to this year?
If you happen to live someplace outside the USA, then the content below may make you feel a little sad. We're sorry. You should brag about your country's festivals so we can be sad, too.


South by Southwest
"Music Industry Spring Break"
March 16-20 // Austin, TX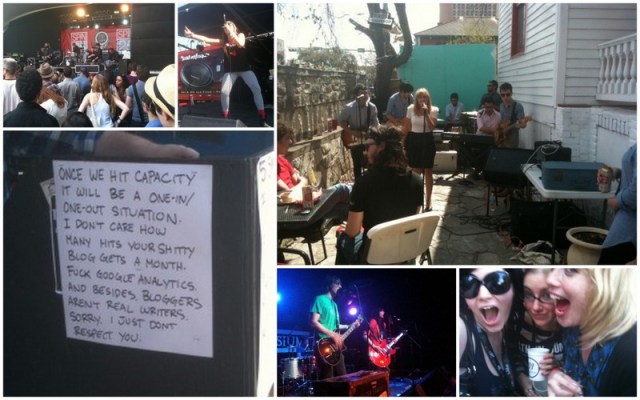 by Stef
Lineup Highlights: Hundreds of bands play in dozens of venues all over downtown (you'll quickly see why Austin is the live music capitol of the US), but I'm excited for the Black Angels, the Bangles, Black Joe Lewis and the Honeybears, Calvin Harris, Bloodgroup, Candy Claws, CREEP, Fitz & the Tantrums, Glasser, HANSON (shut up), Heaven, Innerpartysystem, Jukebox the Ghost, Le Butcherettes, MNDR, Phantogram, A Place To Bury Strangers, the Raveonettes, Screaming Females, Sharon Van Etten, Shilpa Ray & Her Happy Hookers, Tamaryn, Thao with the Get Down Stay Down, Those Darlins and Tune-Yards. Also uhh, Yoko Ono is playing.
Reason to attend: SO MANY BANDS. Odds are good if you just wander down Sixth St., you're bound to come across a totally unknown band who'll blow your mind. This is where the industry gets together and figures out who's going to be the most-hyped acts of the next year Also it's an awesome excuse to get wasted all day long and schmooze with a very relaxed crowd of music industry professionals. All the bands you'll be obsessed with next year are wandering around checking each other out, and everybody in Austin is straight up there to PARTY.
Read About It: Stef@sxsw 2009, Stef@sxsw 2010

Bonnaroo
"Summer camp for weirdos, with music."
June 9-12 // Manchester, TN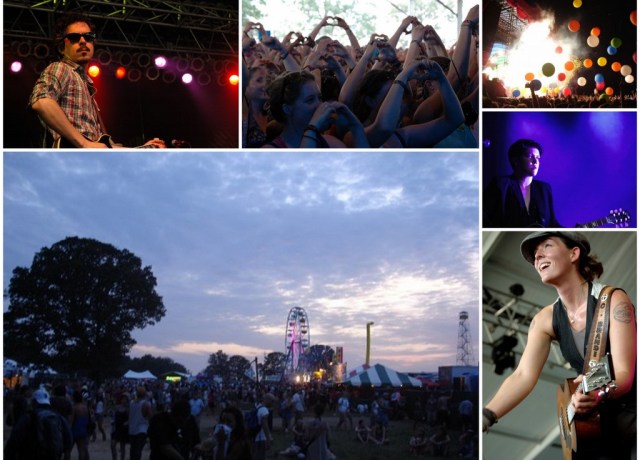 by Laneia
Lineup Highlights: Arcade Fire, Black Keys, Ray LaMontange, Scissor Sisters, Mumford & Sons, Old Crow Medicine Show, Girl Talk, Iron & Wine, Florence + the Machine, Robyn, Loretta Lynn, Big Boi, Beirut, Sleigh Bells, Abigail Washburn, Justin Townes Earle, Best Coast, Jessica Lea Mayfield, Phosphorescent
Reason to attend: Unity. I want to tell you that it's all about the music — and there's an impressive variety, spanning decades and genres — but sometimes it felt like the music took a backseat to how much I loved every sweaty humanperson wandering around on that farm. Like, these are my people. I didn't even know I was missing them.
"I get it now: why people promise to go back every year; why, on Thursday, when someone yelled "Bonnaroo!wp_postsinto a crowd, it was met with enthusiastic echoes of "Bonnarooooo!"; why everyone wears their entrance bracelets from past festivals. Bonnaroo's like summer camp for weirdos. It's bragging rights. I didn't just see this gaggle of amazing bands that will probably never be in the same place again – I put up a tent, stayed awake until dawn, walked over 20 miles, lost 3 lbs., washed my hair using a five-gallon jug of water, shaved my legs in the front seat with a beer for breakfast, ruined a pair of shoes in the mud, ate stale tofu, witnessed humanity and saw some amazing bands."
– Bonnaroo 2010: Autostraddle Takes Tennessee

Lollapalooza
"Perfect for first-timers, with a lineup to make even festival veterans happy."
August 5-7 // Grant Park, Chicago, IL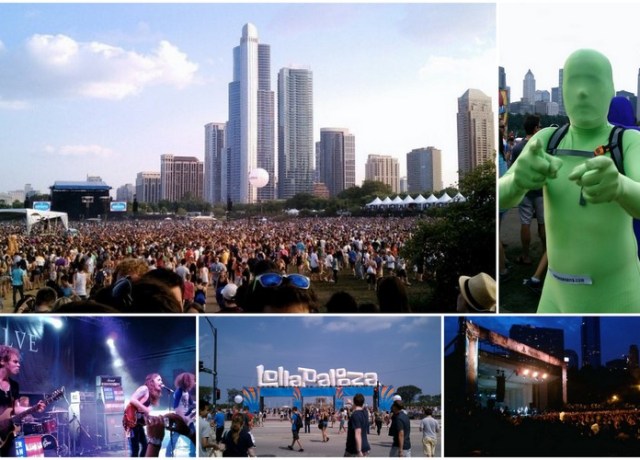 by Sarah
Lineup Highlights: TBA. Lolla is late in the festival season, so the lineup won't be out for a while. They usually put together a good bill that looks something like Coachella and Bonnaroo. The headliners last year were Lady Gaga, Phoenix, and Arcade Fire. Fingers crossed that this year is half as good.
Reason to attend: Those city lights. The downtown Chicago location makes Lolla a very different experience than most of the other big U.S. festivals. It's not about acquiring a four-day layer of mud and sweat (though it has it's fair share of both). During the day, you get to start your music viewing fresh, with a nice shower. You can enjoy the breeze off Lake Michigan and the excellent food trucked in from Chicago eateries. And when the headliners end their gigs around 10 p.m., everyone floods downtown and fills the clubs, which bring in some great acts for the weekend. The whole thing is a bit more commercial than any other American fest, making it perfect for people who aren't quite ready for the Bonnaroo/Coachella intensity. But it's still got plenty for all experience levels. Also this year is the 20th anniversary of Lollapalooza, so they will probably pull out all the stops. Do you want to miss that? Didn't think so.
Read About It: Sarah goes to Lollapalooza

Pitchfork Music Festival
"Arbiter of musical taste curates three sweaty days in Chicago; scarves in July"
July 15-17 // Union Park, Chicago, IL
by Lindsay
Lineup Highlights: Animal Collective, TV on the Radio, Fleet Foxes, Cut Copy, The Dismemberment Plan, Deerhunter, James Blake & more.
Reason to attend: Affordability, for one — as one of the few festivals where three-day passes have never exceeded $100 (last year topped at $90), you can see some fantastic under-the-radar indie acts and festie favorites like Modest Mouse, LCD Soundsystem and The Flaming Lips for a pretty reasonable price. P4K also does a good job of showcasing local food and beverage purveyors (including the good-enough-to-convert-the-carnivores vegan Chicago Diner) and features Flatstock, a concert art expo featuring screen-printers and poster artists from all over the country.

Summerfest
"Massive gig + carnival + miniature civilization = Megazord of music festivals"
June 29-July 3 & July 5-10 // Milwaukee, WI
by Lindsay
Line up: Of the roughly 800 acts that will play throughout the festival, the only three that have been announced are Katy Perry, Toby Keith and Sugarland (with Sara Bareilles).
Reason to attend: Variety. From pop-punk to alt-country to classic rock greats to blues to worldbeat, there is quite literally something for everyone, and day passes usually run pretty cheap for all the music you're getting. Plus, it's Wisconsin, so you can be assured there are beer gardens, for you to DRINK ALL THE BEERS.

OTHER FESTIVALS TO CONSIDER
Coachella
April 15 – 17 // Indio, CA
Lineup Highlights: Arcade Fire, Kanye West, The Black Keys, Robyn, PJ Harvey, Slash, Mumford & Sons, the National, Sleigh Bells, Crystal Castles
Reason to attend: Coachella 2011 probably has the best line up of any festival line up ever. Also you know Kristen Stewart will probably be there. It sold out in a hot minute, however you might luck out and find a spare ticket.
+
The Beale Street Music Festival
April 29 – May 1 // Memphis, TN
Lineup Highlights: Jerry Lee Lewis, Stone Temple Pilots, Jason Mraz, MGMT, Cee Lo Green, The Flaming Lips, Ke$ha
Reason to attend: Beale Street is historic hot spot for American blues. Also where else will you find Ke$ha and Jerry Lee Lewis in the same line up?
+
Sasquatch!
May 27-30 // Gorge Amphitheater, George, WA
Lineup Highlights: Foo Fighters, Death Cab For Cutie, Robyn, Iron & Wine, Bright Eyes, Modest Mouse, Wilco, Sleigh Bells, Matt & Kim, Cold War Kids, more.
Reason to attend: If the line up isn't a good enough reason to attend, check out the venue and its stunning backdrop. Want.

+
Rockstar Energy Uproar Festival
August 17 – October 4 // Various Cities, USA
Line up: Disturbed, Avenged Sevenfold, Stone Sour, Halestorm, Airborne, more.
Reason to attend: Traveling hard rock & metal festival. Do your best to ignore the tacky energy drink sponsorship and get your horns up. \m/
+
Michigan Womyn's Music Festival
August 2-7, 2011 // Hart, MI
Line up: Andrea Gibson, Alix Olson, Hunter Valentine, Erase Errata, Melissa Ferrick, more.
Reason to attend: This 5-day women-only musical camping experience is a lesbian's rite of passage, as reported in Autostraddle's Girl-on-World article, "How the Michigan Womyn's Festival Topless Women Changed My Lesbian Life Forever."
+
+
"Julie promised that there would be girls with their boobs out everywhere, and there has been." – Brandy Howard on MichFest
+
CMJ Music Marathon
Oct 18-22 // New York City, NY
Line up: TBA
Reason to attend: For one week, hundreds of up-and-coming acts take over New York City's music venues. If you get in early, you can get your badge for half price.
+
If you attend a particularly brilliant music festival that's not on this list and should be, tell us about it in the comment section 'cause when we have to shut down Autostraddle and get 'real jobs,' we're gonna want to come see you.