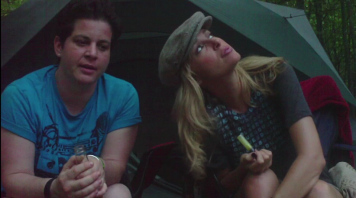 Last summer, somebody told Brandy Howard that the Michigan Womyn's Music Festival featured a lot of chicks with their tits out and so Brandy Howard asked Julie Goldman if maybe just maybe she could get a gig at Michfest so Brandy could see "the titties" for herself.
Unfortunately, Julie told Brandy, Michfest is one of many fine lesbionic venues where Julie Goldman had offended some uptight PC lesbian at some point and therefore was no longer welcome. But whatever, Julie said, I'll fucking call them because you know, when Brandy Howard asks you to do something, you f*cking do it.
Lo and behold, Julie was offered a spot at Michfest!  Therefore, despite Julie's aversion to sleeping in a thing that is not a hotel, the duo set off for a fun weekend in the wilderness.
Autostraddle's default video editor Riese was about 24 hours away from finishing the masterpiece film of Julie & Brandy at Michfest when her computer, which was invented by a man, decided to totally fuck her up the ass and make her lose everything long story.
But Julie and Brandy knew they had a story that needed to be told, especially because cameras aren't really allowed there and even as the event faded into herstory, the story STILL NEEDED TO BE TOLD. For closure. You guys, closure is important. That's right, Julie Goldman & Brandy Howard edited this motherfucker themselves.
Join us on our pioneering journey.
+
+