Um. Okay. I've been staring at my computer screen for forty-five minutes trying to figure out how to start this. In that time, I've also eaten a bowl of muesli, looked up the town of Yamba on Googlemaps and thought a lot about my feelings. None of those things, though, have brought me any closer to knowing how to broach this subject. It's a tender one. What if I'm unintentionally offensive and Laneia has to edit me? I feel kinda sad when that happens.
Maybe I should start like this: We are all beautiful snowflakes.Each and every one of us is special and unique and miraculous and different. Some of us snowflakes will stick to the ground, some will turn into men, and some will get peed on. All of us snowflakes have different journeys and all of those journeys are right.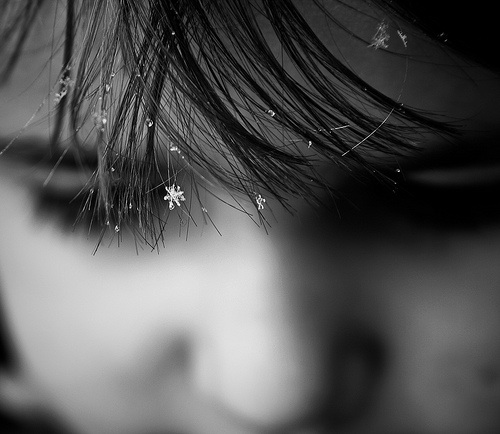 I don't want to crush any of you beautiful snowflakes. I say this with kindness and gentleness. I really love you all. But um, if you're one of those beautiful snowflakes that's hip and fashionable, could you cut that out, please? I'm saying it nicely. I know I'm being totally selfish here, but I don't like it. I want you to stop. Please stop.
I know, I know, you have plenty of support for your fashionable and stylishways. And if it weren't for you, mainstream culture wouldn't know what to do with us dykes. It's just that I can't keep up with the pressure. I resent feeling like I have to. I want to go back to the time when simply calling myself a lesbian meant I was excused from being stylish. Oh, that was a glorious time! Imagine, if you will, a time filled with turtlenecks and center-parts and brown corduroy overalls. Manicures? Pedicures? Cute underwear? We didn't even know what those things were!
Fashionable lesbians have ruined everything. Wait, does that sound harsh? I don't want to hurt your feelings. Let me communicate with I-statements, like I learned in therapy. I feel like fashionable lesbians have ruined everything. I mean, if I'm going to be perfectly honest about this, sixty percent of the reason I even turned gay was because I thought I'd only have to own two pairs of shoes. That's the version of gay I signed up for. I figured I'd get some boots and some Birkenstocks and I'd be set for life.
Being unfashionable was the major selling point of lesbianism for me. Quite frankly, the sex-with-ladies part was an added bonus.
It used to be okay to be gay and unfashionable. It was accepted. It was celebrated. Some of you young'uns won't believe this, but there was a time when, as a proud lesbian woman, you could leave your house in white tennis shoes, a fleece sweater vest, and an oversized fanny pack and STILL PICK UP WOMEN. No one faulted you for your lack of fashion; no one cared. When I came out lo' those many years ago, the only accessory a girl needed to have was a Swiss Army knife. If you felt like getting fancy, you might upgrade to a Leatherman and one of those belt holder things. They were simpler times. Wrist cuffs? Artistic plastic rings? Handbags? We didn't even know how to pronounce those words!
There used to be one way to be a lesbian. If you were a lesbian, you were unfashionable. You didn't question it. You loved flannel because your foremothers loved flannel. You didn't love it in a retroironic hipster bullshit kind of way. You genuinely fucking loved flannel. No, it didn't fit right. It never fit right. But you loved it, because it was the one material that could be a shirt, sheets, pajamas or a hand-sewn menstrual pad. It was comforting and it was versatile. You trusted flannel. You built a life around it. Form-fitting? Girly? Hip? No one would have ever accused flannel of being those things! No one would have accused flannel of being anything because we didn't even have adjectives in those days! The only adjective we knew was "comfort!" We didn't even know how to correctly turn nouns into adjectives! Those were simpler times, I tell you, simpler times!
If I knew it was gonna turn out like this and I'd be forced to start caring about fashion if I wanted to stay in the game, I would have just stayed straight. Seriously. I would have stayed straight and joined Greenpeace or moved to central Oregon or started an organic winery or done whatever I god damn needed to do to justify wearing the outdoorsy, functional clothing I enjoy. It was never supposed to be like this. We've gone too far, lesbians. Too far.
You young, hip girls have ruined the unfashionable utopia of yore. And what's worse, you don't even realize how easy you have it these days, with your clothing choices and your celebrities and the fact that mainstream culture almost kind of acknowledges your existence. When I came out, we didn't have a Ruby Rose or a Samantha Ronson or a freaking Ellen Page. We had to make do with a closeted Jodie Foster, the movie Fried Green Tomatoes and fantasies about Darlene from Roseanne. That's all we had! And it was good enough for us!
Clearly, I'm too emotional to wrap this up neatly. I'll leave it to you to discuss in the comments. Meanwhile, I'll be over here, strapped into my Birkenstocks, using my Swiss Army knife to clean my exposed toenails and hoping you guys still like me. I don't want to hurt your feelings, dear readers. I really don't. BUT I HAVE FEELINGS TOO.