So far in the New World Order of a Republican-majority House of Representatives, de-funding demonstrably important things while supporting hugely expensive and demonstrably unimportant things has been the name of the game. But this week is notable in that, for once, someone is trying to take away a program and it makes perfect sense.
Yesterday Senator Frank Lautenberg (D-NJ) and Representative Barbara Lee (D-CA) re-introduced a bill that would end abstinence-only programs forever: the Repealing Ineffective and Incomplete Abstinence-Only Program Funding Act. It's a remarkably accurate and to-the-point title.
Since 1996, Congress has spent almost $1.5 billion on abstinence-only programs, despite a wealth of evidence that they are ineffective. In fact, no study in a professional peer-reviewed journal has found abstinence-only programs to be broadly effective. While our Congress searches to ensure that every tax dollar is spent in an effective manner, this legislation furthers this pursuit by defunding a program that has not been proven effective.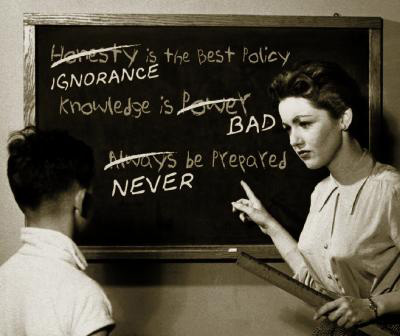 Title V abstinence-only funding was first introduced by President Clinton as part of welfare reform, and gave grants of $50 million to states which put together sex ed programs that met a strict eight-point definition of "abstinence-only." Due to being dismally ineffective, Title V was allowed to expire in 2009, but then resurrected as part of health care reform (which, yes, seems insane, we have no explanation as to why), and thirty states applied for its funding. Even more than just a recognition that our country has nowhere near enough money to be throwing it at programs that have been proven time and time again not to work, this act recognizes the fundamentally backwards nature of abstinence-until-marriage education (especially for queer kids, for whom the concepts of "virginity" and "until marriage" are somewhere between confusing, insulting, and laughable) and puts the money towards something totally new and kind of awesome-sounding: PREP, the Personal Responsibility Education Program, which would provide $75 million per year to the states for comprehensive sexual education.
Programs funded by PREP must provide young people with complete, medically accurate, and age-appropriate sex education in order to help them reduce their risk of unintended pregnancy, HIV/AIDS, and other STIs. Programs must also address life skills so that young people can make responsible decisions and lead safe and healthy lives.
As with virtually every positive action the government could conceivably take at this point, the future of this act is seriously questionable due to the fact that it would require the support and votes of the Republican House. We can hope that Republican Congress-people will recognize that this aligns perfectly with their agenda of reducing abortions, reducing strain on the healthcare and health insurance industries due to easily preventable diseases, citizens taking their health and wellbeing in their own hands instead of relying upon government agencies to fix their problems, and most of all, SAVING THE CHILDREN. Probably they won't, though, so in the meantime feel free to call them, or at least sign this petition. Fingers crossed for a future where every kid gets the chance to be grossed out by trying to put a condom on a banana.