KATE MOENNIG:
Are we all aware that she has a supporting role in the new film The Lincoln Lawyer, starring Matthew McConaughey, Ryan Phillippe and Marisa Tomei? Based on the Michael Connolly novel, the film is a crime drama about 'a lawyer who conducts business from the back of his Lincoln town car while representing a high-profile client in Beverly Hills." It opens this Friday so no word yet on Kate's character and if she hits on any chicks in this one (a la Dexter). She did, however, show up to the premiere this week looking very Shane today:
UH HUH HER:
It appears Leisha Hailey & Camila Grey have released an EP called Black & Blue, featuring 6 tracks from their upcoming second UHH album. You can download those hot mp3s and get them on your iPod this very second by visiting their online store. They've also extended their upcoming tour to a bunch of new east coast cities including NYC, Toronto, Philly, Boston and Atlanta (among others). This photo is from their show last night in Arizona but check out the full list of dates and on sale info at their fan site.
JENNIFER BEALS:
JB was on Regis & Kelly this morning to promote The Chicago Code and the shit-eating grin on her face when Regis brings up Flashdance is pretty hilarious. They also chat about St. Patty's Day in Chicago, giving birth without drugs and running a triathlon. Who's watching the new show?
GLEE:
Naya Rivera talks about the evolution of Brittana and all things lesbian with Vanity Fair:
"I think it was because the writers and Ryan [Murphy] were getting such a strong craving from the fans — from the Brittany and Santana fans — for them to be together. And we sort of took it lightly at first. But then we thought it was something people really wanted us to do, that it was something we should tackle. And so, one day, [head writer] Brad Falchuk came up to me and said, "We've decided that we're going to explore this storyline," and I was totally for it, and knew people would appreciate it."
In a separate interview, Darren Criss had this to say about Blaine's dipping his toe in drunken bisexuality with Rachel Berry:
"A lot of my gay friends were so upset, they were like, 'No he can't be bi or straight!' At first you think it almost undermines everything we've set up, but on the contrary I think it was really, really awesome that they embodied that conflict, because, if you are different in any way shape or form — whether it be mentally, spiritually, your sexual orientation, whatever — if there is ever a glimmer of a chance that you might be like everybody else or the status quo, you hang on to that as long as you can because maybe all your problems would dissolve. And that is a really interesting idea."
Also, did you see Kurt & Blaine have their first kiss last night?!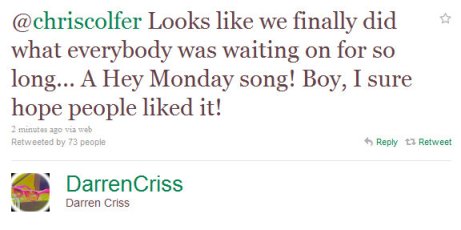 GAY SHORT FILM, BEHOLDER:
Lesbian filmmaker, Nisha Ganatra's new film, Beholder, premiered online and is set in a future where homosexuality is illegal. The story begins when the perfect wife and mother-to-be discovers that her fetus carries the gay gene and must decide between staying faithful to the love of her life or risking everything. The film stars Jessica Pare (aka the girl who broke Piper Perabo's heart in Lost & Delirious).
BORN THIS WAY PARODY VIDEO:
Weekly musical comedy show, Key of Awesome, filmed a parody of the Born This Way video, addressing many of our criticisms in a hilariously biting way.