In order to truly understand the momentousness of New York's Bklyn Boihood and the impact it stands to make on our community, first you need to get with this rapidly-growing "queer collective" concept.
See, New York City is a pretty gay city with a lot of gay players, but you'll find a lot of lesbians whining that the only thing for lesbians to do here — or anywhere — is drink beer. We have the resources and the population here, but many still feel we lack Something.
Something that could provide a greater sense of togetherness, some kind of decent and focused hub where queers-in-the-know can go.
Something more wide-reaching and accessible than the three bars for lesbians. Something more consolatory than the occasional jolts of ubiquity induced by a dyke nod on the subway. Something more comfortable than dropping the gay bomb to future roommates found on craigslist. We're lucky to have an LGBT center planned and built with community-building in mind, but it's more of an open venue than a place for queers to just drop in and hang out.
Luckily –when the mainstream fails to meet the needs of a growing population, the underground emerges.
It's a force, this underground, because our people tend to have a lot going on. Queer collective and communes are springing up with greater verb, mostly in the Bedford- Stuyvesant ("Bed-Stuy") neighborhood in Brooklyn, a name which non-New Yorkers may recognize from Spike Lee films like Do the Right Thing and Crooklyn and lyrics from Notorious B.I.G, Jay-Z and Mos Def.
Now Bed-Stuy is quickly becoming the "new" gay neighborhood, blowing the tourist-gays West Village right out of the water. Victorian houses-turned-queer-living spaces like The Glitter House and The Marilyn Mansion are sprouting up as places to throw parties, host workshops and basically get everyone into one room together to start planning shit. Every January those houses participate in Quo Rum, "a ten-day extravaganza of knowledge, skills, and talents for the purpose of creating and supporting sustainable community projects," with events like Dismantling Racism and Classism in Queer Communities, Trans Jewish Punk Polka and Fisting to the Heart. It was makeshift to the point of nearly being anarchist in spirit. It was awesome. This is what we can do here, and we're doing it.
And this brings us to another vital queer collective- Bklyn Boihood.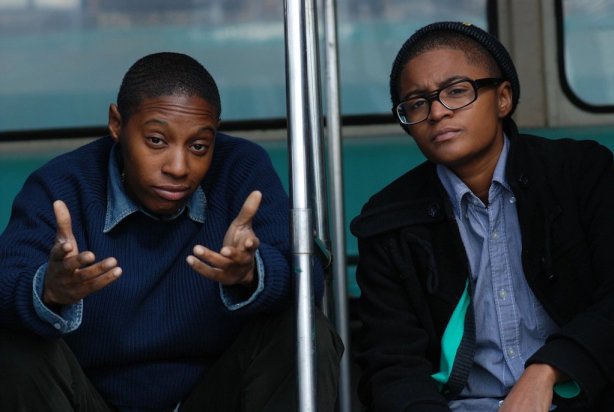 Bklyn Boihood's seemingly abstract aim is to "provide visibility and empowerment to masculine-presenting queer and trans people of color." Ryann tells me this before hopping up for a coffee at the Bed-stuy café where she's squeezed me in between MBA classes along with her co-founder, Genesis.
As Genesis tells me about how awesome it is to be a high school math teacher, I just nod as it's occurring to me that they have day jobs and have accomplished all this stuff in the off-hours most of us spend watching L Word on Netflix. Also, Ryann and Genesis are even more gorgeous in person, which contributes to the awed nodding reaction.
Ryann returns with the story of how it all started — the modest, yet inspired beginnings of a very Big Thing:  "Back in 2009, we were just hanging out at Genesis' place. We'd been talking about how we don't really see ourselves represented in a lot of ways. We didn't see ourselves at the parties we were going to, we didn't see ourselves in the organizing world, in any sort of medium."
Genesis nods in agreement.
"So I was thinking, 'Okay, visibility, what's something we can produce? What kind of project could we do that would be fun, that we have the resources for?' And I was like, 'Yo, we should do a calendar!'"
But a calendar snowballed into a lot more. Bklyn Boihood hits all the key elements of a progressive, powerful and young community — politics, volunteering, art-making, blogging, opinion-voicing, socializing, alcohol, parties, pictures, dating, and positivity — and then some.
Ryann explains that they're about "giving exposure to people through blogging, giving exposure to issues that don't get talked about, fashion, we hope to get into film projects this year. And we host really dope parties." (All of these ideas are neatly organized and consolidated on their website.)
But first there was a calendar: A bold, glossy 2010-2011 calendar featuring members of the collective — all of whom are masculine-of-center queers-of-color.
Genesis shakes her head, "There was a type of magic that happened on each set that it's truly difficult to put into words."
The end-result is an edgy magic-tinged work of art that personifies Boihood's mission and lovingly highlights the beauty and strength of the kind of women we rarely see represented in LGBT media, let alone the mainstream.
"When they come to shoot, they're the star," Genesis tells me. "We're like, 'Yo, what is it that you jam to? What do you feel sexy in?' We're bumping down the street with loud music, our whole team, we got film crew, photographers, makeup, everybody's on set having fun. Sip a little somethin', smoke a little somethin', chilling. Every model was very different and brought something different. It felt very spiritual."
One model even teared up when a crew member told her she was "absolutely beautiful" — nobody had ever told her that before. There's gonna be another calendar this year, which they hope to document in a behind-the-scenes video. The success of the calendar has their ideas churning really, really fast.
Listening to Ryann and Genesis talk about bklyn boihood feels like being in the center of a thing jetting towards a bright, inclusive future, moving at the speed of caffeine.
"We're trying to further our presence. Which is being done in ways that have worked for us in the past- the parties, the mixers. We're talking about possibly concerts, possibly art exhibitions. When the community makes it clear that these are things that are needed and wanted, let's do it!"
Ryann and Genesis have a dynamic that is unsurprisingly dream-team-esque. Ryann is the strategic business-minded entrepreneur, and Genesis is the artist and it's all very organic, although the "how we met" story comes out different from their two varying points of view.
Genesis says, "I met Ryann when she came to my desk at a job we were working at years ago. She was very sweet. I felt a pull from day one to look after her."
Ryann starts cracking up — "I'll tell you the real story," Ryann holds Genesis's hand. "Yeah, we met at work and shit. But after like two weeks, Gen was like 'Yo, dude, you wanna keep this fucking job, you gotta come to work on time. It's easiest thing anyone can do is come to work on time.' And I'm like, 'Who is this?'"
Genesis breaks in, "And I'm an assistant- nobody – no pull."
Ryann continued, "She was like, 'I could care less, but I know no one's telling you that they notice that you're late, but they're noticing.' So she looked out for me."
Ryann returned the favor;  Genesis credits their friendship as the catalyst to her own evolving sense of comfort with her queer identity. Genesis' personal evolution has helped her to understand what newly out gay kids are looking for when they turn to the city for queer resources. "I'm a late bloomer, if you will. I know what it's like to be at a point where you want to get in the groove of everything but not knowing how to do so or who to talk to."
Coming out and getting comfortable with your queerness is a long process fraught with all kinds of horrendous bumps in the roads and subtle complexities, but Ryann and Genesis clearly survived and emerged from the whole experience radiating genuine self-love. They're comfortable with themselves, and this makes them ideal role models to younger queers.
"Once you find your comfort in yourself," Genesis explains, "You want everyone to feel that way. I want everyone to feel as amazing as I feel."
They hint that there's some age-transcending in the future of Bklyn Boihood — a community project that's still largely under wraps about which I'm only given the hint "inter-generational" and "folks that are older, younger." I also receive a cryptic hint about another start-up: "bridging international gaps." So think on that for a bit.
As for the present, I must now mention the parties. I can personally testify that Bklyn Boihood parties are already legendary. They're different than the wildly promoted, glossy-flyer girlparties that happen in the basements of straight clubs because they happen in queer homes and, like only the best parties, they aren't trying to be blowouts. They grow organically, with good music and BYOB and nice people.
"We usually drop the date a week in advance. It's not too premeditated. The concept is to just provide the community with a safe space, allow them to let go and be themselves." And even though they're not trying to be blowouts, that's generally precisely what happens.
These girls are right on the edge of something poised to change the queer community and provide those missing spaces we long for between happy hours and ladies night. They're proud of what they've done and there's so much more to look forward to in the future and you know how we love the future. There's the next calendar, more parties, more blogging, and many, many, many plans still undisclosed or slyly hinted-at.
Before running off to class, Ryann tells me about a loft party coming up March 25th. I know I'll be there; there's going to be dancing at this revolution.
[ bklyn boihood website / blog / twitter / facebook / buy a calendar & t-shirt ]