ALERT THE MEDIA! CALL YOUR FRIENDS AND YOUR LOVED ONES! GO PICK OUT CUTE CAKE TOPPERS! (Do they make toppers of girls in lace-up boots? I hope so.) And best of all, PICK OUT THE ALCOHOL FOR YOUR OPEN BAR!
Because now it's time for our 1,456th shot at getting our gay marriage rights against all odds! But this time there are slightly better odds, because Obama doesn't want to defend DOMA anymore.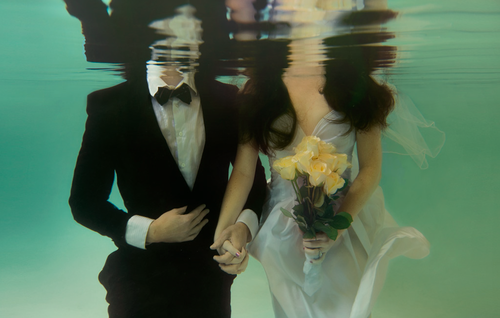 A bill to repeal the Defense of Marriage Act, a pinnacle piece of anti-same-sex marriage legislation, will be introduced this Wednesday. New York Representative Jerrold Nadler will be introducing the repeal legislation. A good summary of the situation is that this is not the first time, but it could be THE time.
President Obama's declaration that DOMA is unconstitutional gave the "Respect for Marriage Act" new life:
Nadler introduced the Respect for Marriage Act, a bill that would end DOMA, the Clinton-era law that bans federal agencies from recognizing the legal marriages of gay and lesbian couples and allows states to ignore such marriages from other states, in September, 2009. The measure quickly rounded up 100 co-sponsors in its first 30 days and then fizzled without a companion Senate bill.
Nadler will be joined on Wednesday by openly gay House members Barney Frank, Tammy Baldwin, Jared Polis, and David Cicilline, as well as civil rights leader Rep. John Conyer. Also in court will be some of the plantiffs from DOMA cases who are currently being hurt by DOMA, like Nancy Gill and Marcelle Letourneau.
Things in the Senate are also looking better than last time! Dianne Feinstein of California, Patrick Leahy of Vermont, and Kirsten Gillibrand of New York have signed on to similar legislation already in the Senate. Hopefully, this means it will get easier to get the Act through Congress and straight to the desk of our biggest fan (that was hyperbole, calm down) Barack Obama.
Once again the liberal Hollywood elite has stepped forward to voice their support of this repeal. The Freedom to Marry campaign has pulled out its heavyweights with a letter urging the President to repeal DOMA.
Mr. President, marriage matters. In law, in love, in life, marriage says "we are family" in a way that nothing else does. Marriage is the coming together of two lives, marked by a public promise of love and responsibility in front of friends and family. And marriage brings not only public respect and personal significance, but also a safety net of legal protections, rights, and responsibilities for which there is no substitute.
The signers include Ellen DeGeneres & Portia DeRossiDeGeneres, Anne Hathaway, Jane Lynch, Rufus Wainright, Lily Tomlin and Martin Sheen. Speaking of Martin Sheen, let's watch this video again:
Now go sign the petition, seriously, it's important.