One of the few wonderful things about 2020 has been the incredible queer and/or feminist books that have already been published. (Check out this list for summer 2020 queer and feminist books). Fall 2020 is no different! I can confirm that no matter what you're looking for — YA, non-fiction, memoir, romance, literary fiction, comics, science fiction, fantasy, mystery, historical fiction, poetry — there are books on this list that you will love. Let's jump in.
September Queer & Feminist Books
Be Gay Do Comics edited by Matt Bors (September 1)
This anthology features a variety of LGBTQIA comics makers writing and drawing about their own experiences. Stories include dreaming about a queer separatist town and a gender reveal party turned on its head.
In this dystopian science fiction novel, Stine imagines a world with an ever-lengthening winter. The protagonist Wylodine hails from Appalachian marijuana growers, and her skills at making things grow become an invaluable commodity as she tries to make it to warmer climes in California.
Bet Against Me by Fiona Riley (September 1)

A romance about rival luxury real estate agents is one enemies-to-lovers story I haven't seen! Trina and Kendall are both ruthless businesswomen, but what will happen when a bet brings the two women together in more ways than one?
Again by Jennifer Perrine (September 1)

Perrine's poetry collection is an anthem for recent moments in American history. Riffing on words that have taken on new connotations —wall, ban, disaster, tremendous — Perrine investigates the grief, shame, and disorientation that emerge.
Trans Care by Hil Malatino (September 1)

A thoughtful investigation into what it means for trans people to show up for and care about each other, Trans Care emphasizes trans survival and thriving. It takes on topics of labor and care ethics and practices that have failed and empowered trans people.
The much anticipated follow-up to Gyasi's acclaimed debut, Homegoing, Transcendent Kingdom focuses on a Ghanaian family in Alabama. Science, addiction, sibling relationships, evangelical faith, grief, and depression are all featured in Gyasi's powerful, exquisite writing.
A trans epic fantasy set in the desert, anyone? Lemberg's story centers on two elder "changers," a nameless man and his friend Uiziya. The two friends travel, Uiziya wanting to learn bone weaving, her friend seeking a name. When they find the master weaver, they discover a difficult task lies ahead of them.
A collection of poetry that is both of the past and the future, Shimshon-Santo's poems appeal to our sense that we have "long forgotten that we belong to the earth and not the other way around." Families, borders, courage, love, and loss abound.
The first book in a new epic fantasy series, The Bone Shard Daughter features magic powered by bone shards, queer romance, revolution, crumbling empire, class struggle, and magical animals! Lin, the main character, is the emperor's daughter whose father has refused to recognize her as the heir to the throne.
In this breath-taking and horrifying epic African fantasy world, a poison desert spreads across the Arkhysian Empire. Djola, the master of poisons of the title, is desperate to save his homeland. At the same time, Awa, a young griot and garden sprite, searches for her place in an uncertain future.
Un-American by Hafizah Geter (September 8)

Geter's debut collection moves from lyric to narrative poetry as she explores her Black family's history of mixed citizenship and religion— "He's a history / whittled down to this / single story." Themes of migration, racism, queerness, and loss emerge as Geter expresses the wrenching heartbreak of trying to make a home in a place that doesn't accept you.
The Final Child by Fran Dorricott (September 8)

A rare psychological thriller with a queer woman protagonist, The Final Child centers on Erin. Erin and her brother were the last pair of siblings kidnapped by a serial killer; she escaped, but her brother was never seen again. 18 years later, Erin's past comes back to haunt her when a journalist wants to interview her.
ZOM-FAM by Kama La Mackerel (September 10)

Spoken word artist and performer Kama La Mackerel's debut poetry collection draws its title from Mauritian Kreol; it means "man-woman" or "transgender." There too are the poems set, as a gender-creative kid comes of age in the 80s and 90s and explores their queer and trans identity amid the legacies of colonization.
Collecting a decade of work by the artist, musician, and author Johanna Hedva, Minerva the Miscarriage of the Brain weaves in and out of various forms: poems, plays, performances, an encyclopedia, personal essays, autohagiography, and hypnagogic. Themes include motherhood, mysticism, madness, and magic.
Shelly Struggles to Shine by Kit Rosewater and Sophie Escabasse (September 15)

The second book in a delightful(ly queer) illustrated middle grade series about roller derby, Shelly Struggles to Shine focuses on, of course, Shelly. She's having trouble asserting her individuality while working with the other girls as a part of their team.
YA science fiction adventure starring ace sapphic girls? Yes please! Hazel can't leave her small Pennsylvania town because an interdimensional rift opens if she strays too far. But on her 16th birthday, the rift goes all wonky — and doppelganger Hazels start to appear.
This groundbreaking anthology features stories about bending the space-time continuum by queering NDN time, two-spirit resistance camps, bio-engineered AI rats, transplanted trees in space, and more! Authors include Darcie Little Badger, Mari Kurisato, Kai Minosh Pyle, David Alexander Robertson, jaye simpson, and others from across Turtle Island.
Polar Vortex by Shani Mootoo (September 15)

In a tantalizing mix of psychological thriller and literary fiction, a long-term lesbian couple's relationship implodes. The catalyst is the arrival of Priya's old university friend Prakash, with whom she had a complicated and fraught relationship. Mootoo brilliantly explores white discourse about queer sexuality and identity, refugee experiences, the triple effects of sexism, racism, and homophobia on queer women of color, and more.
Using an ace lens to look at desire and identity, Chen asks questions like: what exactly is sexual attraction? What can asexuality teach us about consent, compromise, and society at large? Chen is a journalist who includes the perspectives of many other aces with intersecting identities as well as her own asexual journey.
Even If We Break by Marieke Nijkamp (September 15)

In this spooky page-turner of a YA thriller perfect for fall, five friends gather at a cabin for a role-playing game that may turn deadly. Featuring queer, trans, disabled, and autistic representation!
In a magical post-apocalyptic desert, the world has been burned by the sun god Solis. In the post-La Quema universe, Xochitl is a 16 year old cuentista — storyteller. She takes people's tales into herself, then goes out in the desert to give them back to the earth. The story follows Xo as she goes beyond her village and explores the world beyond her assigned role.
Corinne knows she's bi; she even has Maggie, her secret girlfriend. But she's not ready to tell anyone. When Maggie dies, Corinne discovers the only thing worse than losing Maggie is not being able to tell anyone how heartbroken she is. The only person she can turn to is Maggie's ex, Elissa.
[Un]Common Ground by Erica Abbott and Pol Robinson (September 15)

This opposites-attract romance between a stubborn, ambitious city employee and a nomadic hippie focused on food sustainability is set in the Pacific Northwest. It also features more than one goat and a stray dog!
Natch by Sophia Dahlin (September 1)

Dahlin's first full-length collection shows a vast array of queer pastoral lyric poems. They are by turns funny, erotic, longing, passionate, brave, and vulnerable. The publisher writes: "the poems of Natch speak the dialogue of a person's parts, the dynamism of a queer body desiring something between rest and consumption."
Hench by Natalie Zina Walschots (September 22)

A superhero/villain story told from the point of view of a henchwoman! When an encounter with a hero leaves supervillain office admin worker Anna injured and laid off, she uses her superpower — spreadsheets — to investigate and analyze the data on civilian injuries by heroes. Turns out the boundary between heroes and villains is mostly marketing.
Alison is a queer teen who's made a few mistakes lately: saying yes to the wrong things, like producing her school's production of A Midsummer Night's Dream and to her friend Jack who asks her on a date. Can Alison cope with the constant disaster that is the play and tell her real crush, Charlotte, what her feelings are?
Bestiary by K-Ming Chang (September 29)

This poetic fabulist fantasy features three generations of Taiwanese American women. Once Mother tells Daughter the story about a tiger spirit who lived in a woman's body story, Daughter wakes up…with a tiger's tail.
Burning Roses by S.L. Huang (September 29)

Huang retells the Chinese fairy tale Hou Yi, but gender swaps the characters for two queer women of color (Latina and Chinese respectively). (One of them is also trans!) These badass ladies emerge from middle aged comfort to protect the land from enormous killer fire birds.
Burning Sugar by Cecily Belle Blain (September 29)

Blain weaves together activism and poetry in their debut collection featuring epistolary and free verse poems about anti-Blackness, colonization, geography, personal history, resilience, and the arts. This is the second book published by the VS. Books imprint, curated and edited by Vivek Shraya.
October Queer & Feminist Books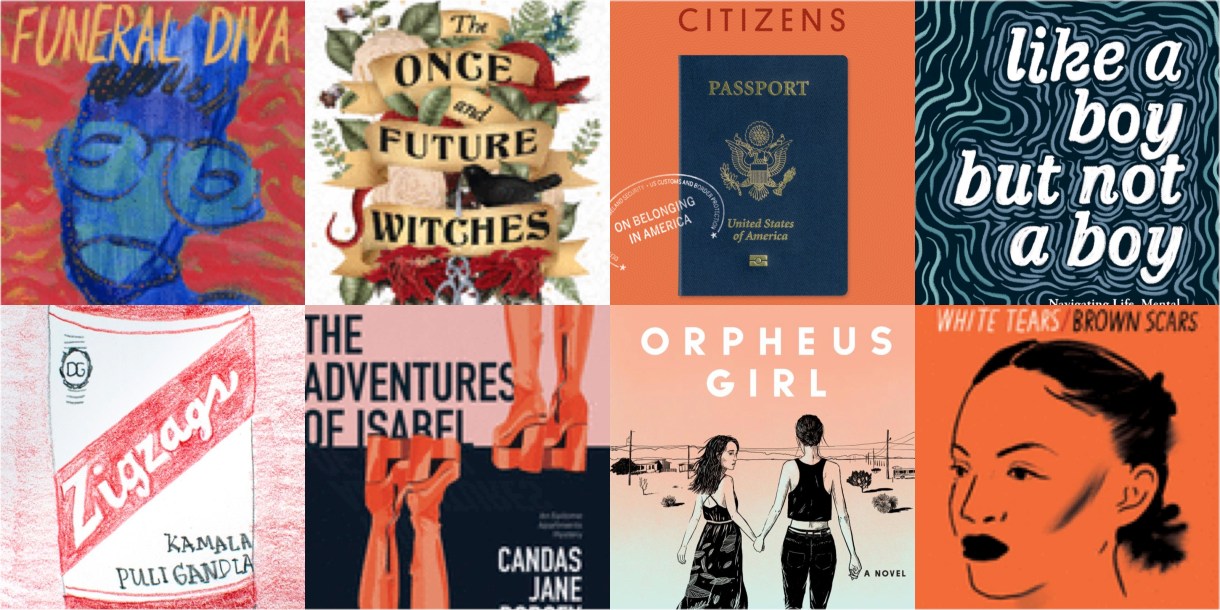 Kimiko Does Cancer by Kimiko Tobimatsu and Keet Geniza (October 1)

In this graphic memoir, Tobimatsu chronicles her journey of being a queer, mixed-race woman diagnosed with breast cancer at age 25. All of a sudden, her life is turned upside down — and she's left thinking that she knows this isn't what 25 is supposed to be like.
Knot Body by Eli Tareq El Bechelany-Lynch (October 1)

Poetry, essays, and letters to "lovers, friends, and in-betweens" are the form of this genre-defying collection that looks at capitalism, fatphobia, ableism, transness, and racializations from the point of view of someone with chronic pain, illness, and disability. Knot Body explores the limitations of the body, and how those extend to the world around us.

In a collection both poetry and science fiction, B-e writes poems from the point of view of future cyborgs (plenty of them queer). The book is arranged like an anthology, including fictional cyborg author biographies, a section on "the future of Cyborg poets," and a history of Cyborg poetry in cultural context.
simpson writes poetry and prose from their perspective as an Indigenous trans woman: "i am five / my sisters are saying boy / i do not know what the word means but— / i am bruised into knowing it: the blunt b, / the hollowness of the o, the blade of y." Topics include intergenerational trauma, urban Indigenous diaspora, and intersections of Indigeneity and queerness.
A queer feminist history of American mystical women, An American Covenant covers the lives of five women: Marie Laveau, the Voodoo Queen of New Orleans; Cora L. V. Scott, 19th century Spiritualist; Helena Blavatsky, mother of Theosophy; Zsuzsanna Budapest, witch and founder of Dianic Wicca; and Marianne Williamson, politician and preacher of the New Age Gospel of Love.
The second book in the Hell's Library series, the "Library of the Unwritten" has been saved, but hundreds of potential books were destroyed. When the librarians discover the remaining books are leaking a strange ink, things go from bad to worse. Featuring pansexuality!
Orpheus Girl by Brynne Rebele-Henry (October 8)
This debut YA novel reimagines the Orpheus myth as a story about two teen girls in love in a conservative Texas town. When they are caught in an intimate moment, they are sent to conversion therapy camp.
Polk's feminist historical fantasy set in a Regency-like period is a delightful crossover for romance and fantasy fans. There's magic, questions about marriage as a happily-ever-after, secrets, socialite politics, and an aromantic spectrum character!
In Safi's latest YA contemporary set over the course of one day, three young women who work at an indie bookstore show up to work only to find out Wild Nights Bookstore is closing. Can they work save the store, and deal with their own personal stuff as well?
Set in 1893, this historical fantasy features three sisters who join the suffragists of New Salem. The way to power for women now is supposed to be voting, not witchcraft. But as they pursue the cause, the women begin to turn back to dark, wild, witchy ways.
Zigzags by Kamala Puligandla (October 15)

Autostraddle dot com's very own editor in chief is the debut author of this one!! Zigzags follows Aneesha as she returns to Chicago for the summer to write and reconnect with friends — and maybe an old flame. But it turns out going back to an old life is more complicated than it seems.
An incisive book of history and cultural commentary with a wide scope, White Tears/Brown Scars argues that white feminism around the world has been used as a weapon of white supremacy against Black and Indigenous women and other women of color.
Plain Bad Heroines written by Emily M Danforth, illustrated by Sara Lautman (October 20)

In this much anticipated follow-up to The Miseducation of Cameron Post, Danforth takes a very different turn genre-wise with a doorstopper of an historical gothic horror-comedy novel. Sapphic love! A cursed New England girls boarding school! A story within a story within a story! Behind the scenes Hollywood! Spooky black and white illustrations! Does this not sound amazing?
The Pump by Sydney Warner Brooman (October 20)

The Pump is a small southern Ontario town where the interconnected short stories in this collection take place. Not only is the town burdened by gothic architecture decay, contaminated water, and an apathetic local government, there are The Pump's sacrificial games where no one is safe.

The first book in a new post-modern mystery series about a bisexual social worker turned amateur detective, The Adventures of Isabel is full of clever jokes, self-conscious use of mystery novel tropes, eclectic characters, the fickle antics of a cat named Bunnywit, and more! Its structure is loosely based on an Ogden Nash poem, same title as the novel.
Funeral Diva by Pamela Sneed (October 20)

This poetic coming-of-age memoir is set in the HIV/AIDS era in 90s New York. Of particular focus are the effect of AIDS on Black queer life, Sneed's Black literary forebearers, police brutality, and a closing section on the AIDS and COVID-19 pandemics and their disproportionate effects on African American communities.
Lee's latest book is a hybrid fantasy/science fiction/steampunk/folktale about a nonbinary artist who gets caught up in a revolution in the fictional country Hwaguk. There is also a mechanical dragon who loves to philosophize and an enemy duelist!
"Watch me, swallow / the hardest thing / my body has made / & live," Wee proclaims. This remixed, revised, and updated edition of her poetry collection is about bodies as sites of joy, resistance, grief, testimony, and lineage. She writes from the perspective of a queer racialized immigrant woman.

This collection of feminist protest and thought takes words from four millennia of work, including China's women poets of the Tang Dynasty, Indigenous women in the Caribbean resisting Columbus, British suffragists, women in 1980s Botswana fighting for equal legal rights, radical queer politics of the 20th and 21st centuries, and more!
Bennett's collection of insightful personal essays explores topics such as non-binary parenthood and birth, gender in-between spaces, bike mechanics, mental health, class, moving house, changing jobs, mortality, and creativity. Interspersed throughout the book are short stories about small town queer millennials called "Everyone is Sober and No One Can Drive."
Gago, a feminist leader in Latin America, has written both a political analysis and a (wo)manifesto. She investigates the women's strike as simultaneously a collective feminist experience and concept while paying attention to the intersections of race, class, and gender as well as populism, Marxism, domestic work, neo-extractivism and development, and more.
The final book in the heartwarming all-ages queer graphic novel series, The Tea Dragon Tapestry continues the story of the tea dragons, Greta, Minette, and others. Queer found family, caretaking, disability, racial diversity, mischievous dragon shenanigans, gorgeous intricate art, and more in this warm hug of a book.
Pulitzer Prize Finalist Laila Lalami charts her journey as an immigrant from Morocco to a citizen of the U.S. in this incisive look at the historical, political, and literary context of American citizenship. While asking what it means to be American, she focuses on white supremacy, social hierarchy, and the hypocrisy of a society that accept some citizens with one arm while pushing them away with the other.
Vagrant queen, aka Elida Al-feyr, is back! This revival of the science fiction comic series finds its former runaway space princess protagonist finally living a happy life … until a strange man shows up in a big old white spaceship and steals it all away. Elida will have to track down her life, as well as Isaac who has mysteriously disappeared.
November Queer & Feminist Books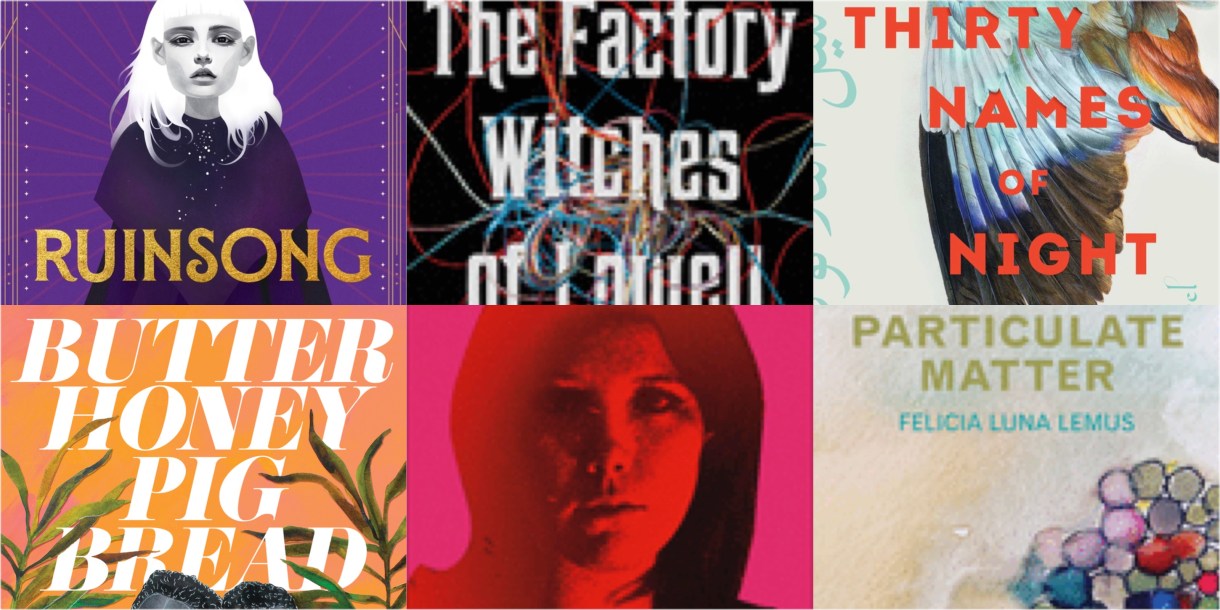 There aren't nearly enough lesbian historical romances, but here's one! Her Lady to Love is about country mouse and wallflower Lady Honora Banfield, newly arrived in London to find a husband. Enter Miss Jacqueline Lockhart, a vivacious lower class woman having entirely too much fun in her sixth society season. It turns out the two opposites-attract are more interested in each other than society men.
Um, someone has written a holiday lesbian romance about two women behind the scenes making a Hallmark-esque network's first lesbian Christmas movie!! Holly and Meredith vow to put their brief but hot night together aside in favor of working together — workplace policy dictates no dating — to pitch the first f/f yuletide movie. But are happy endings only for the movies?

Two to Tangle by Melissa Brayden (November 1)

Chef/carpenter romance set on a vineyard, anyone? Gabriella is a renowned chef who just moved to Oregon to open a restaurant on the Tangled Valley Vineyard. With a few too many burns in the romance department, she's ready to focus on her career. But when lady-killer carpenter Ryan is the one hired to build the restaurant, the two women find unexpected chemistry.

With playful and warm prose, Lemus takes readers into the most difficult year of her life and marriage. Set in Los Angeles, it chronicles her wife's sudden and serious adult-onset asthma, and the literal and figurative fires that raged that year over their lives.
Joukhadar's new novel follows three generations of Syrian Americans linked by a mysterious bird. One is Nadir, a closeted trans boy who, after the suspicious death of his ornithologist mother, is his grandmother's only caretaker. One night of escape leads him to find the abandoned journal of Laila Z, a bird painter who reveals to Nadir his community's own queer and trans history.
The stories of three Nigerian women — Kambirinachi and her twin daughters, Kehinde and Taiye — across the span of three continents make up the novel Butter Honey Pig Bread. Childhood trauma, being an artist, motherhood, food, non-human spirits, familial reconciliation, queer love, and more!
Her second novel since 2014's honest-to-god genius I've Got a Time Bomb, Lamb's inventively titled YA book is about a young homeless girl named Eggs. Eggs never goes down to the ground, flying from rooftop to rooftop, occasionally making friends — and enemies when she steals a neighborhood baddie's warm jacket.
Historical labor strikes, witches, feminism, and queer love! This historical fantasy is set in the mill town of Lowell, Massachusetts and follows a group of young women who rise up against the owners of the cotton mill where they work. Their ringleader, Judith, has experience in class warfare and a witch lover, both of which she intends to use to make sure the women emerge victorious.
A queer rom-com inspired by Pride and Prejudice about an actuary and an astrologer! Elle and Darcy were set up on a date that went horribly. But Darcy fibs and says they hit it off to stop her brother from playing matchmaker again. Unfortunately, Elle finds out. When Elle agrees to fake date Darcy in exchange for some favors, neither are expecting to fall in love for real.
As an undergrad at Harvard, Cooper became obsessed with a murder of a young woman grad student, Jane Britton, at the university in 1969. For ten years, she investigated the story as it intersects with the merging of Harvard and Radcliffe (its all-female sister school) the same year and the history of misogynist violence in revered academic institutions.
Ruinsong by Julia Ember (November 24)

In this dark romantic YA fantasy, Ember brings together two rival women to participate in the underground rebellion against their ruthless queen. While the mage with a magical voice and rebellious noblewoman work together, they struggle with their growing romantic feelings for one another.
Poet Pflug-Back's first full-length collection has distinctly autumnal themes: the macabre, the monstrous, everyday mysticism, fear, and of course witches. The poems explore the grief of living in a world where ancient forests are cut down for parking lots and the gods seem to have abandoned humanity.
Which fall 2020 queer and feminist books are you most excited about? Let everyone know in the comments!