"It is completely strange, isn't it? It's all fucked up. Where the hell are all the others? No one is coming out."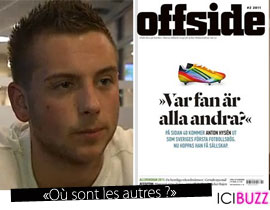 These are the words of Swedish footballer (soccer player, for those who speak Yankee) Anton Hysén, who came out as a gay man in an interview this week's edition of Swedish soccer magazine Offside. The Utsiktens BK defenseman is the first Swedish professional footballer to come out, and only the second ever. Ever. In the history of professional soccer.
The first was Justin Fashanu. When he began at Norwich City in 1978, he was one of English football's white-hot young phenoms, scoring the BBC Goal of the Season award for 1980 and becoming the first black player to be signed for £1 million when he transferred to Nottingham Forest.  Forest was a prestigious club at the time, and its manager, Brian Clough, still considered one of the best in EPL history. But his performance began to suffer, friends and colleagues say as a result of bullying from his homophobic manager. Clough even admitted this in a now-notorious exchange he wrote about in his autobiography, Clough confronted Fashanu about his sexuality after hearing rumors he was going to gay bars: "'Where do you go if you want a loaf of bread?' I asked him. 'A baker's, I suppose'. 'Where do you go if you want a leg of lamb?' 'A butcher's'. 'So why do you keep going to that bloody poofs' club?"'
Fashanu came out in the press in 1990, and the reactions were stunning. His brother John, also a professional soccer player, publicly denounced him and labeled him an 'outcast' in an interview with The Voice. As LGBTI activist Peter Tatchell, a former friend and confidant of Fashanu's, wrote in a tribute to his late friend: "At the time, he and I knew of 12 top footballers who were either gay or bisexual. None have followed Fashanu's example of openness."
In May 1998, following a string of unsuccessful stints at other clubs and a damaging sex scandal, Fashanu committed suicide by hanging himself in a lockup garage in the Shoreditch neighborhood of London. Hardcore supporters of Ipswich Town, rivals to Fashanu's former club Norwich City, still torment fans with the disgusting chant 'He's gay, he's dead, he's hanging in the shed. Fashanu, Fashanu.'
In 2009, UK LGBTQ rights group Stonewall surveyed more than 2,000 British football fans, more than 70% of whom said they heard anti-gay comments while attending a match in the past five years. And although 63% attributed the high levels of homophobia to the fact that there were no out gay players in English association football, only 2% of those surveyed said they legitimately believed there were no gay players in the top leagues.
For more than two decades after Justin Fashanu's coming out, Peter Tatchell's predictions remained true.
No one followed his lead.
And it wasn't just fans who displayed homophobic behavior; administrative bullies have made things difficult for LGBTQ fans and players.
Croatian football league president Vlatko Markovic banned gay players from the national team, remarking that 'Luckily, only normal people play football.' And FIFA boss Sepp Blatter advised fans traveling to Qatar, where homosexuality is banned, for the 2022 World Cup, to just, oh, you know, not do any gay stuff while there.
But things are getting better, too. In the UK, more and more professional athletes are coming out (although not in soccer), including Gareth Thomas (rugby league) and cricketer Steven Davies. There are organizations working to improve the climate like the FA-backed Kick It Out, which strives to make soccer more inclusive and fight racism, sexism and homophobia in the game and The Justin Campaign (Full Disclosure: I'm on their Communications team), which organizes the now-annual Football v. Homophobia, Biphobia and Transphobia days. In two years, FvH has garnered support from the FA and UEFA and held events in Spain, Mexico, Croatia, Ukraine and the United States. Professional clubs including Ipswich Town, whose fans are responsible for the homophobic chant mentioned earlier, participated, handing out matchday inserts and flying banners and rainbow flags at the grounds.
This year, the message included an emphasis on educating youth teams. A friendly match between two Ladies Under 14 Division 2 sides in Kent, UK, was included as part of this year's events. Ernie Brennan, Elizabethans' Head Coach and Director of the National Children's Football Alliance said, "It is very important that young footballers know about Football v Homophobia and why there is a need to promote the day; and there is no better way to support the campaign than participating on and off the pitch.  The message is loud and clear from parents and children in Faversham, Football will beat Homophobia." This is something that seems so small now, but to educate young people on the importance of inclusion and respecting all people in sports, and promoting the involvement of girls in a sport that, unfortunately, is still a bit of a boys' club on top of that, can have a huge impact.
And then we come to Anton Hysén.
Hysén's case is particularly interesting because he is part of a prominent football family himself. His father, Glenn Hysén, had a successful career playing for top-tier Euroepan sides like IFK Göteborg, PSV Eindhoven, Liverpool F.C. and Fiorentina, and now manages his son's team, Utsiktens.
But for many years, Glenn Hysén was notorious for an incident off the pitch.  In 2001, as The Guardian explains, he came under fire for fighting with a man who allegedly tried to 'touch' him in an airport bathroom. Six years later, he gave the keynote speech at Stockholm's Pride Festival, a decision which made LGBTQ activists irate. But his desire to be a part of the festival makes a lot more sense now as his son provides the context.
"Until now only my family and friends have known about my sexuality – well I think so, at least," the younger Hysén told Offside. "That was the funniest thing when my dad made that speech. When he was talking about 'a 16-year-old who didn't want to come out because he feared what his team‑mates would think', that was me. And people thought it so bloody strange that he was allowed to speak at the Pride Festival, that he was a homophobe and so on. Shit, they were so wrong."
(His words and his father's ongoing support are a reminder of two things: One, people can and will change if you let them. And two, coming out is a powerful tool in altering someone's perspective.)
After bits of the interview were leaked and started making their way around the Internet, Glenn Hysén sent a series of tweets in Swedish and English in support of his son (translations via Keph Senett and Malin Hägg):
Jag är ruskigt stolt över grabben. Stöttar honom till 100 %. Tack för alla fina ord. Ha de gott. Glenn.
(Translation: I am very proud over the kid. I support him 100 %. Thank you for all your kind words. Be well. Glenn.)
Jag är otroligt stolt över Anton! Han är jävligt stark. Tack för alla fina ord.
(Translation: I'm incredibly proud of Anton! He's really strong. Thanks for all the kind words.)
I reckon you heard about my son, Anton, today. I'm a very proud dad. He's strong and he'll never walk alone. #kvällsöppet Ha de gott. Glenn.
It's the last of Glenn Hysén's tweets that is particularly resonant. It alludes to 'You'll Never Walk Alone,' the motto and official anthem of his old club, Liverpool. 'You'll Never Walk Alone' is sung at soccer matches all over the world, adopted as an anthem by clubs in England, Scotland, the Netherlands, Germany and Japan, to name a few. It's a striking testament to the community and universal, border-defying nature of The Beautiful Game, the idea that when you're in the grandstands or watching in the pub, you're part of a family of fans.
But with that message of communal fandom comes the unfortunate paradox of racist, sexist and homophobic and transphobic attitudes still permeating on the pitch and in the stands. It is up to fans and players to continue to change the culture of fear of otherness – in this and any sport – and ensure that no one ever walks alone.
I hope Hysén's story has a happy ending, but that may not be fully possible yet. The vocal support of his family and change in his father's attitude are a very promising combination, and he's gotten quite a bit of support from fans – even the commenters from the notoriously conservative Daily Mail were pretty kind to him (e.g. "Good for him!!! It takes a real man to admit you are gay in a sport like football. The small minded "supporters" of the game need to crawl back under the rocks they came from."). But it hasn't all been rainbows and butterflies: according to The Guardian, Sweden's TV4 pulled an article about the player from their website because it was leading to homophobic abuse. He has a long way to go, but hopefully, in the wake of this, more professional soccer players (and athletes at large) will be ready to come out – in Sweden, in the UK and all over the world – and in turn, create a more inclusive climate at the grounds.
And that's why this is important, even for those among us who could care less about soccer or yawn when another high-profile or well-connected individual comes out in a media frenzy. I understand that. But "…. And soccer (or your sport of choice) is something that millions of people around the world enjoy and can relate to and want to be included in as fans and as players. For an impassioned but terrified kid, like Anton Hysén was, or like Caster Semenya was, or like you were, who just wants to play and not have to worry about how things are gonna go down in the locker room, these role models need to exist to provide some kind of context, some kind of point of reference to be able to talk about their sexuality or gender identity comfortably and free of fear.
Hopefully, as the sporting world grows more accepting, athletes and fans of all stripes will be heralded for their ability rather than shunned for who they are. As Anton Hysén put it: "I may not play in the top flight but I still want to show that it isn't such a big deal. I am a footballer – and I am gay. If I perform as a footballer, then I don't think it matters if I like boys or girls."