by carolyn & riese
Books! They are really great. You just won't believe how great they are. You may think that the Internet's great, but that's just peanuts compared to books. Welcome to Lez Liberty Lit, our new column about literary shit that's happening that you should probably care about. We're aiming to put one of these together twice a month.
The name "Liberty Lit" was inspired by the short-lived literary journal produced by Angela Chase at Liberty High School in 1994.
Header by Rory Midhani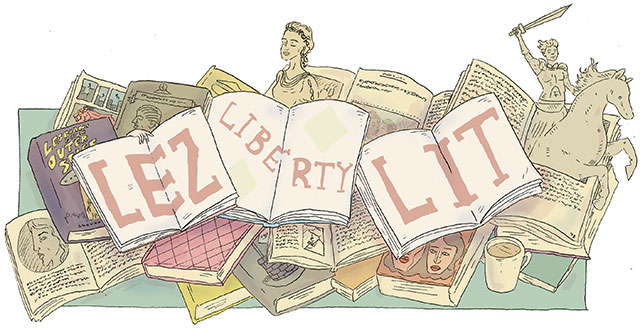 ---
Lit Links:
Autostraddle.com, the best website in the entire universe, published the most amazing gift guide for book lovers (no books included).
Google Poetics is a tumblr featuring the unintentional poetry of Google instant. A surprising number of poems involve Batman.

This list of 50 books by queer writers of colour is necessary reading, and includes Octavia Butler, Farzana Doctor, Jewel Gomez, Felicia Luna Lemus, Malinda Lo, Alisa Valdes-Rodriguez and many more.
At Bitch, Nina St Pierre interviewed Lidia Yuknavitch, author of Dora: A Headcase; Lisa Knisely wrote about Dear Dawn: Alieen Wuornos in Her Own Words; and Christen McCurdy wrote about Drinking Diaries, an anthology of essays about women and liquor.
Sady Doyle wrote "I Read Sylvia Plath's Journals And All I Got Was This Lousy Sense of Terrible Foreboding," on how Plath's journals are creepier than the Twilight series.
At the British Library, Jeanette Winterson called for national or private funding for public libraries.
At Slate, Dan Kois reviewed Cher and Cher Alike, a Clueless spin-off novel. If you only read one review this week, make it this one. Highlights include a list of "The Complete Adverbs of Page 26 of Cher and Cher Alike," references to classic literature, brand analysis and nostalgia.
Slate also ran a list of the most underrated fiction of 2012.
At the Lesbrary, Laura Mandanas reviewed Red Falcon's District, by Leilani Beck; Katie reviewed The Gunfighter and the Gearhead, by Cassandra Duffy; and Jill reviewed The Narrows, by M. Craig.
Erica Wagner interviewed Marina Warner and Hanan al-Shaykh about what One Thousand and One Nights can teach the modern world.
Casey the Canadian Lesbrarian wrote an introduction to queer Canadian young women's fiction that covers Ivan E. Coyote, Kristyn Dunnion, Beth Goobie, Hiromi Goto, Leane Lieberman, Jill Murray, Mariko Tamaki and more.
At the Rumpus, Michelle Dean writes about how the number one thing she's worried about for the future of books is that there won't be any used ones.
At Lambda Literary, Amy Gail interviewed E.J. Levy, author of Love in Theory, about erotiscism in academia, publishing and love. Heather Seggel reviewed Marbles: Mania, depression, Michelangelo, and Me, by Ellen Forney. Victoria Brownworth argued for the case against censorship. Sassafras Lowrey reviewed Sister Spit: Writing, Rants, and Reminiscence from the Road, edited by Michelle Tea.
You can download "Crumbs," a lesbian retelling of Hansel and Gretel that appears in Sappho's Fables: Lesbian Fairy Tales, for free at Smashwords.
"Two Salt Feet," by Sarah Diemer and part of Project Unicorn, is also available for free.
The Monkey's Paw, a Toronto bookstore, has unveiled the Biblio-mat, a book vending machine that will give you a random book for $2.
At Brain Pickings, Maria Popova has the daily routines of famous writers including Ray Bradbury, Maya Angelou, Jack Kerouac, Susan Sontag, Simone de Beauvoir and Anais Nin, among others. Here is Joan Didion's:
"I need an hour alone before dinner, with a drink, to go over what I've done that day. I can't do it late in the afternoon because I'm too close to it. Also, the drink helps. It removes me from the pages. So I spend this hour taking things out and putting other things in. Then I start the next day by redoing all of what I did the day before, following these evening notes. When I'm really working I don't like to go out or have anybody to dinner, because then I lose the hour. If I don't have the hour, and start the next day with just some bad pages and nowhere to go, I'm in low spirits. Another thing I need to do, when I'm near the end of the book, is sleep in the same room with it. That's one reason I go home to Sacramento to finish things. Somehow the book doesn't leave you when you're asleep right next to it. In Sacramento nobody cares if I appear or not. I can just get up and start typing."
Brain Pickings also has a list of the best art books of 2012, Kurt Vonnegut on the shapes of stories and artist Maira Kalman on the art of not thinking.
Rookie posted tips from writers — including Joss Whedon, Fran Febowitz, Malcom Gladwell, Susan Orlean, Julie Klausner and more — on getting over writer's block.
If you're writing and feel easily distracted, you can turn your browser into a typewriter. GalleyCat ran a list of the best writing music of 2012. i09 can help you figure out whether the first draft of your novel is worth revising.
A former editor of the Oxford English Dictionary deleted thousands of "foreign" words from the dictionary that never deletes a word and blamed it on previous editors.
Don't forget to check out all the awesome book-related things we published recently: Gabrielle wrote about Christy C. Road's Spit and Passion. Carmen interviewed Eileen Myles. Fonseca wrote about Poetry is Dead's queer issue. And, as aforementioned, Riese picked out 59 awesome gifts for book lovers that aren't books.
Books And Events To Watch Out For:
Now to December 2, everywhere: The Twitter Fiction Festival, which showcases experiments in online storytelling, is ongoing.
December 1: The first 20 books in the Baby-Sitters Club are coming out as ebooks.
December 1, many places: United in Anger: A History of Act-Up is screening around the world in honour of World AIDS Day. Find the screening near you.
December 5, New York: December's White Swallow reading series will feature Michael Cunningham, A.M. Homes, Justin Torres and B.C. Edwards. (Cornelia Street Cafe, 29 Cornelia Street between 4th St and Bleecker, 6 p.m.).
Now to December 16, San Francisco: The New Conservatory Theatre Centre is running The Submission, a play about a gay author that explores affirmative action and bias in literary contests. Saturdays at 8 p.m., Sundays at 2 p.m., $25-$45 (25 Van Ness Ave. at Market, lower level).
Now to January 31, New York: Strange Loop Gallery is collaborating with the Bureau of General Services, Queer Division, to create a pop-up bookstore and event space at Strange Loop Gallery (27 Orchard St.).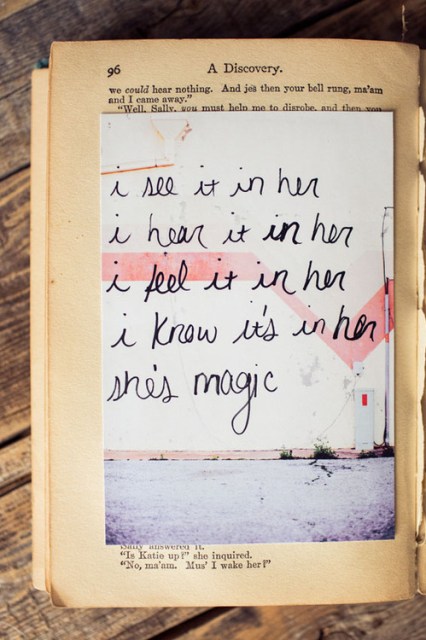 What We've Been Reading:
Riese: Sometimes I panic that I might die before I have time to read all of the books I'm supposed to read. Actually I think about this a lot. Don't do the math, it'll only plunge you into a pit of despair! Anyhow, so last week I read The Color Purple, approximately fifty thousand years after the rest of the world read The Color Purple. Obviously it was amazing, and also, I didn't realize exactly how gay it was. Like I didn't know it was really totally gay and not just subtexty gay. I wanna see the movie now.
Carolyn: I also share that panic! (Possibly because I read about the math.) Anyway, this week I read Angorafabulous!, by comedian Sara Benincasa, which is about what happens when you have a lot of panic attacks and feel like you are going to die, but also have a sense of humor. The addition/illness/recovery memoir as a genre is pretty formulaic at times, and while Angorafabulous! is more a series of essays than it is a memoir in the traditional sense, it is completely unsentimental in the best way possible. It's also hilarious.