It should be easy to buy a book for a book-lover, except when it isn't. It's hard to blindly purchase a fine work of literature for somebody with a collection you're not intimately familiar with. What if they've already got it? What if they're not into that author?
See, last year I made a book-buying holiday shopping guide that is probably one of my most epic accomplishments of all time but this year, in honor of the aforementioned quandry and in light of the glory of the internet, I present a Book-Free Gift Guide For Book-Lovers.
Products with asteriks* on either side indicate that the gift is linked through an autostraddle affiliate account, meaning we get a small kickback on the purchase. Most of the items not linked through affiliate accounts are from independently-owned small businesses or individual crafters.
A Gift Guide For Bookworms
Literary Totes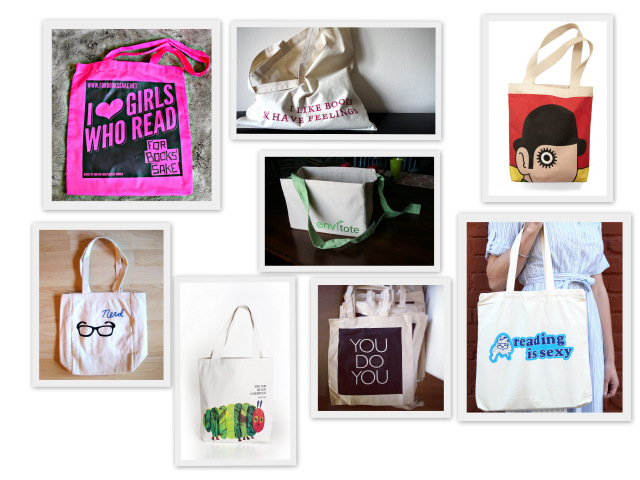 [clockwise, starting in the upper left]
I Heart Girls Who Read (£5) – Say it loud, say it proud, you love girls who read.
I Like Books & Have Feelings Bag ($16) – These all-cotton twill totebags were hand-printed in Brooklyn and your purchase supports Glass House Books.
*Bookshelf Bandit Tote* ($17.99) – Give the world the side-eye with this Clockwork Orange-inspired tote bag.
Reading is Sexy Tote ($12) – Because it is.
*You Do You Tote* ($10)- This reflects the ethos of your favorite place to read things, Autostraddle.com.
Nerd Tote ($10) – Be up front about who you are.
Very Hungry Catepillar Totebag ($18) – Out of Print Books have lots of cool totebags like this.
*The Envitote* ($30) – It's basically begging to hold all your books. It wants to hold your books and your apple and your wine and more of your books. It's just perfect for holding books, you know? It's full of hopes and dreams, just like you and your books.
Recommended Reading Flask ($20)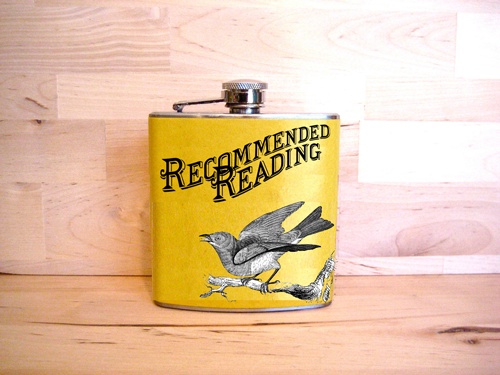 The good folks at Electric Literature enjoy drinking and reading. Perhaps somebody else you know feels the same.
*Literary-Themed T-Shirts & Hoodies* ($21-$42)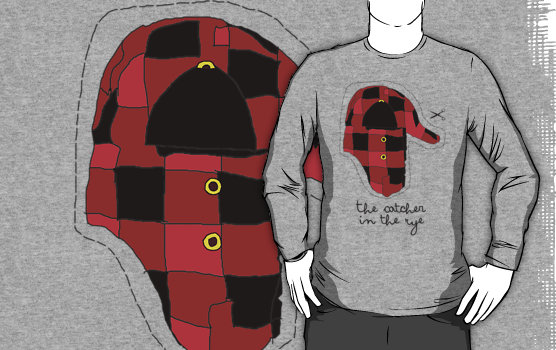 Redbubble offers hundreds of reading-themed apparel created by independent artists and designers. They print on American Apparel and they let you pick the color and style yourself — options include V-Necks, crew-necks, hoodies, long-sleeved shirts and "girly fit" tees.
Reading Notes ($15.95 for 3)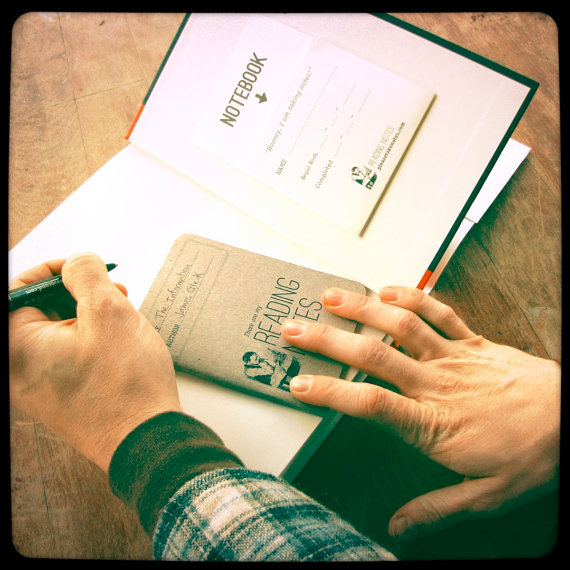 Reading Notes are for people who don't want to write notes in their book but want to have notes in their book. Totally genius.
Accessories
[clockwise, starting upper left]
Ampersand Necklace ($25.66) You should add yourself to this necklace.
Curiouser & Curiouser Bracelets ($79) – You should choose whichever quote suits your fancy for these puppies.
*Penguin On The Road Card Holder* ($8.95) – You should get this for me.
Gold Book Locket ($26) You should open this locket and put your heart inside it.
Dewey Decimal Vintage Ring ($12) – You should support the good people who made these rings from dewey decimal cards rescued from the trash.
Girl on Fire Necklace ($26) You should salute this necklace.
Not To Be Trusted With a Library Card Button ($1.50)- You should get real with yourself.
*Vintage Young Adult Classics* ($0.99 – $39,435.96)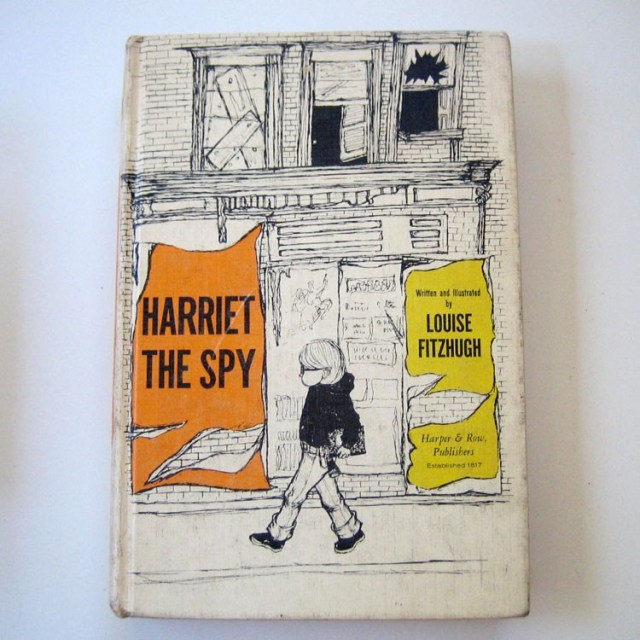 Young Adult novels notoriously change their cover art every ten minutes, which's what makes older editions of your favorite YA novels all the more endearing. Alibris has a huge selection of first editions, signed and other collectable, including a $40,000 Harry Potter situation. Your special friends can travel back in time with The Babysitters Club Notebook ($.99) or enjoy the Boxcar Children Cookbook ($.99). Also, you can also usually find old copies of YA paperbacks at thrift stores, garage sales and secondhand stores, I recently picked up a whole basketful for $4 at Urban Ore in Oakland.
House Stuff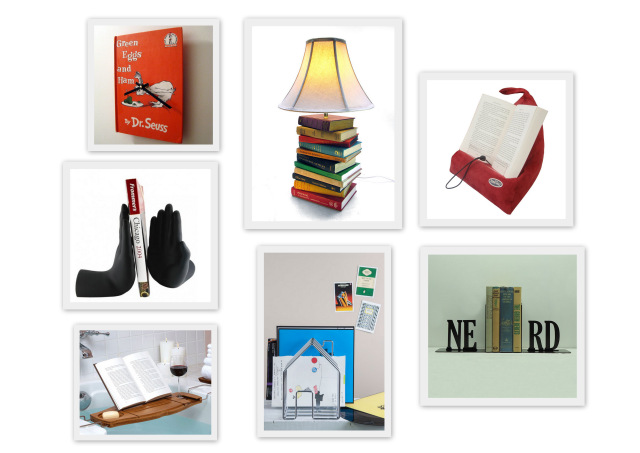 [clockwise, starting upper left]
Green Eggs & Ham Clock ($23.99) – It's always time for green eggs and ham.
Book Lamp ($100) – It's a reading light made out of things to read!
*The Book Seat Holder* ($33.95) – This baby turns into a travel pillow when its not a book pillow holder situation.
NERD Bookends ($42.99) GET IT? Because people who read books are nerds. And NERDS ARE AWESOME.
*Home Sleek Home Magazine Rack* ($20.99) – All my life I've wanted to live in a house made out of magazines.
*Umbra Aquala Bamboo and Chrome Bathtub Caddy* ($44.99) This seems kinda frou frou, but also think about how awesome it would be to read in a bathtub!! It has a spot specifically for wine, too, which is amazing.
*Gimme Five Bookends* ($37.99) – Hey you just read a book! Gimme five!
*Check Me Out Library Kit* ($15.99)
For obsessive organizers who need to know where their shit is all the time, the Check-Me-Out Library kit is a cute throwback and an effective tool for those with desired libraries. If I'd had these, I might still have my copy of Bright Lights Big City.
*Mighty Bright Reading Light* ($16.30)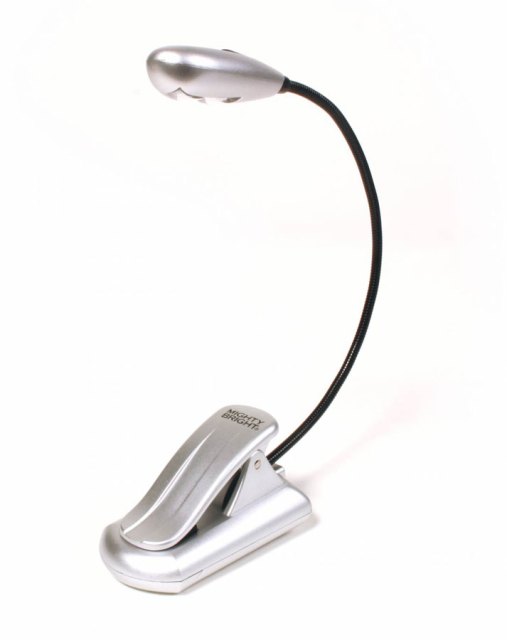 Speaking of bright lights, light is important to have if you are trying to read. Otherwise you'll go blind. That's what my Mom used to tell me. I hear good things about the Mighty Bright Xtraflex2 Craft Light-Silver.
Things For The Kitchen
Virginia Woolf Mug (£11) – All she needs is a room of her own and this mug.
Reading is Sexy Mug ($12) You know what else is sexy? The 100% biodegradable corn plastic this sucker is made out of.
Powell's Pint Glass ($4.00) – Combines two of Oregon's most important features: beer and Powell's Books.
*Scrabble Refrigerator Magnets* ($12.95) You could double word score some scrabble magnets, and then open the refrigerator and get some lemonade.
*Goldbook Book-Shaped Square Plates* ($136.99) These plates look like books. Get it?
Novel Teas ($12.50) This is something I imagine giving to your favorite book-and-tea lover, like Rachel.
*Marks The Plot Coaster Set* ($24.99) Do you know what happens to your table without coasters? It's like what happens to your head without books!
*Virginia Woolf Plush Doll* ($17.95)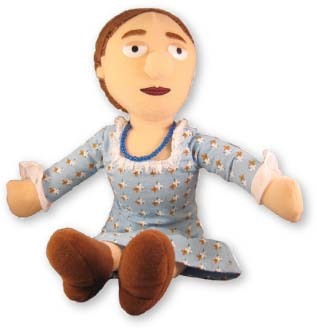 The Virginia Woolf Little Thinker Plush Doll is an instant classic! She'll never be afraid of Virginia Woolf again! Also, Virginia Woolf is bisexual, so keep her away from your Vita Sackville-West action figure. You could introduce her to Oscar Wilde, though.
Fun & Games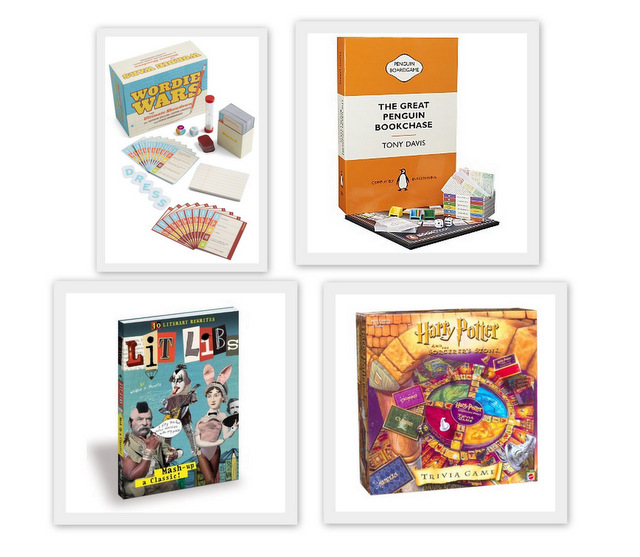 *Wordie Wars* ($24.99) is a game for big nerds who know a lot of words! Your "spelling skills, proofing prowess, synonym-seeking abilities and creative wordcraft" will be tested, but in a really fun way.
*The Great Penguin Bookchase *($34.32) – This family-oriented trivia game promises that "the first to beg, borrow or steal six books is the winner." Mostly I just really like how it looks.
*Lit Libs* ($9.99) – You have a choice: try to fill in the missing words from classic works of literature, or do it the old-fashioned Mad Libs way and make your classic works of literature into ridiculous works of smut.
*Harry Potter Sorcerer's Stone Trivia Game* ($12.95 used, $59.90 new) – The best way to explain this product would be to quote this Amazon review "I am not a child and love the books and this game. This is the best Tivia game I have ever played. Buy it."
help! bookmarks ($19)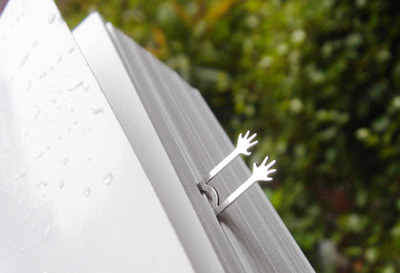 Maybe you can't ever escape the book you're in, but it doesn't stop these bookmarks from trying.
Prints & Posters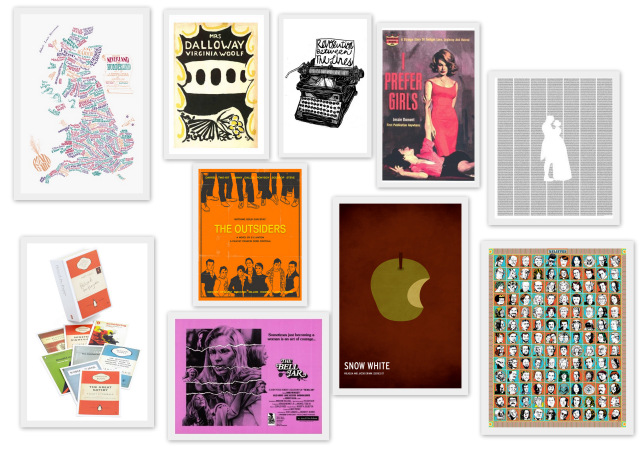 From Neverland to Wonderland (£12) is a map of children's literature in Britain. Look at Roald Dahl's peach!.
Mrs. Dalloway Poster ($15.59)
Revolution Between The Lines Print ($10) – From queer graphic novelist and illustrator Cristy Road.
*Pulp Movie Posters* – Vintage lesbian pulp in a convenient 11×17 poster format. Highlights include I Prefer Girls ($3.99) and Tomboy ($3.99)
*Jane Eyre Poster* ($23.99)- Contains the entire text of the first 12 chapters of Jane Eyre! Seriously.
The Believer Faces Poster ($12) – So many faces! Like Janelle Monae! And Kafka!
Snow White Poster ($21.34) Christian Jackson's book cover prints are amazing. Other options include The Wizard of Oz, Little Red Riding Hood & Alice in Wonderland.
*The Bell Jar Movie Poster* ($9.49) – Shit just got dark.
*Notable & Quotable Postcards* ($24.99) feature cover imagery from a billion (okay, a hundred) classics from the Penguins library.
The Outsiders Movie Poster ($36) –  One of many sweet Giclée prints from Jazzberry Blue .
*Write Now Journals* ($6.95)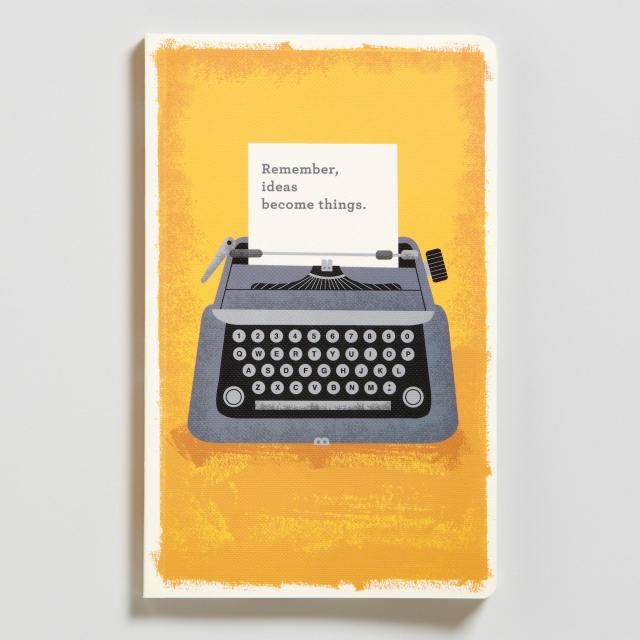 Write Now Journals, created by contemporary designers & illustrators, come in heaps of different designs. I especially like Ideas Become Things (pictured, above) and Alive.
*Book-Inspired Stickers* ($2.50 – $4)
Also from RedBubble, these stickers are so cute I would eat them if they wouldn't taste bad and then I wouldn't be able to put them on things. But you can! Don't eat them, though. Write that down.  
*Amazon Kindle*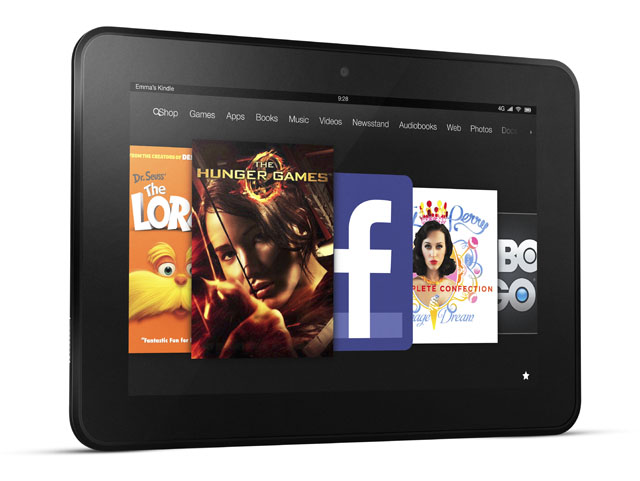 On Monday November 26th, Kindle Fire 7″, LCD Display, Wi-Fi, 8 GB are only $129. And because the Kindle Fire exists, the old school kindle is a sweet $69!
Custom Bookshelf Paintings ($310)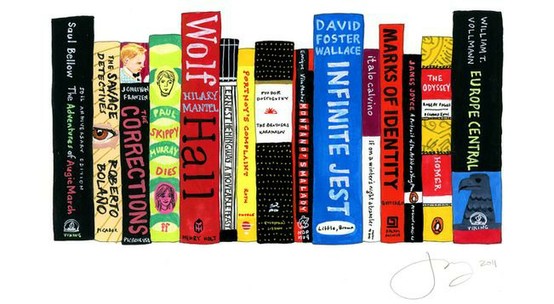 Honestly, imagining a custom painting of ten of my favorite books would be like seeing pictures of my actual offspring. Alternately, you can buy a book of everybody else's bookshelves, like Alice Waters, Michael Chabon, Chuck Klosterman, Patti Smith, Miranda July, Dave Eggers and Judd Apatow.