Real talk: I'm a little bit in love with each and every one of you. Kate once nicknamed me Crush Monster, in spite of the fact that I am in a serious monogamous relationship with the best boi ever, and it's not for no reason — as an out and proud queermo, I just have such love and appreciation for every single smart beautiful amazing sexy funny cool member of our community, ya know? So what better way for me to celebrate all of you incredible Autostraddle readers than to hunt you down, demand you chat with me, and then write about you on the Internet where we can all ohhh and ahhh about how perfect you are? Enter Straddler On The Street, a new feature where I do just that! Every Monday I'll introduce you to a new Autostraddler that you can totally crush on. So get excited, because butterflies in your stomach 24/7 is a fantastic way to live.
Header by Rory Midhani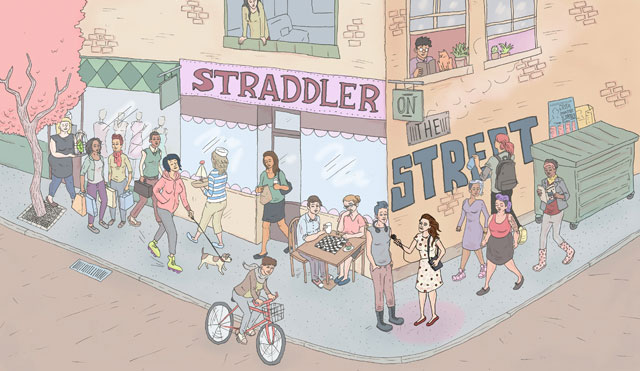 ---
Straddler On The Street: Triszh, 22
When I met Triszh at the Fall Into Fall Picnic, one of the Brooklyn meetups that took place during International Autostraddle Meet-up Week(s), I knew immediately that I wanted her to be the very first Straddler on the Street. Her outfit was beyond adorable, she was so friendly and her sweet demeanor put everyone she spoke to at ease. When I approached her about being featured in this column she was super excited, and her thoughtful and enthusiastic answers to my interview questions confirmed my feeling that I had made the right choice.
Triszh, age 22, lives in Queens, New York. She moved from the Philippines in August 2011 and has made herself at home in The Big Apple, spending time in classes, at her internship and of course reading Autostraddle religiously. Triszh keeps a fashion and travel blog, Dressed To Impress, where she chronicles what she wears, the stories behind her outfits, the places she goes and other inspirations. Also, she's the cutest Red Riding Hood I've ever seen in my life.
We met you at an Autostraddle meet-up. How did you discover Autostraddle?
I've read Riese's L Word recaps on The L Word Online years and years ago — they're what I was excited about every week after the episode aired. From there, I found her blog and then Autostraddle an my life hasn't been the same since. I check it out every day! It's my favorite website in the whole entire universe.
What brings you to New York?
I fell in love with New York the first time I visited, when I was six, so when I decided to go into fashion, New York was the obvious choice. I'll be graduating from Parsons with a degree in Fashion Marketing in December.
Do you have any favorite LGBT/queer spots in New York?
I love The Strand Bookstore, it just feels like a happy, gay place.
Where do you live?
In the Philippines, you usually live with your parents until you get married, or, in my case, when you decide to study abroad. To keep my overprotective parents okay with me moving out, I live with one of my single aunts in her house in Middle Village, Queens. She comes and goes at the weirdest hours so I basically live by myself.
What does an average day look like for you?
On Mondays and Fridays, I intern at a Fifth Avenue boutique  prepping new merchandise for the selling floor and organizing the stockroom. Tuesdays and Thursdays are school days. I always sit in the front row and never miss a class. After work/school, there's dinner, homework, television and, of course, Autostraddle.
What's your favorite thing to do in your spare time?
Cooking and baking! I'm so happy when there's time for me to actually cook myself something that takes more than two steps.
Okay, tell us about your amazing outfit in this photo.
The Autostraddle meet-up invite said that one could wear a costume to the event. I love costumes, but wasn't sure if everybody else would dress up, so I picked something that could also look like a everyday outfit. My outfit was inspired by Little Red Riding Hood. I thought it would be nice to dress up as her but instead of going to my grandmother's house, I'd be going to the Autostraddle picnic. It's definitely a darker, gothic version. I'm wearing a black bustier dress, my favorite black cape, and my trusty black boots. I've been wearing a lot of black since I moved to New York.
You're super into fashion. Can you talk about how you use fashion to convey an identity? Does your queerness play into your fashion choices or are they separate?

I'm super girly and prefer dresses and skirts, which's why most people are shocked to hear I'm a lesbian and my parents never took my sexuality seriously. They saw me as a girl in mini-skirts who couldn't possibly be gay. For a while I cut my hair short and swapped out lacy dresses and heels for jeans and sneakers, and although I was happy to have my queerness recognized, I didn't feel like myself. I dress to show my mood; bright colors when cheerful, my "mourning outfit" when I'm sad.
Tell me about this mourning outfit.
I have two definitions of "mourning outfit." The first one is the all-white outfit or white top with black bottoms that I wear to mourn the dead. It's conservative: skirts and dresses are below-the-knee, no plunging necklines, ideally sleeves.
But the second is the all-black outfit with smudged eyeliner and mascara tears I wear to mourn the loss of something that's not really important but still kinda is, like if I lost a cute girl to another girl and wanted to be sad and dramatic. I'm thinking of adding a black veil next time for extra drama.
What fall fashion trends are on your radar right now?
I absolutely love the contrasting collar trend. I sort of have a thing for tops with interesting collars, be it beaded, studded or colored brightly.
What article of clothing can you not live without?
A little black dress and a crisp, tailored jacket.
Last question: What's the one thing you wish we'd asked you?
I do wish you'd asked, "Hey Triszh, is it okay if we wanted to set you up on a date with an Autostraddle editor/contributor?"
Autostraddle team (and readers!), that's your cue!
---
If you would like to be featured as a future Straddler on the Street, please email vanessa [at] autostraddle [dot] com. Include a few photos, 3-5 sentences about yourself and put "Straddler Submission" in your subject line. Photos must be high-quality vertical shots that are taken outdoors or in very amazing indoor lighting — low-light selfies, while sexy in their own right, will never ever ever be considered.