Remember a few months back when you met all of our brand spankin' new writers and everyone just DIED over how smart and cute they were and how bright the future was going to be? WELL. What we didn't tell you was that around that same time we were also fortifying our Intern Army with a slew of new recruits! You've probably already been dazzled by their fancy graphics and photoshop skills:
Maybe you were at September A-Camp and met some of them. Maybe you were the luckiest person on the mountain and one of the interns was your counselor.
But MAYBE you haven't met them at all in the slightest. Here's your chance!
This is the feeling of introducing your new girlfriend to your best friends. Like going home for the Holidays with a new haircut that you absolutely love and hope in your delicate heart that your mom won't say something unsupportive. This is the feeling of  putting that cute kitten calendar on your desk and wanting your cubemate to think it's as adorable as you do.
I give you the the cutest, smartest, most talented new interns of Autostraddle.com.
+
INTERN NAIMAH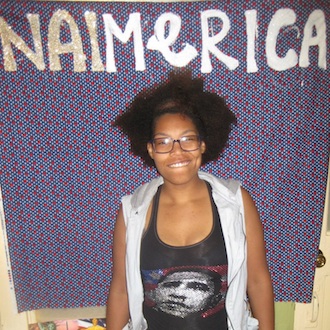 Bio: Naimah is a fifth year senior that settled into Computer Science as acceptance of her fate to eventually become her mom, a programmer. When not being "studious" she works as an on-campus Web Assistant and spends a lot of time pursuing the SF hipsterdyke lifestyle, i.e. biking, getting sidecuts, thrifting, and 'branding' oneself. She can also be found creating Excel spreadsheets to design her future or napping on her girlfriend.
Interesting Facts:
+ I am trying recreate myself as a brand just because I came up with a cool name, Naimerica, which originated as the theme of my last birthday party (coincidentally I share Obama's birthday).
+ When I am drunk I am an amazing rapper, when I am sober I am firmly average.
+ My roommates, friends and I created a fake frat, Gamma Rho Nu, because we binge-watched Greek. GRN now has 143 likes on Faceboook!
+ I also have an obsession with creating Facebook pages for everything.
[more]

INTERN CHELSEY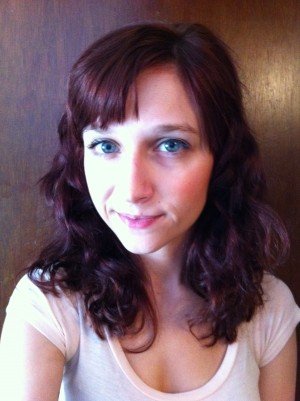 Bio: Chelsey is a grammar junkie and perfectionist living in Florida. She graduated from the University of Central Florida with her BA in English where she served as Editorial Assistant for the Florida Review. Currently, she works full time in Marketing for an Architecture firm and can usually be found drinking coffee in a cardigan. For fun, she likes to read, write, watch bad television, and play at theme parks.
Interesting Facts:
+ I rarely dress weather appropriate and usually have cat hair somewhere on my person.
+ My idea of dancing includes a lot of elbow action. My best friend describes it as "the synchronized swimming chicken dance"
+ I like watching television and movies with the captions on.
[more]

INTERN GENEVA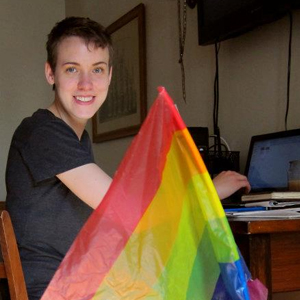 Bio: Intern Geneva was made in Winnipeg, Canada, the coldest big city in the world that's not in Serbia. She currently resides in the much warmer LA, where she makes websites, drinks Coke Zero, and collects boy's underwear. Geneva would be thrilled to talk to you about nerdy books/television, web design, horror movies, music festivals, media theory, how to find/wear men's clothing or how much she misses her dog.
Interesting Facts:
+ My sleeping surfaces over the last three years include a couch, a futon, and a mattress on the floor. I'm hoping to upgrade to a bed at some point.
+ I don't watch porn, but read it daily.
+ I once built an entire basement.
[more]

INTERN KENZIE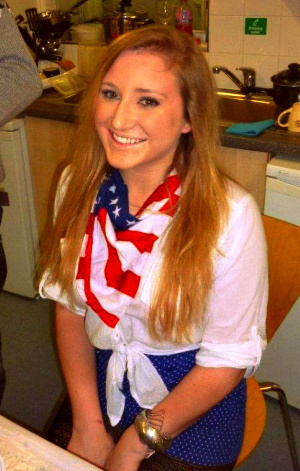 Bio: Kenzie is a pessimistic bon vivant whose greatest skills reside in ghostwriting flirtatious text messages for her friends (having lots of practice herself), and pretending that she knows anything about beer. She once described herself to a stranger at a party as "one part Rayanne Graff, one part Margot Tenenbaum, a big chunk Willow Rosenbaum, and a dash of Suzanne from Leonard Cohen's 'Suzanne,'" but the girl didn't get it. In real life, she's a senior at a small university in the middle of Indiana where there are approximately 4 "out" lesbians. Most of the time you can find her pantsless in her living room (which she shares with 7 other girls) yelling at the television as if it were real, reading in the tent fort she built in her room, or dancing like this to Autostraddle playlists.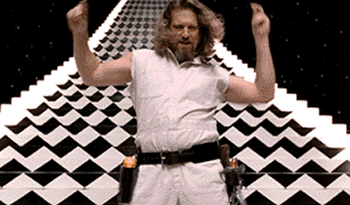 She one day hopes to make friendship bracelets for each and every one of you and maybe, just maybe become a professor of English Literature.
Interesting Facts:
+ My mother thinks I watch entirely too much TV. She mother is correct.
+ I'm a self-proclaimed horror fangirl and am currently working on my undergraduate honors thesis, which deals with feminism and queer theory in horror films (ask me about it!)
+ This past summer I lived in New York with my best friend and every time they ordered food, they added as special instructions, "Please draw an octopus fighting a bear on the bag. It's really important." No one ever did though.
[more]

INTERN DEVIN
Bio: Devin is a quirky little queer with a lot of ambition. When her [lesbian] parents split up two summers ago, she moved away from home in Pennsylvania and began living permanently near her college in Southwestern Missouri. She adopted Sassy, an adorable little black domestic short hair; and they've been together for almost a year now. Her favorite past times include, hanging out with my gal pals, reading African American literature, playing the french horn and teaching men about feminism. She wants to work for Teach for America, and also eventually want to teach English as a second language (she has to work towards becoming completely fluent in Spanish first).
Interesting Facts:
+ I have the word "Cunt" tattooed somewhere on my body.
+ My little sister is my best friend.
+ I have a weakness for Crocs.
[more]

INTERN HANNAH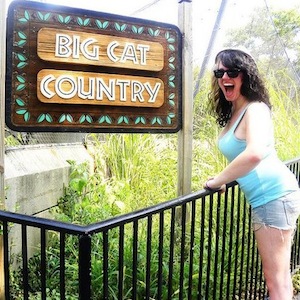 Bio: Hailing from the Midwest, where two of her best friends are her dad and her dog, Hannah is currently a senior at New York University studying anthropology and creative writing, whose concepts she hopes to apply to either engendering activism through social media or becoming a much more ethical Indiana Jones/Lara Croft hybrid. She likes film and TV criticism, social justice, and enjoying a glass or two or three of Moscato with her beautiful girlfriend while watching anything Netflix would identify as "with a strong female lead." Once a teacher described her as one "whose rowdy classroom demeanor did not overshadow the underlying intellect she yielded readily" and to this day she considers it the best backhand compliment she ever received.
Interesting Facts:
+ I think Eleanor of Aquitaine and I would have been serious BFFs and will never not be bitter we missed hanging out by 869 years.
+ In second grade, I unknowingly wrote Xena/Gabrille fanfiction for all my writing assignments, and during circle time asked everyone to start referring to me as Xena. Then for my birthday that year, my dad put up a Xena poster in my closet. (There's a joke in there somewhere.)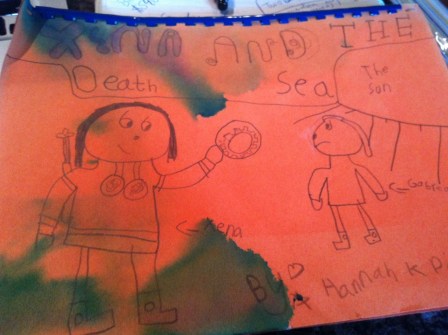 + I wanted to learn the ukulele because I thought Justin Bieber's "Mistletoe" would make a great uke cover, and almost a year later, I still can't play that song, but can earn a pretty solid A for effort with my covers of "Boyfriend" and "As Long As You Love Me." No shame.
[more]

INTERN DANIELA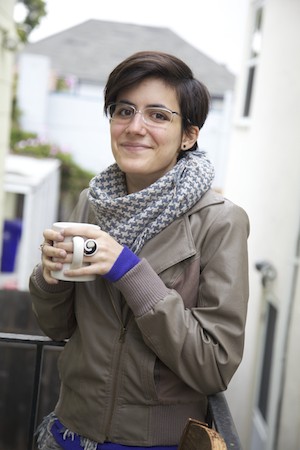 Bio: Daniela is a first generation Venezuelan who — even though she graduated from a hippie high school in Wales and a hippie college in Rhode Island — legally counts as a drop out in her home country, because 'it's imperialist education, comrade.' When she is not busy arguing on the internet about intersectionalism, she embarks on cooking projects too ambitious for her skill level. She is obsessed with handwriting and will love you if you send her a postcard, post-it, or photo of it. She volunteers online for The Center for Sexual Pleasure and Health because she geeks out about sex toy design and her plans involve finding a way to make the world a more sex positive place. She's also training to become a California state certified rape crisis counselor. Obviously, right now none of her passions are paying for themselves so in the meantime she's okay with selling shoes for a living, totally referring to herself as "the shoe whisperer" in law school applications. Finally, she's really into social media; for her, home is exactly where Skype is.
Interesting Facts:
+ I have a scar on my forehead from when I was three and was convinced I could fly. I ran around in school and tried to fly over a fountain, but apparently I didn't get high enough.
+ I didn't learn English until I was sixteen, so every time I hear a 90's song I haven't heard since I was a kid it's like a whole new world over here. I just recently discovered Missy Elliot wasn't trying to find a job when she sang "Work It."
+ My cousins and I had a Spice Girls cover band. I was Posh Spice.
[more]

INTERN JULIA
Bio: Julia is a first year college student living in Florida, studying political science. She's a part-time Canadian and fell in love with Toronto this summer. Her interests include cooking, falling asleep to This American Life, and writing poems. She loves the smell of laundry and she plays the bass guitar.
Interesting Facts:
+ I'm fully committed to watching Grey's Anatomy until they end it, no shame.
+ When I was in 2nd grade, I brought a lizard I caught at recess inside and put it in a girl's Valentine's Day box because I liked her. I got in so much trouble.
+ My dog's name is Toby.
[more]

INTERN REBECCA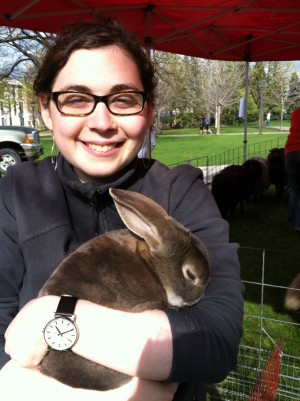 Bio: Rebecca usually lives in Saint Paul, Minnesota, where she studies political science, women's, gender and sexuality studies, and public health. Basically, she's learning how to protect your body from Paul Ryan. She's currently in the middle of a semester in Amsterdam and is slowly relearning how to ride a bicycle. Rebecca likes bad television, Planned Parenthood, coffee, Dean Spade and very short walks on beaches that aren't too hot.
Interesting Facts:
+ I'm allergic to the cold; if I'm outside for too long,I gets hives and my fingers turn fun colors. Don't ask me how I ended up in Minnesota.
+ I spent my summer obsessively watching Battlestar Galactica, eating stir-fry and learning that it is possible to make toast without a toaster.
+ I procrastinate by drooling over pictures of libraries and well-dressed girls on tumblr and bookmarking articles I will never read.
[more]