Hey there starship troopers! It's the holiday season and we're here to help you get your shit together in a variety of ways: recipes, kits, gift guides, holiday how-tos and so very much more. Come along with us, won't you, to Autostraddle Holigays 2011! FYI, if you follow the amazon links from our website when making holiday purchases, Autostraddle gets a little percentage of that money via our Amazon affiliates account, so we encourage you to do that All Season Long!! Thank you!

As you know, there is no greater gift than the gift of reading. It keeps on giving, even. Everybody you love wants a book, because if they don't want a book, you probably don't love then. Unless it's your family.
I've arranged this epic gift list by "types of people in your neighborhood." Your Mom isn't on here, but she is here, and regardless; I've always found it funny how a bookstore recommends things "Mom will love." Like there is absolutely no possible way that every single mother has something in common with one another besides broken hymens. Anyhow I probably did something like that here, but I really did try not to.
By the way, when I book-gift someone it's usually Stephen Dunn New & Selected Poems or Between Angels (the latter because I like the paper the book cover is printed on), duh. I tried to focus here on gifty books — if you want general reading suggestions, check out all of these things.
+
+
Good Books For Gifting
The Children-at-Heart
Every Thing On It / Shel Silverstein – Shel Silverstein, author of Where the Sidewalk Ends and a few other spectacular books, died in 1999. This is a brand-new book assembled by his longtime editor, and it contains 130 brand-new never-before-seen poems & drawings.
The Complete Calvin and Hobbes (Calvin & Hobbes) (v. 1, 2, 3) / Bill Watterson
 Marcel the Shell With Shoes On: Things About Me / Jenny Slate – Grace teampicked this back in October.
+
+
Teenage Homos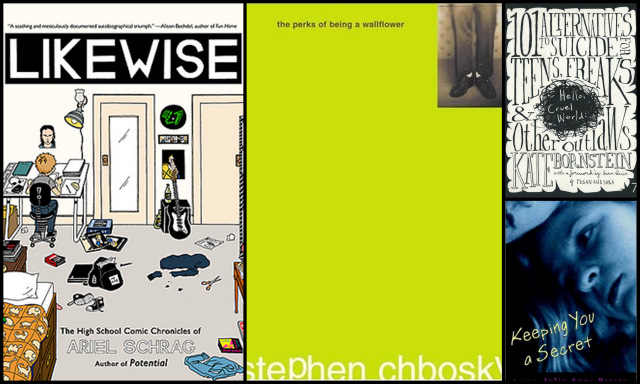 Likewise: The High School Comic Chronicles of Ariel Schrag / Ariel Schrag
Keeping You a Secret / Julie Ann Peters (read about it here)
Hello Cruel World: 101 Alternatives to Suicide for Teens, Freaks and Other Outlaws / Kate Bornstein (read about it here)
The Perks of Being a Wallflower / Stephen Chbosky (listen to this with it)
+
+
Doodling Artsy Dreamers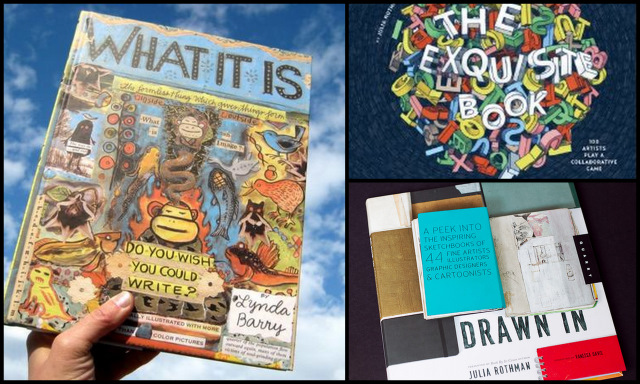 What It Is / Lynda Barry
Drawn In: A Peek into the Inspiring Sketchbooks of 44 Fine Artists, Illustrators, Graphic Designers, and Cartoonists / Julia Rothman
The Exquisite Book: 100 Artists Play a Collaborative Game / Julia Rothman (Author), Jenny Volvovski (Author), Matt Lamothe (Author), Dave Eggers (Foreword)  – Each chapter of this book, in which "one hundred indie artists play an ingenious version of the Exquisite Corpse drawing game," is an accordion pull-out wherein each artist creates a page of artwork having only seen the page of the artist immediately before them. Sometimes the story continues, sometimes it's built upon differently.  Includes an illustrated forward by Dave Eggers.
+
+
Brand New Gays
Annie on My Mind / Nancy Garden
Rubyfruit Jungle / Rita Mae Brown
Tipping the Velvet: A Novel / Sarah Waters
(All three of these, with descriptions, are listed in Top Ten – Lesbian Literature – The Classics)
+
Straight Girls You Want to Fingerbang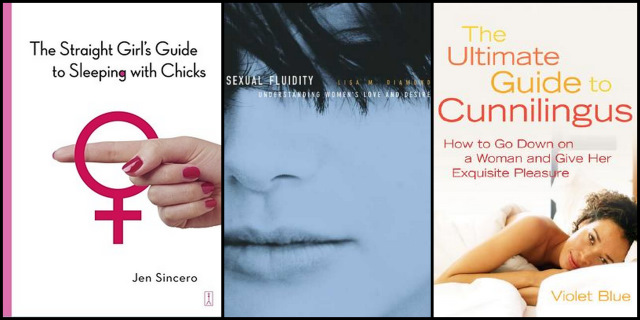 The Ultimate Guide to Cunnilingus: How to Go Down on a Woman and Give Her Exquisite Pleasure / Violet Blue with Margaret Cho
The Straight Girl's Guide to Sleeping with Chicks / Jen Sincero
Sexual Fluidity: Understanding Women's Love and Desire / Lisa Diamond
+
Creative Media Aspirants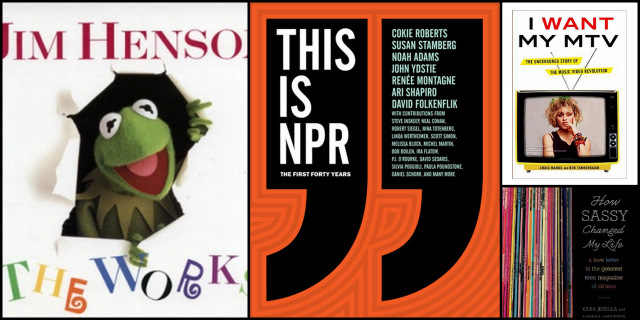 This is NPR /NPR – Alex got this for me last year because before she met me she'd never heard of NPR and I am obsessed with it.
Jim Henson: The Work / Christopher Finch
How Sassy Changed My Life / Kara Jesella and Marisa Meltzer – Reading this book got me excited for the future and making this website.
I Want My MTV: The Uncensored Story of the Music Revolution / Craig Marks
+
Girls Who Prefer Fantasy Worlds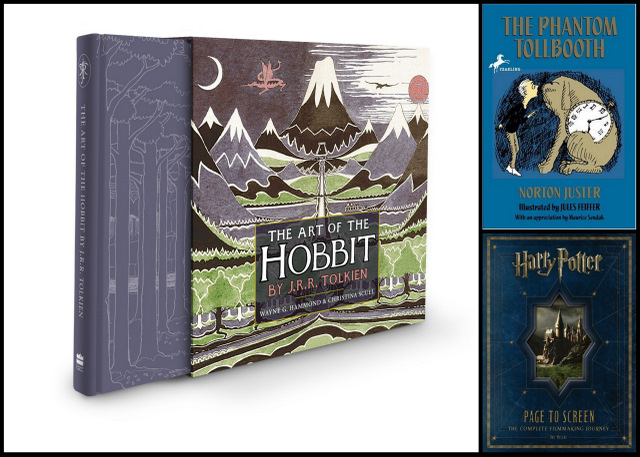 Harry Potter Page to Screen: The Complete Filmmaking Journey / Bob McCabe – Everyone knows that lesbians love Harry Potter.
Art of the Hobbit / Wayne G. Hammond and Christina Scull
The Phantom Tollbooth 50th Anniversary Edition/ Norton Juster – The special edition includes brief essays about the book from "esteemed authors, educators, and artists," photos of the author and illustrator, a 35th anniversary essay from Maurice Sendak and "gorgeous packaging that features the classic original art stamped and debossed on the case with a transparent acetate jacket."
 +
+
Animal Lovers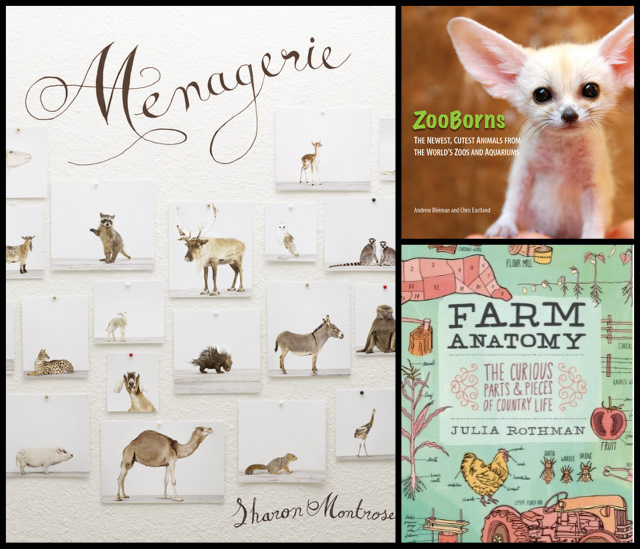 Menagerie / Sharon Montrose
ZooBorns / Andrew Bleiman & Chris Eastland
Farm Anatomy: The Curious Parts and Pieces of Country Life / Julia Rothman – according to Brain Pickings, this book is "a charming illustrated guide to the intricate microcosm that underpins your dinner plate" which will "instill in you newfound awe and fascination with rural life." Not for vegetarians.
+
Brand New Lesbian Moms
Confessions of the Other Mother: Non-Biological Lesbian Moms Tell All / edited by Harlyn Aizley – This book features a collection of funny personal stories by nonbiological lesbian moms including writers like stand-up comedian Judy Gold and psychologist and author Suzanne M. Johnson.
Mommy, Mama, and Me / Lesléa Newman (Author), Carol Thompson (Illustrator)
Design*Sponge at Home / Grace Bonney
+
+
Writers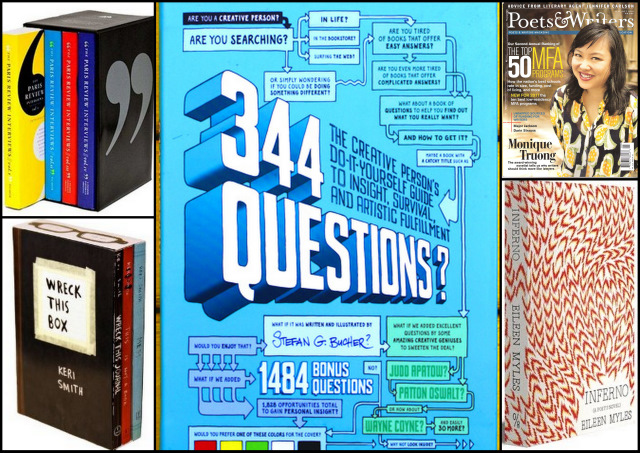 Inferno (A Poet's Novel) / Eileen Myles (read about it here – Book Club #1)
The Paris Review Interviews, Vols. 1-4 / The Paris Review
Poets & Writers Magazine subscription
Wreck This Box: Keri Smith Boxed Set / Keri Smith (read about it here)
344 Questions: The Creative Person's Do-It-Yourself Guide to Insight, Survival, and Artistic Fulfillment (Voices That Matter) / Stefan G. Bucher – This pocket-sized book features 344 questions illustrated in "Stefan Bucher's unique, whimsical, hand-lettered style." Bucher wants to get you thinking and having brilliant ideas, which is perfect for writers because writers need to think and have brilliant ideas.
+
+
Literary Types
1Q84 / Haruki Murakami
Blue Nights / Joan Didion
The Marriage Plot / Jeffery Eugenides
+
+
Occupiers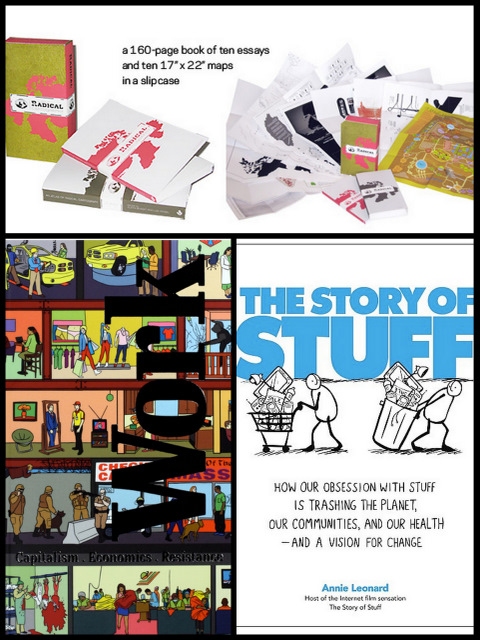 The Story of Stuff: How Our Obsession with Stuff Is Trashing the Planet, Our Communities, and Our Health-and a Vision for Change / Annie Leonard
An Atlas of Radical Cartography / multiple contributors including Trevor Paglen, John Merson, Ashley Hunt, Jenny Price and Heather Rogers
WORK: capitalism. economics. resistance
/ the CrimeThinc Ex-Workers Collective – The CrimeThinc Ex-Workers Collective is a "decentralized anarchist collective composed of many cells which act independently in pursuit of a freer and more joyous world." In this book they tackle problematic capitalist paradigms that have resulted in a country with heaps of technology and citizens working harder than ever. The idea is to get beyond 21st century capitalism. That sounds like a good idea.
+
Queer Girls Who Like To Write About Themselves on the Internet
The Other Side of Paradise: A Memoir / Staceyann Chinn
Why Be Happy When You Could Be Normal? / Jeanette Winterson
Mean Little Deaf Queer: A Memoir /  Terry Galloway – (Lambda Literary Awards Finalist 2010)
+
Comediennes
My Point… and I Do Have One
/ Ellen DeGeneres – I was gonna tell you to
buy her new book
 but Jesus Christ if I don't love
My Point…and I Do Have One
. This came out before she came out and I la-la-la-LOVED her sitcom and somehow managed to convince an adult to buy it for me.
Bossypants / Tina Fey – Jess says, "She has finally published a David Sedaris-esque memoir called Bossypants in which she shares stories of working the desk at a Chicago YMCA, her tale of lost virginity at 24, all the way to her crazy week of juggling of Sarah Palin rehearsals, trying to get Oprah to appear on 30 Rock, and planning her daughter's Peter Pan-themed birthday."
Yeah, I Said It / Wanda Sykes
Is Everyone Hanging Out Without Me? (And Other Concerns) / Mindy Kaling
+
Your Lover, The Lit Nerd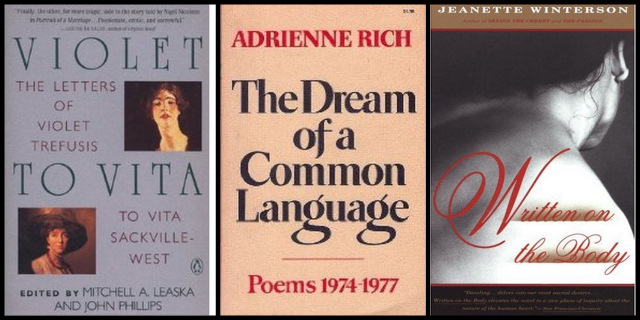 Violet to Vita : The Letters of Violet Trefusis to Vita Sackville-West, 1910-1921, edited by Mitchell Leaska and John Phillips
Written on the Body / Jeanette Winterson – This sexy lesbian classic is what I imagine a teenaged lesbian's personal blog would sound like if they were a really fucking fantastic writer like Jeanette Winterson.
The Dream of a Common Language: Poems 1974-1977 / Adrienne Rich
+
Straight Best Friends
Is Everyone Hanging Out Without Me? (And Other Concerns) / Mindy Kaling
Self-Help / Lorrie Moore
Missed Connections: Love, Lost & Found / Sophie Blackall – Rachel was really excited about this book in September, lamenting that these ephemeral missed connections had been sadly neglected until Sophie Blackall came along to "put at least some of them into a book, with BEAUTIFUL illustrations."
And the Heart Says Whatever / Emily Gould
+
Poets
Word Warriors / 35 Women Leaders in the Spoken Word Revolution edited by Alix Olson, foreword by Eve Ensler — with Michelle Tea, Eileen Myles, Staceyann Chin and Others
Head Off & Split: Poems / Nikky Finney (African-American lesbian poet, winner of the 2011 National Book Award for Poetry)
+
Nerds
Cooking for Geeks: Real Science, Great Hacks, and Good Food / Jeff Potter
The Visual Miscellaneum: A Colorful Guide to the World's Most Consequential Trivia / David McCandless
She's Such a Geek: Women Write About Science, Technology, and Other Nerdy Stuff / edited by Annalee Newitz
The Lego Ideas Book / Daniel Lipowitz
+
Your Lesbo Friends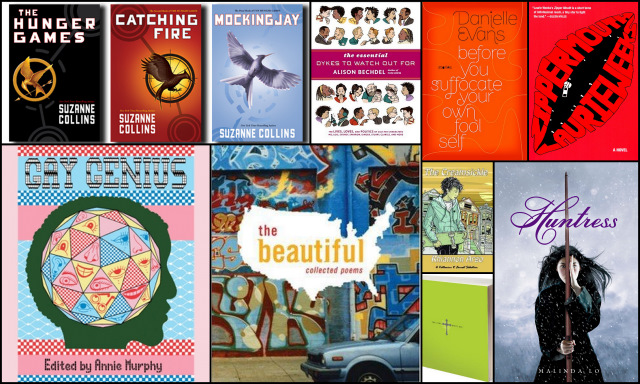 The Girl Must Die: A Monster Girl Memoir  / Erika Lopez
The Beautiful: Collected Poems / Michelle Tea – Themes include being a girl, being a queer girl, sex work, growing up, being hurt, or scared or tough or totally fucked or totally perfect for a minute; life.
The Creamsickle / Rhiannon Argo
Before You Suffocate Your Own Fool Self / Danielle Evans – A much-acclaimed book of short stories, most of which are about teens with "disorder."
Zipper Mouth / Laurie Weeks
The Essential Dykes to Watch Out For / Alison Bechdel
Gay Genius Anthology / Edited by Annie Murphy (I Still Live) (Gay Genius is an anthology of comics and graphic storytelling by queer artists.)
Huntress / Malinda Lo – Read about this young adult fantasy novel here or read an excerpt here.
The Hunger Games Trilogy Boxed Set / Suzanne Collins – Inspired by the lively conversation on The Hunger Games trailer post, I decided to check this series out and OH MY FUCKING GOD. I cannot put it down.
+
+
Your Lesbros / Lesbian Bros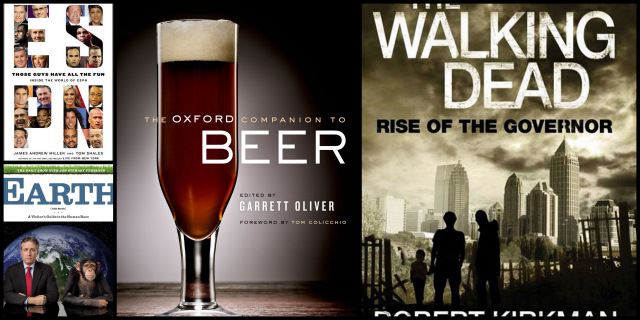 The Oxford Companion to Beer / Garret Oliver
Those Guys Have All The Fun: Inside the World of ESPN / James Andrew Miller & Tom Shales
Walking Dead: Rise of the Governor /  Robert Kirkman &  Jay Bonansinga
The Daily Show with John Stewart Presents Earth / Jon Stewart
+
+
Crafty Types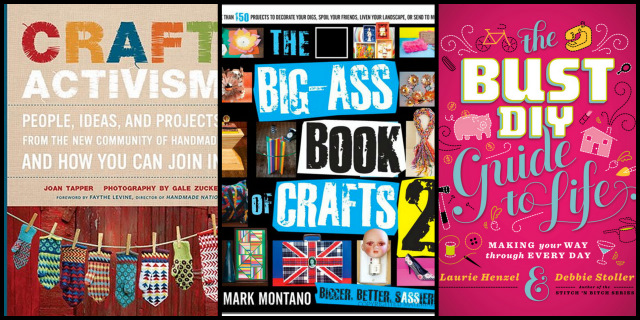 The Big-Ass Book of Crafts 2 / Mark Montano
The Bust DIY Guide to Life /  Debbie Stoller & Laurie Henzel
Craft Activism: People, Ideas and Projects From the New Community of Handmade and How You Can Join In / Joan Tapper, Gale Zucker & Faythe Levine
+
+
Autostraddle Addicts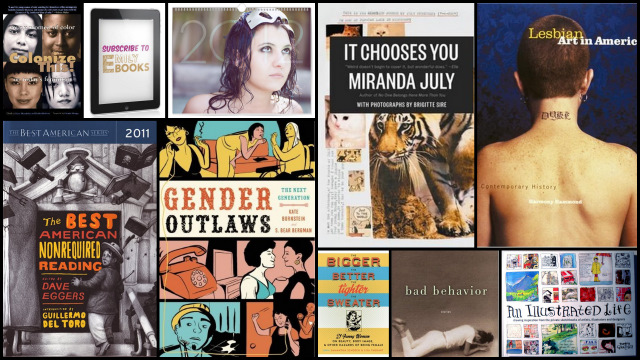 The Best American Non-Required Reading 2011 / Dave Eggers
Bitchfest: Ten Years of Cultural Criticism from the Pages of Bitch Magazine / Lisa Jervis
It Chooses You / Miranda July
The Bigger, The Better, The Tighter the Sweater: 21 Women on Beauty, Body Image and Other Hazards of Being Female / edited by Samantha Schoech and Lisa Taggart (includes an essay by Riese!)
Colonize This! Young Women of Color on Today's Feminism / edited by Daisy Hernandez & Ed.S. Bushra Rehman
Bad Behavior / Mary Gaitskill
Gender Outlaws / edited by Kate Bornstein and S. Bear Bergman
An Illustrated Life: Drawing Inspiration from the Private Sketchbooks of Artists, Illustrators and Designers / Danny Gregory
Emily Books / various authors / subscription
Autostraddle Calendar / Robin Roemer & Alex Vega