It is a truth universally acknowledged that a single gay woman in high school must be in want of a girlfriend, but probs should wait 'til she gets older to actually act on that desire. Or should she?


From our vantage point as immature grownups who graduated high school in the 90's, it's hard to imagine a world where our minds would've let us "go there," let alone walk down the judgey hall hand-in-hand with our female beloved. Let alone read a book about girls in high school who fell in love with other girls.
But we've come a long way, babies! There's a relatively bountiful selection of novels for young adult lesbians these days, and since Riese and Green are sweet on young adult books in general, and books for sure, we decided to team up and read all of 'em, while wistfully wishing they'd been published about ten years earlier. Hopefully you'll join in the conversation. Maybe we can even talk about the homosexual plots we projected onto the novels we DID read back then … we also found ourselves wondering how different even the plots of the late-90's novels would've played out with the internet as part of the conversation.
Lesbian YA fiction notoriously breaks ground untrodden by adults and often incites book burnings and other conservative hysteria. But beneath the controversy is something far sweeter, and this sweet thing is the trademark of the YA genre in general: books that address social issues (often to a fault) while simultaneously indulging adolescent romantic fantasies. These are stories where the object of your affection usually loves you back, eventually (although sometimes you need a makeover and/or epiphany first).
So, when you impose that archetype onto lesbian fiction and it's another high school girl that loves you back … what a f*cking kickass delightful premise that is.
Next week we're gonna talk about the groundbreaking controversial lesbian teen novel Annie on my Mind, and if you haven't read it, you should read it!


By Julie Ann Peters, 2003
Girl-on-Girl: Holland-on-CeCe
So Yeah, This Happens: Holland's life — swim team, long-term boyfriend, student council, Ivy League prospects and all — is thrust into turnaround when she meets out lesbian CeCe Gooddard. Anticipation is the purest form of pleasure, and then pleasure has its consequences.

The A-HA! Moment: "She was in me, in my blood, invading every cell in my body. She was the one I wanted. She was the one I saw, felt, desired. This was wrong. He was wrong."
She Kissed a Girl and: "… she was warm, hot. I wanted all of her. I was falling, falling, with nowhere to land. I had to step away."
The Melissa Etheridge "Come to my Window" Award for best lesbian stalking passed off as lesbian mating ritual: "I get up at the butt-crack of dawn so I can pretend we're having breakfast together … I drive by your work after school to see if you're there yet, to see if I can catch a glimpse of you in the window. I go by your house on the way to school. Sometimes from the library I'd watch you guys leave lunch. A couple of times I even followed you so I cold maybe find out what you liked to eat."
Oh No She Didn't: "I didn't raise you to be a lesbian! It's sick. Perverted. You're perverted … you disgust me!"
On a Scale of 1-10: "I was so into this. I ate it in one day. It's everything a good YA novel is supposed to be. There were some extreme "suspending my disbelief" moments (some related to CeCe's t-shirts, some related to Holland's Mother's radical douchebaggery), but all-in-all, I give it two thumbs up and would recommend it highly. It was just kinda sweet you know?" – Riese
"Definitely one of the better Lezzie YA books. Lots of feelings and an array of traditional GQBLT conflicts. I agree with The Riester – this was a sweet little read. I do wish her name had been anything but CeCe, though. Reneesme, anyone?" – Green
"Agreed, especially since I thought the name Holland was kinda hot. I mean CeCe? I feel like there's a failed 90's pop star by that name, or should be. I imagined her to look like Papi. Any other details regarding her appearance were disregarded by my brain which had already settled on the image of Papi." – Riese
I Did Not Find this Amazon Review Helpful: "I wish I could give this even fewer stars. It is despicable that there are authors peddling books to our children that encourage not only premarital sexual behavior, but perverse behavior at that. Shame on Julie Anne Peters."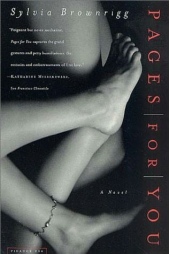 By Sylvia Brownrigg, 2001
Girl-on-Girl: Flannery-on-Anne
So Yeah, This Happens: Flannery Jansen is new to practically everything — college, the East Coast, masturbating and dating, to name a few. Anne is the older woman — beautiful, full of worldly knowledge. Aaaand action!
The A-HA! Moment: "It was just– This much Flannery could say to herself, aloud, could allow into the full light of her wakeful hours. It's just simple. It's simple. I just want to kiss her."
The Pick-Up: "What's a Murphy bed?"
Break My Heart, Why Don't You: " 'Anne?', she said finally. The question was everything. It was, in fact, the only question."
Oh No She Didn't: ". . . Shameless . . . Did you see . . . ? . . . Indecent . . . Freaks."
On a Scale of 1-10: "I really enjoyed this one! The bright melancholy, the poetic, honest description of emotions and moments. You know how it will end from the first page, so you're free to just enjoy the story. Read Pages if you've fallen in love (hard), tried to smoke cigarettes to look mysterious (and failed), or dreamed of finally realizing your lesbian powers on a leaf-strewn campus far away from home." – Green

By Paula Block, 1997

Girl on Girl: Willia-on-Louie
So Yeah, This Happens: Set in New Zealand (with a handy glossary in front for those unfamiliar with the lingo), Willa moves to town after a rotten gay romance fallout at her former school. Willia lives above a pub and meets Louie — the class clown & Shakespeare buff who enjoys staging radical comedy shows on lunch hour — at The Burger Giant, where they both work as fast food professionals. Whirlwind romance and conflicts with friends-and-family ensues, lives are changed forever and a dog named Judas barks a lot.
She Kissed a Girl and: "… she'd never before felt as if her body were being turned to water from the inside out, or as if they were both whirling through space into an airless black vortex."
The A-HA Moment! "I'm in love with that girl," she said out loud in amazement, because she knew that this was a life-changing thing and life-changing things should be said out loud, should have a moment in time … it was a truth, she realized, as things are which you don't think, but discover have always existed."
The Pick-Up: "Do you think he can see us? The pilot, I mean?"
Oh No She Didn't, Special Honor for Passive-Aggression from Medical Professional: "At your age there are so many hormones being released into your system that the body almost dictates that you fall in love. You primary relationships are with your friends, sometimes the hormones kick in and turn it into something much more intense."
On a Scale of 1 to 10: "Cute! At first was a bit hard to follow — A LOT of unnecessary characters — but once you get your handle on who matters — it's a pretty sweet girl-on-girl love story. The cast sprawl continues but is easily rectified by a few moments of pure poetry.  I would've loved this book when I was 16, especially Louie, because she seemed really dorky like me." -Riese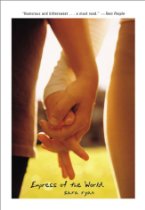 By Sara Ryan, 2001
Girl-on-Girl: Nic-on-Battle
So Yeah, This Happens: Nicola Lancaster is attending the Siegel Institute Summer Program for Gifted Youth in hopes of solidifying her desire to become an archaeologist. She becomes friends with Battle Hall Davies – hottie dancer girl from NC – and soon wants more. Is Nic gay? Bi? What's going on?! Sooo many feelings!
The A-HA! Moment!: "And it's stupid. I can't believe how mind-bogglingly, earth-shatteringly dumb it is. Dumber than my crush on André, even… It's so dumb I can't even cry. All I can do is sit here on the bed with my knees drawn up to my chin."
The Pick-Up: "I brought you an icepack for your headache." [or something like that . . .]
She Kissed A Girl, And: "Kissing is wetter and softer than I with my romance novel education had expected and not quite as exciting except in retrospect. Well, no, actually, it is – I can't explain it any better than that."
Break My Heart, Why Don't You: "And that's the kind of moves she made, all loose arms and light, long legs, and I knew, just for a minute, what music was for."

On a Scale of 1-10: "I love the setting of this book — the 'pretend college/summer camp' atmosphere allowed for some unique experiences that we couldn't have had otherwise. I also like how Sara Ryan doesn't focus solely on the queer girls' storyline — we're introduced to the personal conflicts of each member of the clique. Empress is a sweet, funny depiction of sexual fluidity and friendship." – Green

Next week we'll be back with more books and more feelings. Let us know what you think and what you like to read and what you want to know more about w/r/t books 'cause that's something we both care about a whole heck of a lot!
[ad#postads]