Hello friends! I'm writing this to you from my bed. I should be at work but I'm quite rather ill, so here in bed I stay. But nothing, not even the bird/swine flu or whatever, can detract me from talking to you about television.
Firstly, some news! It's up-fronts week, which is one of my favorite weeks of the year!
We've got NBC's official pickups/cancellations here. The rest will be forthcoming, I'll add them to the daily fix as they come through. NBC canceled Life (bye bye Sarah Shahi/Carmen De La Pica Moraels) and still hasn't made up their mind about Chuck and a few other shows, including Kath & Kim, which as you know I love very much. Bookmark this site, kids. It's EW's cheat sheet for fall pickups.
There was also some exciting Ugly Betty scoop this week (Rachel Maddow! Musical episode!).
And finally, our soon-to-be-favorite-tv-show-ever Glee has a new promo! Let's watch it together, ok? Ok!
Glee airs its special preview on May 19th, and the Real Housewives of New Jersey (!! special place in my heart for Jersey!) premieres on May 12th. Yay!
And now…
The Carlytron TV Awards for the Week Ending on 5/2/09
The Only Lesbian on Network TV Award
ABC announced this week that Jessica Capshaw, who plays Arizona on Grey's Anatomy, will be coming back as a series regular next season, yay! I'm glad that, if I have to sit through another season of Grey's (I mean, I can't actually stop watching it), that I'll be sitting through the only network tv show with a lesbian character. Whee! Go Calizona! (I think I made myself a little queasy typing that.)
This week featured everyone's messed up families and actually gave George something to do! (Please let him off of this show, Shonda.) Our newly minted lesbian Callie was struggling to make ends meet after cutting her father out of her life. But um — Isn't she a suregon? I don't understand this show. Mark & Cristina encouraged Callie to lie to Dad to get her trust fund back, but Callie decided to forego financial gain in order to remain true to herself. So now she will be a poor lesbian (surgeon) like the rest of our marginalized peoples suffering beneath the giant grip of patriarchy. Also, Meredith loses her shit, naturally.
The FINALLY Award
Heroes ended this week, finally putting this ridiculous season to a close. Many ups and downs and lots of inconsistencies … buttttt I think the finale was pretty awesome. Lots of twisty moments (Peter as the President!) and a completely insane ending (Sylar is perma-Nathan? Did everyone just forget that Claire's blood can HEAL PEOPLE?). I'm still optimistic about next season, obvs Tracy will be getting her revenge T2-style and maybe Hiro can shut up for a minute or 60.
The AWESOME Award
Ugly Betty came back this week! Easter eggs, class wars, paternity tests and Daniel in a bunny suit! Also Meade publications is saved, yay! The dynamic duos of Justin & Hilda AND Marc & Amanda shined in their scenes together. But. Was anyone else totally bummed when "Mandy" got laid off? Sigh, the recession.
Also awesome? I got caught up on Taking the Stage. I don't know of anyone that is watching this aside from Matthew and I, but it's soooo gooood. If you like dancing, singing and emo high schoolers — this is the show for you. Season finale's coming up this week, so better play catchup Stat.
The Death Toll
Harper's Island got sent to the TV graveyard, also known as Saturday night. Therefore, I haven't had a chance to watch it yet. The only death that seems a sure bet is the death of this show. Ba dum bum!
The Hot Girl of the Week Award
I realized that I already gave this award to Blair, so it's Serena's turn. Serena van der Woodsen FTW! Anyone with eyes and a brain (although actually in this case a brain isn't really necessary to undrstand the concept) sees that Blake Lively is hot. But Serena as a character? Always awesome. Whether she's (somehow) putting up with stupid Dan, or dealing with Blair's insanity, or chasing her own crazy downward spiral, she's always non-stop awesome. Close second: Poppy Lifton, played by Tamara Feldman.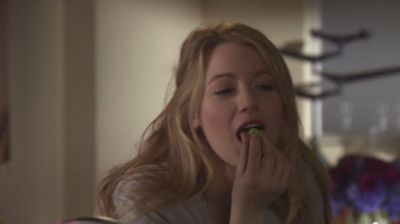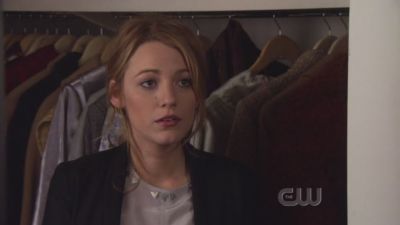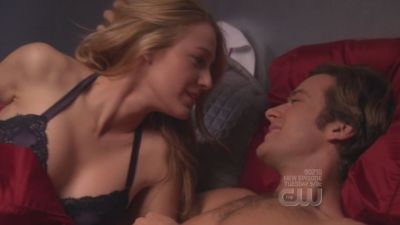 Gossip Girl was really hilarious this week because Chuck and Blair joined forces to spy on Serena's new boyfriend (who is obviously up to no good), which ultimately lead to having to track down none other than Georgina Sparks! Amazing! Georgina found Jesus, but Chuck's got no problem convincing her to come right back to New York. I cannot WAIT to see where this all goes. Ideally more schemes! and scams! and berets! Genius!
The Dollhouse Award for Dollhouse
ALHPA!! Amazing stuff this week (especially considering it's probably days away from being canceled, sniffle). Alan Tudyk was amazing as the neurotic, anxious mess who turned out to be… Alpha. Did anyone else SHRIEK when he pulled the knife on Victor? (Alpha's apartment number is my birthday, BTW). And then again when he imprinted Echo to be his girlfriend? Also, Agent Ballard is exhausting, I'm totally over Mellie. and next week is the season finale, I can't wait to see what happens. Please Fox. Don't cancel it.
The Sitcom Roundup
Better Off Ted: Was not on this week! Sads.
30 Rock: Tragically, I didn't think this was as LOL-funny as the past few, but then I watched it a few more times and decided that yes, it was an amazing episode. Liz got drenched, Jenna fought with a gibbon, Tracy wore Bill Cosby glasses & sweater and Elaine Stritch rocked it. I love Elaine Stritch.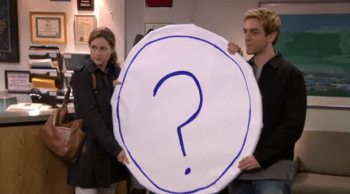 The Office: Was legitimately awesome as well. Kevin brought a tear to my eye in the cold open when he dropped a giant pot of his special chili on the floor, and the episode ended with Micheal fake-firing Pam. Full circle of awesome — and Pam's a salesperson now, yay! And along the way Dwight conspires mutiny, forcing Michael to give everyone their clients back and therefore making everything back to normal at Dunder-Mifflin… hopefully.
Parks and Recreation: I know I've been hard on this show but it's only because I care. I must say, I actually laughed at several parts of this week's episode. And, knowing that its chances at being renewed are pretty good, I'm really rooting for it (also my love of Amy Poehler). Finally Leslie's boss Ron stood up for her — refreshing, considering until that point everyone had let her fail consistently without stepping in.
Sit Down, Shut Up: Is fast on its way to that programming grid in the sky, having gotten moved to the 7pm timeslot. Hey Mitch Hurwitz, stop airing things on Fox (that goes for you too, Joss). This episode was very funny but I was starting to get sick while watching it so I don't remember any of it. Sorry kids.
Tron out!