You think you're funny? You probably are. Do you have your own web series? Probably not. But these girls do. And it's f*cking hilarious.
Ingrid Jungermann and Desiree Akhaven are the stars and creators of The Slope, a web series about "superficial, homophobic lesbians" in Park Slope, Brooklyn. Their decidedly un-PC approach to narrow-minded stereotypes is a satirical stroke of genius. With its witty commitment to shallow behaviour, The Slope is a refreshing reminder of how easy it is to become self-righteous in our minority status.
Did I mention there's also a really cute dog? Of course there is. I just had to find out more, so I asked Ingrid and Desiree a few questions about their dog and their Slope project. And eating kittens.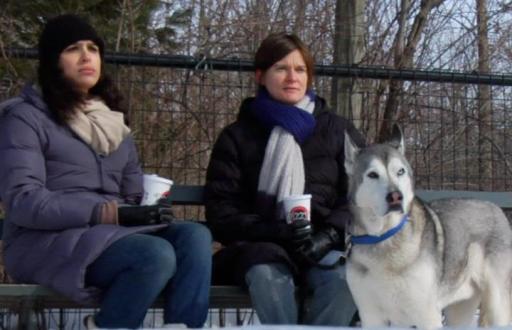 How did the concept for The Slope develop?
Desiree: I had to make a film for my directing class, but I kept hanging out with Ingrid instead of doing my work. Finally I was bitching about homework-induced stress so much that Ingrid shut me up by suggesting we film our conversation and hand it in.
Working with your partner can sometimes be a challenge, especially if one is a lot better at something than the other. Do fights ever erupt on set, or do you bottle it up until small issues twist themselves into festering knots of bitter resentment?
D: I don't find this to be a problem for us at all. As you said, one is usually a lot better at something than the other, and when that happens you take a back seat and allow that person to do their thing. For better or worse, I happen to be disgustingly good at making 4-5 minute long videos for the Internet. I think Ingrid understands that and lets me do my thing, which is what makes her such a great collaborator.
Ingrid: I'm a fan of bitter resentment, so whatever I can do to make that happen when we shoot, I do. Like if Desiree is being too friendly, I try to turn the conversation into something hurtful. And then I make her feel like it was her fault to begin with because I like when people feel bad for me. Anything to make them like me more, even if their fondness is inspired by guilt.
Is it fair game to steal each other's jokes? Or, as lesbians tend to do, have you merged into a single entity and are therefore only capable of thinking collectively?
D: Ingrid and I have completely different jokes and would never steal each other's. No way. It would completely throw people off. My jokes are incredibly intelligent and also quite nuanced, while Ingrid plays more with the everyman/ lowest common denominator sensibility, so it would be very confusing if we messed with that delicate balance.
I: Whatever Desiree answered for this, I agree. Her words are mine.
How have people reacted to the first season? Are you getting a lot of flak from the lesbian community?
I: We've only gotten support. People have told us that talking about the things we discuss is refreshing. I feel like any couple – no matter where they land on the sexuality spectrum – all have the same relationship issues – who's better looking, who's the more masculine or feminine, who deserves more attention.
What is the gayest thing you've ever done?
D: Attending Smith College for four years.
I: The first time I slept with a woman was pretty gay.
What are your goals as filmmakers? How does the intersection of politics and humour influence your art?
D: Honestly, my only goal is to get shit out of my head. When I started seeing Ingrid, it was the first serious same-sex relationship I'd ever been in, and the longer we were together the more I became aware of an entirely new identity I was expected to adopt as my own. I like to call attention to whatever makes me uncomfortable by making fun of it, and that is what The Slope is to me: a heightened self-awareness of all my worst qualities and putting all the taboo unspeakable thoughts that run through my head about being gay on the table.
I: Lately I've been thinking a lot about teaching along with making films. My goals as a filmmaker have now become more about my goals as a person. I want to connect to people, share my experiences in hopes that they will matter to someone other than me. When I was young, films about and by women really inspired me and gave me a sense of strength, so my goal is one day to give that back to someone else. Politics takes itself too seriously. It's just asking to be made fun of.
Is that really your dog? Has he ever eaten a kitten, intentionally or by accident?
D: Zeke is Ingrid's life partner. They've been together for twelve years! He has never eaten a kitten, no. But I have. And it was no accident.
Check out all eight episodes of The Slope and, if you believe in keeping the internet hilarious, consider donating to The Slope Kickstarter Project! Ingrid and Desiree are trying to raise enough money for a second season by Dec. 16, which is clearly a thing that should happen. Funny lesbians, we need you. The world needs you.
Images by Sarah Deragon.