IT CAN DO ANYTHING (WHILE VIBRATING!)
This week we have another super technologically advanced vibrator item from Babeland.
+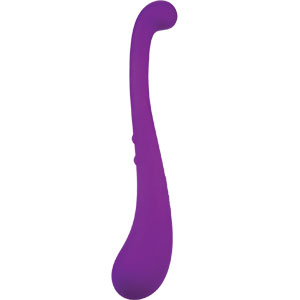 + Size: 10″ x 1-3/4″
+ Material: Silicone
+ Price: $145.
If you're interested in toys that will stimulate your g-spot, toys meant for penetration with some girth, and/or toys that can do all of the above WHILE VIBRATING, then the Jopen Vanity might be your jam. Elegant and aesthetically pleasing, its totally seamless body is waterproof for use in the shower or bath, and it's so versatile it's really just daring you to find new ways to use it. Use the curved end with a bulbous tip for focused g-spot stimulation and hold the wider end like a handle; if you're up for more, turn on the vibrating motor for extra stimulation. If you're into having really fairly large things inside you, grab some lube and turn it around; and yeah, in case you were wondering, that vibrates too. (Separately! No point wasting the charge.)
The vibration with the Vanity isn't super intense, so if you need strong clit stimulation you may want to use it in conjunction with something else. (Although the heavier end is pretty much shaped exactly like your vulva, so if you like gentle clit stimulation, go for it. (I don't know how else to explain it other than "shaped like your vulva." It'll make sense once you hold it.))
The Vanity is maybe slightly easier to use with a partner, as it can be a little unwieldy to maneuver on your own, but really I cannot see any conceivable way that using this could be not awesome or deeply fulfilling in every possible way. Settle in with a glass of red wine and this sleek sexy piece of futuristic [environmentally sustainable!] technology, and no matter what you're into you are headed for a Very Special Evening.