There are so many good-looking books coming out now and in the next few months that I can't even think of a "coming out" pun to make about them. Here are some of the most interesting-looking books related to queer people released from March to May and beyond, in any genre your hearts desire (as long as they're the ones below):
+
If you want fiction:
If You Follow Me: A Novel (P.S.), by Melena Watrous
(Harper Perennial)
If You Follow Me: A Novel is Watrous' debut novel. Marina, a character who hopefully never had to see the L Word, moves to rural Japan with her girlfriend to teach English for a year. While she's there, she deals with culture shock, facing her father's death, facing the fact that her father's death set her up with her girlfriend, and refrigerator disposal. It's already won the Michener-Copernicus Award, and is highly recommended by Heather Aimee O'Neill from AfterEllen.
+
The Wide Road, by Carla Harryman & Lyn Hejinian
(Belladonna*)

The Wide Road mixes poetry and fiction to answer the eternal question: what woul d have happened if Thelma and Louise hadn't driven off a cliff? Seriously, this looks like a cross between speculative literature and fanfiction and it seems like the authors had a great time writing it (even if it took 20 years) and you might have a great time reading it.
+
Sing You Home: A Novel, by Jodi Picoult
(Atria Books)
Sing You Home is about what happens when you divorce your husband, fall in love with a woman, try to have a child with that woman, and get sued by your alcoholic evangelical ex-husband for custody of the embryos you were going to use to have your child. It also comes with a CD of folk songs, which Picoult wrote with Ellen Wilber, reflecting main character Zoe Baxter's feelings. I strongly suspect that this will be the sort of book your mom/ older maternal-esque parental unit casually mentions they've read at dinner one day, but that sounds like a bad thing, so let's go with this: Jodi Picoult is a good writer, and not a white male literary darling besides, and maybe you should read her work.
+
Gingerbread Girl, by Colleen Coover & Paul Tobin
(Top Shelf)

Guess what kids, graphic novels are fiction too! This one is about Annah, a cutie bisexual girl with a mysterious lost sister. Or a disappeared mad scientist father. Or trauma from a horrific divorce during her childhood. Or all of them? It's confusing. Let Annah's date, along with virtually every other person in the city, try to convince you of their version of the story while you follow this crazy girl around the city. Also, the pictures are pretty! There's a talking pigeon!
+


If you love young adult lit or want to impress someone who does:
Huntress, by Malinda Lo
(Little, Brown)
Malinda Lo's first novel, Ash, was a lesbian retelling of Cinderella which is both well-written and compelling. Huntress is set in the same world as Ash, but centuries earlier, and incorporates elements of the I Ching. Like Ash, it avoids stereotyping gay characters and falling into the traditional plotlines of gay YA (ie, not just a coming out narrative), which probably has a lot to do with the fact that Lo used to write for AfterEllen. It's really refreshing to read a story about the intricacies of a gay relationship in a world where the primary conflict isn't just being gay, the end. On her website, Lo writes:
"I knew that I wanted certain things in the story: A girl having an adventure. A romance with sexual tension. A world on the verge of dying (I'm a big fan of dystopians). Powerful, creepy fairies. Weapons. And I wanted it to be a hero's quest. As I noted in my writing journal back in October 2008 when I was figuring out what would happen, "The point of the quest is to bring order and harmony back to the mortal world." Putting all those things together, the book that came out was Huntress."
You can also read excerpts from the first three chapters here.
+


If you were completely seduced by Pure Poetry Week: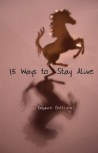 15 Ways to Stay Alive, by Daphne Gottleib
(Manic D Press)
15 Ways to Stay Alive is a collection of poems on heartbreak, postpunk politics, and dreams. With modern cut-up collages. While some of them talk about tragedy, death, and absurdity, all of them have a personal perspective on talking about the intersection of life and contemporary culture. Here is an excerpt, from "I Have Always Confused Desire with Apocalypse":
We met over a small
earthquake. Now, my knees
shake whenever
you come around
and I've noticed your hand
has a slight tremor.
+
Spark Before Dark, by Laura Hershey
(Finishing Line Press)
Spark Before Dark is a posthumous anthology of poems about "life and language through sharply focused multiple lenses of disability, feminism, and queerness." Hershley was a 2010 Lambda Fellow in Poetry so this will probably be excellent. So far, it's only available from pre-order.
+


If you want more memoir:

Sempre Susan: A Memoir of Susan Sontag, by Signid Nunez
(Atlas)
Sempre Susan is written by Sigrid Nunez, a novelist who met Susan, met her son, and moved in with both of them. "Nunez gives a sharp sense of the charged, polarizing atmosphere that enveloped Sontag whenever she published a book, gave a lecture, or simply walked into a room. […] Sempre Susan is a startlingly truthful portrait of this outsized personality, who made being an intellectual a glamorous occupation."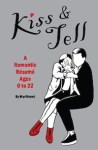 Kiss & Tell, by Marinaomi
(Harper Perennial)
Kiss & Tell is an illustrated "romantic resume" slash graphic novel memoir, chronologically exploring the author's early sexual experience, romance, and tragedy. Each chapter deals with a different relationship, including a sweet first love, her exes, and her conservative parents, and while each remains separate from the others, the disconnect makes them feel more true to life.
+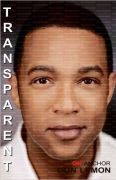 Transparent, by Don Lemon
(Farrah Gray Foundation)
Emmy-winning CNN anchor Don Lemon digs beneath the surface for the true story — on himself. Lemon came out as gay while doing press for this book, which he dedicates to Tyler Clementi. Lemon talks about his childhood and the painful family secrets he stores, colorism and racism and the ambition that brought him to the top. He also takes the reader behind-the-scenes of some of the most compelling news stories he covered, such as September 11th, Barack Obama's election, Micheal Jackson's death and the DC Snipers.
+


If you want to be smarter: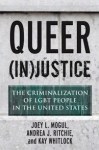 Queer (In)Justice: The Criminalization of LGBT People in the United States, by Joey Mogul, Andrea Ritchie and Kay Whitlock
( Beacon Press)
Queer (In)justice is an accessible look at queer experiences as suspects, defendants, prisoners, and survivors of crime: "The authors unpack queer criminal archetypes — like "gleeful gay killers," "lethal lesbians," "disease spreaders," and "deceptive gender benders" — to illustrate the punishment of queer expression, regardless of whether a crime was ever committed. Tracing stories from the streets to the bench to behind prison bars, the authors prove that the policing of sex and gender both bolsters and reinforces racial and gender inequalities."
Just One of the Guys?: Transgender Men and the Persistence of Gender Inequality, by Kristen Schilt
(University of Chicago Press)
There are conscious and unconscious gender biases everywhere, and even in places lucky enough to have excellent equality legislation, bias exists in the workplace. Just One of the Guys? talks about pressure to be "just one of the guys" or to work as women or be marganialized for being openly transgender, and shows that appearance-based discrimination is everywhere. It's also been nominated for a Lambda Literary Award.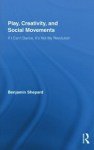 Play, Creativity, and Social Movements: If I Can't Dance, It's Not My Revolution, by Benjamin Shepard
(Routledge)
This is a hard-core sociology book on playful protest and change that argues "despite the contention that such activities are counterproductive, movements continue to put the right to party on the table as a part of a larger process of social change, as humor and pleasure disrupt monotony, while disarming systems of power." Plus references to boas. If you understand that sentence this book is probably relevant to your interests.
---
What books are you waiting to read this spring/summer?