As you likely remember from uh, YESTERDAY, 13-year-old gay bullying victim Asher Brown shot himself on September 23rd after enduring endless tormenting at school, which was ignored by administrators and teachers despite the parents' repeated complaints to the school about bullying.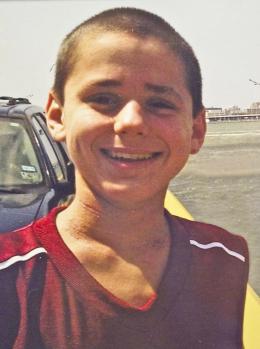 Asher Brown, 13
Today, in even more terrible WHAT THE FUCK news, 13-year-old Seth Walsh, a gay California teen, has died after being taken off life support yesterday. Walsh attempted suicide on September 19th by hanging himself from a tree in his backyard; he had also endured relentless bullying for his homosexuality.
"He was different. He knew he was different," Seth's mother, Judy Walsh said according to TehachapiNews.com. "He was a very loving boy, very kind. He had a beautiful smile. He liked fashion, his friends, talking on the phone. He was artistic and very bright."
Seth Walsh, 13
As you may or may not remember, earlier this month, on September 9th, 15-year-old Billy Lucas, a high school freshman from Greensburg, Indiana, also hanged himself from a tree and died:
On Billy's Facebook web memorial, he's remembered with comments like, "Everyone made fun of him." At least one former student says he made administrators aware of his own LGBT bullying, and they did nothing.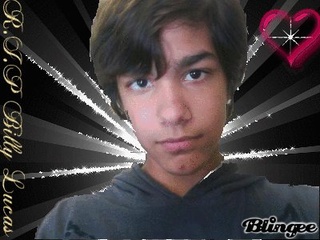 Billy Lucas, 15


Today's story is about an 18-year-old Rutgers freshman, Tyler Clementi, who brought a boy home for a "sexual encounter" one night only to find later that Clementi's roommate, Dharun Ravi, 18, thought it would be super-fun to secretly record Clementi's romp with a webcam and transmit it using iChat's "Complete Asshole Heartless Douchebag" function, which works slightly better than "Send File." No recordings of the act still exist — it a was a livestream feed, and it's unclear how many people viewed it besides Ravi and his friend Molly Wei, also 18.
At 8:50 pm on September 22, Tyler Clementi, a talented violinist and all-around stand-up guy, posted "Jumping off the gw bridge sorry" on his facebook profile.
Then Tyler Clementi went to the George Washington Bridge and jumped off it.
Then he died.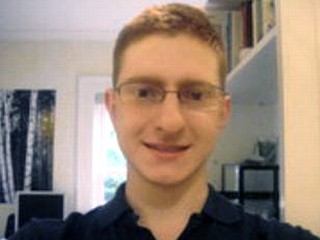 Tyler Clementi, 18
Yup! Ravi, clearly attempting to scale the highest heights of douchebaggery possible, had announced the live-release of the video on his twitter feed, at which point I hope every single one of his followers wished there was a feature that was the opposite of Re-Tweet. Like De-Tweet or something?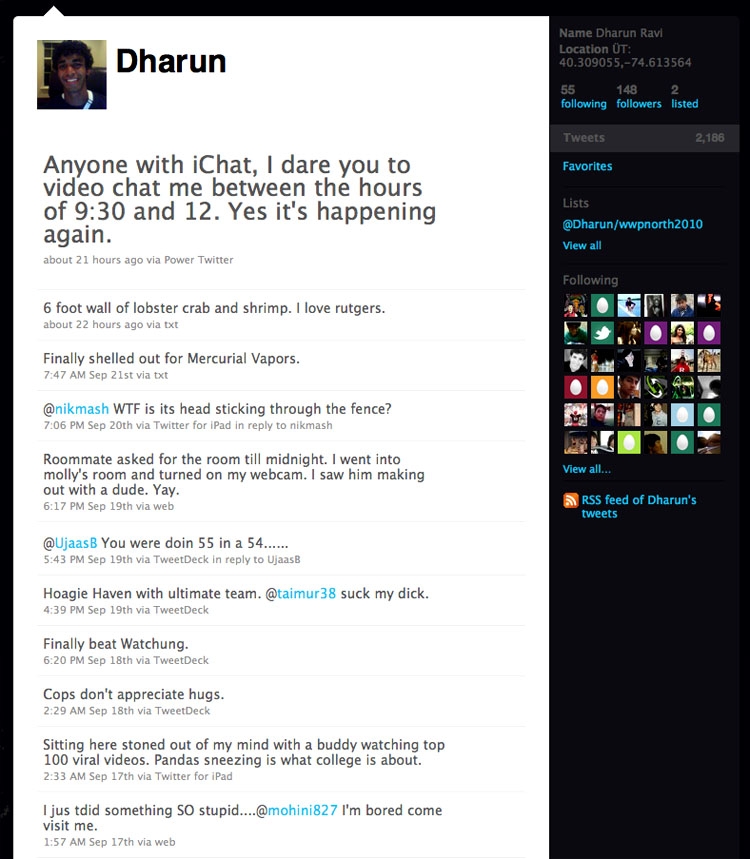 In a bizarre twist, some intrepid homosexuals have found a forum on justusboys where a user named "cit2mo" started a thread on September 21st asking for advice on how to deal with his spying college roommate, with whom he shared a "shoebox" sized room.
The ensuing posts and conversation on the board match up precisely with the story of Tyler Clementi.
On the aforementioned chat board, which has now been closed pending confirmation of the IP address from which Tyler was posting, other posters offered advice ranging from revenge to legal action to speaking with an RA.
There were a few back-and-forths. On the morning of Tyler's eventual suicide, cit2mo made his last posting, indicating that he had spoken to his RA. Abotu two hours prior, cit2mo had posted on the board to say that he'd had the boy over again and that he'd had a good time, but was concerned that his roommate had once again tried to broadcast the encounter (though this time, he failed).
Tyler was afraid that if he didn't get to switch rooms, because that is a hard thing to do in college, that it would be total hell to live with this guy and Tyler would be even more humiliated than if he had just kept it to himself.
Here's his last posting, talking about his conversation with the RA:

So what happened when Tyler talked to the RA? What happened that day between the morning after a positive sexual experience with a boy he liked and the moment he decided he couldn't take it anymore? It feels intrusive to ask these questions but I guess these are the questions we ask, I suppose, because we  don't want life to be like this. We don't want death to be like this. The more we can understand about how life changes in the instant — the more we know what we can do to change it. Had he been depressed before? Was he out? Were his family and friends supportive?
It's worth noting that Tyler's body has not been found, but his car and driver's license have been recovered. Witnesses say they saw a boy jump from the bridge at 9pm.
Both Ravi and 18-year-old Molly Wei have been charged with invasion of privacy, and Ravi has been charged with two additional counts for attempting to transmit another video of Clementi two days later.
Ravi's friends attest that he was "not homophobic."
Garden State Equality chairman Steven Goldstein released the following statement:
We are heartbroken over the tragic loss of a young man who, by all accounts, was brilliant, talented and kind. And we are sickened that anyone in our society, such as the students allegedly responsible for making the surreptitious video, might consider destroying others' lives as a sport."
Goldstein says he considers the act a hate crime.
Under New Jersey Law, Ravi and Wei could serve sentences of up to five years as viewing images of someone nude or engaged in sexual content without their consent it is a fourth-degree crime, and collecting or distributing those images constitutes a third-degree crime. I think they probably both also qualify for a mandatory post-lifetime sentence in the innermost circle of hell?
So, this is pretty much all really sad & bad news.
Some facts about suicide from The Trevor Project:
♦ Suicide is the third leading cause of death among 15 to 24-year-olds, accounting for over 12% of deaths in this age group; only accidents and homicide occur more frequently (2006 National Adolescent Health Information)
♦ Suicide is the second leading cause of death on college campuses (2008 CDC).
♦ Lesbian, gay, and bisexual youth are up to four times more likely to attempt suicide than their heterosexual peers (Massachusetts 2007 Youth Risk Survey).
♦ More than 1/3 of LGB youth report having made a suicide attempt (D'Augelli AR – Clinical Child Psychiatry and Psychology 2002)
♦ LGB youth who come from highly rejecting families are more than 8 times as likely to have attempted suicide than LGB peers who reported no or low levels of family rejection (Ryan C, Huebner D, et al – Peds 2009;123(1):346-352)
I don't know what to say in the last paragraph of this post. I just don't. I keep writing sentences and deleting them. That Green Day song "Wake Me Up When September Ends" is stuck in my head. I don't know, what do we do. Seriously. What do we do.