Holy crap welcome to the Pretty Little Liars mid-season finale World War A spectacular!
Last week, as you might remember, Buzzcut came forward to clear Ashley; Emily and Paige got back together even though I didn't know they were broken up; TobAy had feelings about his mother that no one cared about and Red Coat was maybe revealed to be Cece or maybe Cece just loves hanging out in hallways in black hoodies. If any of that was confusing I suggest you read up on this past season's recaps. Once you're clear on what exactly happened this season come back and explain it to me.
This week we're promised a million big reveals and something called World War A. What the fuck is World War A and is it going to be anything like World War Hulk!?
Let's find out together.
---
We open on Rosewood the night after the Hoedown Throwdown and Buzzcut's big confession that he saw Ashley Marin drive away before Wilden was shot. Since the Rosewood police are the shittiest police of all time, they haven't cleared Ashley. Instead they've asked her to come down for a line up.
Just thing, Spencer walks in with a package.
The girls open up the package and, tada! There's something for each of them. Wait, didn't this already happen with dolls? And also, like, one time with little girls and dolls? This time it's those super lifelike Real Dolls that are for sex and stuff.
I wish. Actually it's magic eight balls. I guess A is forced to branch out a bit from the dolls thing now that Mona's off the team.
Instead of having each magic eight ball instruct each Liar on a delightful task, they just make the message "If she goes free, you'll hear from me. Kisses, A." God, how much must it have cost to custom order those things?
---
Starsweep across town to Rosewood PD where Buzzcut is asked to ID Ashley Marin.
He doesn't think he can because his eyes don't work or maybe because A threatened him or maybe because it's scary and intimidating. IDK I've never been asked to ID someone in a lineup.
---
At school, the Liars are in the only part of school that they ever attend: the last 30 seconds of English class. Ezra says something about true love and, for the record, it sounds a lot like the shit I say about love when I'm drunk or tired or just generally mopey.
After class, Ezra pulls Aria aside to thank her for coming over and making him feel better. Not like that guys! Jeez! With her words and listening and stuff. She's like, "Yeah bro, no problem. PS we're just still friends."
Or so Aria claims. Too bad when Jake calls he doesn't want to go to a poetry reading with her. Instead he wants to do something so totally low brow like dinner and a movie. Aria is such an intellectual snob sometimes.
---
Back over at the police station, Ashley, Caleb and Hanna have a little meeting. Ashley tells Caleb she feels so much better that Caleb is taking care of Hanna. I think this is the part where the parents realizes how loving and supportive her child's lesbian relationship is and comes to accept the lesbian lover as part of their family. I'm pretty sure.
Just then the district attorney pops out and is like "You're free to go. Freee I say! Freee!!" Everyone hugs.
---
Elsewhere, Paige and Emily walk out of school looking super fly and super gay. Important points of interest include Emily's hawt leather vest and Paige's distressed canvas jacket on top of a denim vest on top of a loose white band T-shirt. If this shit were any gayer it would be in the Veer NYC lookbook.
Also how cute is Emily's ombre'd hair? Do you guys think I should ombre my hair? It's already so damaged but I just think it might look really cool. Sorry, I know this isn't my personal diary but I feel like we've spent so many episodes together that I can really trust you guys. This is a Lizz Safe Space, you know?
Emily debriefs Paige on A's threat and Hanna's mother's release. Paige is super concerned about A following through and killing them all.
As a nifty solution her worries, Paige suggests Emily sleep at her house. Together.
Emily likes this idea. Super zoom in on both of their hands so that everyone knows exactly what lesbian sex is.
---
At her home, Spencer begs TobAy to call her (or anyone) back. TobAy is the fucking worst.
Later, the girls all gather to watch Ashley have her first big night out.
She's an adult so Hanna gives her permission to go out there and have some sex. But seriously she kind of does. It's weird.
After she heads out, there's yet another package. It's a child's casket.
With a little Mona doll in it.
And a text. Of course.
I'm getting tired of these same old tricks. This isn't exactly the first time A has sent the Liars on a wild goose chase to find someone or do something before A kills them. And it's always a trap. Always.
The girls pop on the news and, conveniently, the Rosewood 24 hour news cycle is showing a suspect sketch that looks a whole lot like Cece.
To make matters worse, Mona is not longer at Radley, but no one will tell them where she went to.
The Liars decide to split up to find Mona because that never lands one of them in the hospital.
Spencer goes to talk to Wren, Emily goes to check the school and Aria goes to just hang around and feel Jake's muscles. Caleb and Hanna stay home to process their feelings and watch this video of Tegan and Sara and Taylor Swift on repeat.
I would have started by calling her parents, but no one asked me.
Spencer shows up to Wren's house, but no one answers the door. She peeks inside and all his things are packed.
Spencer goes to leave, but sees Shana's car outside. Sure enough, we're treated to a little glimpse of Shana inside. I don't know what Shana and Wren are doing together, but I hope it's writing Emily/Hanna slashfic.
Emily snags Paige, because you never go investigating without your girlfriend, and the two rock up to Rosewood where it's French Fridays. French Fridays are a lot like Femme Fashion Fridays except instead of hot femmes taking pictures of themselves in cute outfits, it's a bunch of high school kids pretending to be in Paris.
After a bit of nudging, the president of the club tells Emily and Paige that Mona was supposed to show up but didn't.
---
A million miles away in the land of shit I don't care about, some caveman opens up a box of sad stuff from his mom and cries. Then the fucking cro-magnon ignores another call from his loving girlfriend.
God I just feel so bad for him, you know?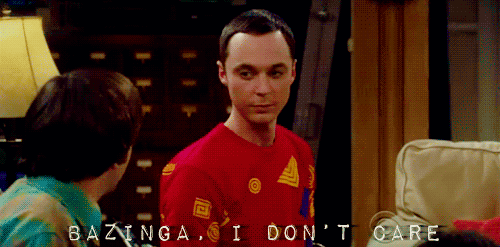 TobAy walks downstairs out of his apartment into the Life Cafe. Did we know TobAy lived on top of the Life Cafe? Like I think maybe we did but I forgot because I was too busy hating him and wondering about getting my hair ombre'd.
Either way, just as TobAy walks down, Shana drops a package slip. It's addressed from Wren to Wren. Except the "to: Wren" part is care of Melissa Hastings in London.
Upon discovering that little piece of news TobAy finally calls Spencer back. What an ass.
TobAy shows up at Spencer's and the two flip on the news. The two watch about two hours of coverage on a congressional hearing on funding for Head Start programs for children before the local news finally covers that, yes, Cece Drake is the latest suspect in Wilden's murder.
Spencer wants to go over all the good details from last night, but she's still pretty pissed TobAy stopped speaking to her for 24 whole hours. 'Cause last time he did that he went over to the dark side and turned out to be the bad guy.
FYI your relationship is unhealthy and you both need a time out.
---
Over at Aria's, it's yet another film noir movie. No surprise, Sensei Hot Stuff is fast asleep on the couch because, girl, he already said he didn't like those movies. Aria is never going to move on from Ezra until she stops pretending that her new boyfriend should be like him.
Sensei Hot Stuff leaves to get some rest, and no one makes a sexy-time move. This is a terrible Friday night.
Wait. I just realized something. If the Hoedown was yesterday and today is Friday, then that means Rosewood High held a big school dance on a Thursday. No wonder no one wanted to go!
---
Elsewhere, Caleb and Hanna stake out Mona's house. Again, they could have just called Mona's folks. I'm sure Hanna knows them after years of being BFFs with Mona.
Over at Paige's house, Emily and Paige sit around in vests while soft singer-songwriter music plays in the background, so you know that scissoring just took place. Emily worries about Mona. Paige worries about Emily.
Paige's parents call to remind her to leave the door open. Priceless.
Don't get excited, it never really even gets PG.
Paige can't figure out why Emily is so worried about Mona, what with their chilly past. Emily explains that she feels responsible for letting Ali turn Mona into a crazy face. Paige would like to put her crazy face somewhere else.
---
Across town, Aria shows up at the Life Cafe for the poetry reading she originally wanted to go to. Do I even need to hold you in suspense or make a joke? You already know Ezra's there. He and Aria talk into the night about writing. So I guess that's a thing again.
We start a musical interlude and starsweep over to Caleb sits in his stake-out car with Hanna  asleep on his shoulder. Seems like he just brought her out there to keep her from actually doing anything to endanger herself while trying to track down Mona.
Speaking of sleeping Liars, Emily passes out cold at Paige's while the two watch a black and white film. Doesn't anyone Rosewood watch a comedy? Should the Liars be watching, like, Mean Girls or something?
Spencer though? She's not asleep. She's with TobAy eyes wide awake as the two watch TV. I can't tell from their faces if they're both happy to be there or both totally miserable. Perhaps they're just worn out.
The music continues and the scene bounces back to Aria and Ezra who are still talking. They kiss again and even though I am so over them it's kinda cute.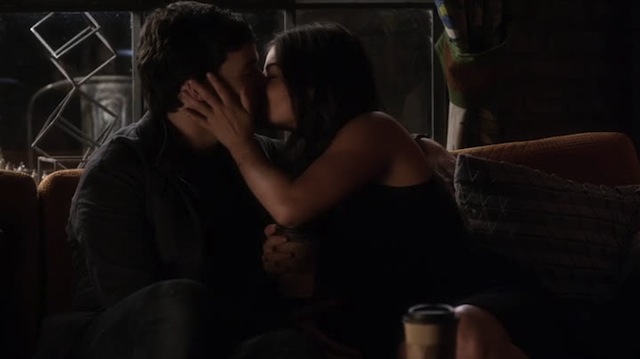 Outside, a blond looks through the blinds.
Okay. We get the artistic message. You don't have to hit us over the head with it. All of the Liars are having their perfect little love moments just before the shit hits the fan.
That being said, I find this sort of annoying. Why are their perfect little moments all about their love lifes? Okay, Hanna I get. Her moment is made more special by her mother having just been released from prison. But it seems to me like Aria's moment would be a whole lot better if it involved her getting published in the New Yorker. Or Emily getting cleared to swim again. Or Spencer getting into Harvard. It's not that I find it problematic that the Liars' lives revolve around boys — clearly that's not the case in Emily's instance — it's that these characters are so far developed past the point where these are realistic happy moments.
Or maybe I'm misreading this completely and this isn't the peak before the fall, it's just a calm before the storm. Maybe I need to read up on more clichés.
Pages: 1 2See entire article on one page