Holy fucking Christ on a cheese cracker! Just when you thought Hanna, Emily, Aria and Spencer's hair couldn't get any shinier, Pretty Little Liars gets totally fucking insane. What a mid-season finale! We won't see the girls again until the Halloween Special which looks fucking awesome. I hope they all dress up as slutty Shovel Murderers.
Also, if we don't find out who A is by Thanksgiving, I'm gonna tattoo Dr. Sullivan's face onto my face and then sit in diners eating pecan pie until I die. I don't even like pecan pie. That's how much patience I have left.

This week on Pretty Little Liars, the Liars maintained aforementioned goldilocks while destroying their entire lives in order to save Dr. Sullivan, who has been kidnapped by A, or maybe by Crazy-Jenna and her boyfriend Goofus Garrett.
Anyhow, let's get this party started! Where do you wanna start? I wanna start at the end, just like in Southland!
The episode opens with the girls captured in the police station where Creepy Cop from Earlier informs the muddied-up liars, who look like seven-year-olds in pretty dresses who snuck out of Easter Brunch to climb trees with the boys, that homicide is a capital offense in the state of Pennsylvania. This is astounding as they'd been operating under the assumption that homicide is a misdemeanor. This hair is far too shiny for the electric chair:

The Emily/Lesbian parts begin straight away — oh! Wait. I didn't recap last week (but Lizz fashioncapped, so!) but FYI Maya returned last week, looking not a day over 31, just like she did when she left:
The not-really-romantic reunion was interrupted by a call from Dr. Sullivan saying that she knew who A was and needed Emily to come immediately to her office, because A has a big lezzie crush  on Emily and doesn't like to see her with other women.
So, this episode we open with Emily and Maya sitting chastely on a couch/bed thing while Hanna grills Maya about the Betty Ford Clinic. Maya learned lots of songs, like "Rehab" and "Rumors," and met lots of interesting people and likely engaged in lesbian activities with Lindsay Lohan.
Anyhow, Emily's had enough of this chit-chat and is ready to hit that, which means Hanna's got to GO. But first Hanna notices Maya's sporting those magical boots Hanna's obsessed with, which also coat the feet of Dr. Sullivan and A, although clearly Hanna doesn't know about the A part… YET. Hanna leaves to go check Zappos via Bing on her Verizon KIN Two, leaving the lesbians alone to wallow in a bed of sin.
Instead of taking off their clothes and sticking their fingers up each other's asses, Emily and Maya talk about friendship and lightly touch hands like two old people sitting in bathtubs in a Cialis commercial.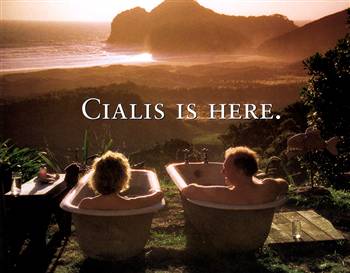 Because lesbians irrationally prioritize emotional processing over dirty sex, Maya's not ready to get back together despite all the times they shared hugging in candlelit rooms and pecking each other on the cheek.
Maya: "You have great friends. I kinda feel like that's where we have to start again."
Emily: "You… just wanna be friends?"
Maya: "No, I'm not saying that… So much has happened… and I don't know this Emily."
Emily: "I think you'll like her."
You know, this Emily! The Emily who has been psychologically tortured and emotionally terrorized constantly every single day since Maya flew the coop!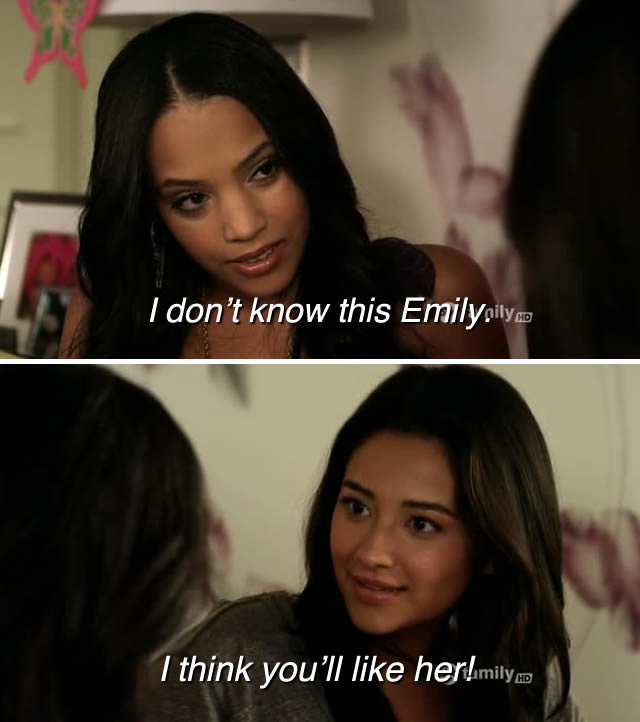 Would you like me to illustrate it for you, Maya? Because I have an Intern who takes orders very well. Yes?
Okay. Let's begin!
Old Emily visits the hospital… New Emily gets visited in the hospital!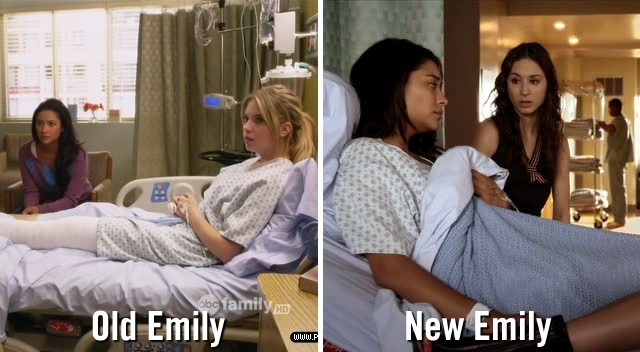 +
Old Emily is cheerful, bright and totally closeted… and New Emily is scared shitless running in the woods at all hours escaping ghost ninjas!
+
Old Emily swims… New Emily drowns!
Old Emily encounters psychopath drama at school events in private… New Emily encounters psychopath drama at school events in public!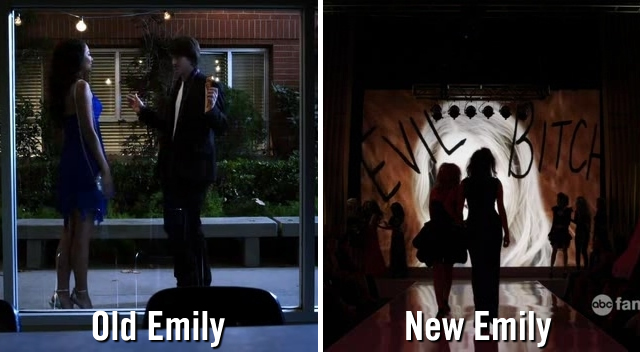 Old Emily had a cute blonde girlfriend with a cardboard personality… New Emily hit on Jenny Humphrey and lost her paper-plate girlfriend. In other words, New Emily has plenty of room between her thighs for New Maya.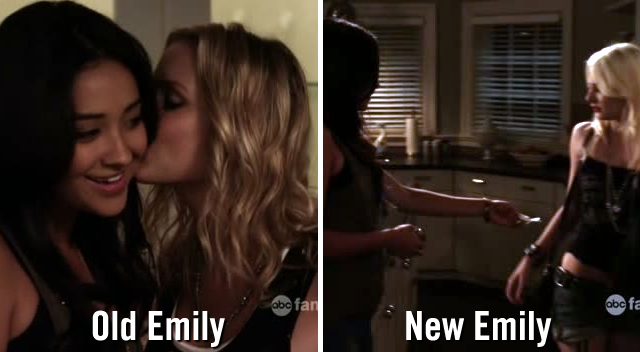 Oh, also, one thing has definitely gotten better. New Emily's Mom is way cooler than Old Emily's.
Maya: "I know I will, but I wanna make sure she still likes me… I want you to know that I'm thrilled you called me. I should've called you first."
Emily: "You should've. I forgive you."
Snooze.
Oh, Emily made a new face! This one's a "Hanna get the fuck out of here" face:

While Spencer's been in the bathroom shining her hair, someone's snuck a giant wooden box of Creep into the Hastings living room. Never one for subtlety, that A:
It's not a puppy, a dildo or seven framed photos of Aria sleeping — it's three creepoid dolls!!! Ew!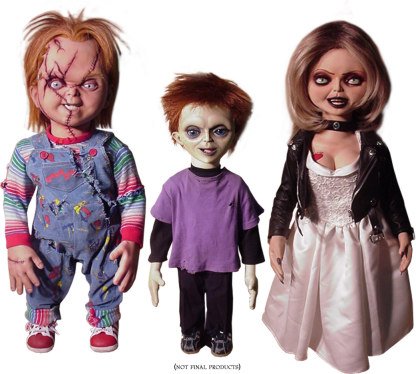 Oh whoops, wrong picture! HERE!:
These dolls are psychotic and will likely come to life like in horror movies, spurt blood from their nostrils and eat Dr. Sullivan's eyeballs right out of her head. And then she'll be blind, just like Jenna.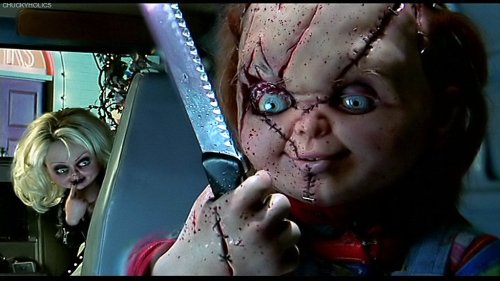 Each Pretty Little Doll has got a string on the back you can pull to get your mission. Aria's gotta "make Jackie go away," Hanna's gotta "stop the wedding" and Spencer's gotta "keep Toby safe." It's like a scavenger hunt for Sadists.
Also Emily didn't get a doll 'cause A hates gay people. Aria, unaware of her cisgender white heterosexual privilege, suggests maybe Emily's excluded 'cause A's spent so much time in Emily's grill the last few weeks that a doll would just be overkill.
"Maybe A's bored with you," Hanna suggests, which seems likely considering Emily hasn't made out with anyone for at least two episodes/ever.
Hanna: "So we do these things and A gives her back."
Emily: "I get that this is a game, but I don't understand it."
Spencer's on top of this shit like Nancy Drewster:
Aria: "Spence?"
Spencer: "No, it's brilliant, actually. A's being our ultimate frenemie, forcing us to get what we want but knowing that when we do, all hell breaks loose."
Hm. Just the kind of thing Allison would do.
So, dutifully following orders, the girls proceed to ruin their lives to save their therapist, 'cause ruined lives need therapy and The Liars are masochists who likely would prefer root canals, drinking cow blood, apartment-hunting in New York City, waiting in line at the DMV and taking a 7-hour flight with a crying baby to actually defying A.
Pages: 1 2See entire article on one page