How did I feel when I heard Maya was coming back to Pretty Little Liars? Let's just say it was similar to when Brock came back to Pokemon.
Before we get to that, let's go over a few style notes. Emily snuck off early in the morning for a run freaking everyone else out because, oh my god, she was missing without her phone for a full two hours prior to school. Somehow even without her phone everyone figured out they were supposed to meet her for the most fashionable therapy session ever. You gotta look hot to tell your therapist that someone's been threatening you all year.
Spencer has finally run out of ridiculous getups and has resorted to basically donning what I wear to work everyday. Emily was still in her workout clothes, so Aria took over wearing a loose gemtone scoop-neck.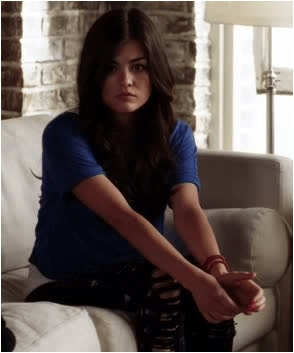 While I probably wouldn't ever wear them because of my deep-seated fear of pants with holes, I really like her jeans. I think we're supposed to think she ripped them herself and that's clay all over them, but actually they're just from Urban Outfitters. Also now that it's fall or something we're seeing the resurgence of her blue boots again (a staple earlier in the season).
It's hard to see here, but Hanna has a cute little 7 For All Mankind tank top duo on. You can see it much better later in the day when Hanna's talking to her adorable grandmother. Everyone on this show layers tank tops. I'm starting to wonder if maybe it's just a West coast thing. In Boston it's either so cold you're in a longsleeve or so hot you'd sweat buckets in a double tank.

Speaking of Hanna's grandmother, she mostly falls right into the Cool Old Lady trope in the category of being able to wear a turquoise sateen jacket and use the phrase, "I just have to go wipe the dew from my lily." Remember how I keep saying Ashley Martin dresses like a champ? Well Gram knows that too.
That's right. Gram was a win. Either way she's in town for Hanna's dad's wedding where Hanna's supposed to give a speech at the rehearsal dinner with Kate (her new wicked step sister).
If you're not into the $500 price tag on Hanna's Robert Rodriguez Black Label Georgia Dress because you doubt you'll wear a formal dress in mustard yellow more than once, don't worry. You can totally rent it which isn't weird at all. Kate's embroidered dress is truly lovely which is awesome because I love a well-dressed scheming villain.

How do I know Kate is a scheming villain? Beyond the fact that she declared herself as such in the last episode, her formal attire gives it all away. Why? 'Cause on TV, bad bitches wear purple.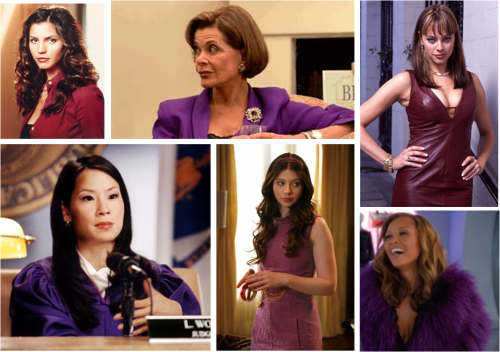 Wait. Wait. I can do better.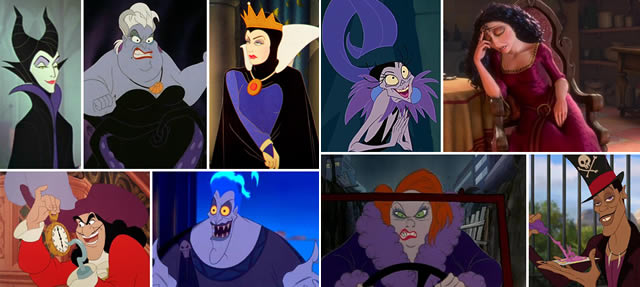 In proper form, Kate got Hanna all liquored up and they talked about horses and fashion and stuff. Then she busted out her mom's wedding dress which, for some unknown reason Kate is toting around with her like a teacup Chihuahua. Here's a big secret that no one saw coming. It's a goddamn trick. Luckily the wedding dress is pretty bomb. Wait, I'm sorry, fierce.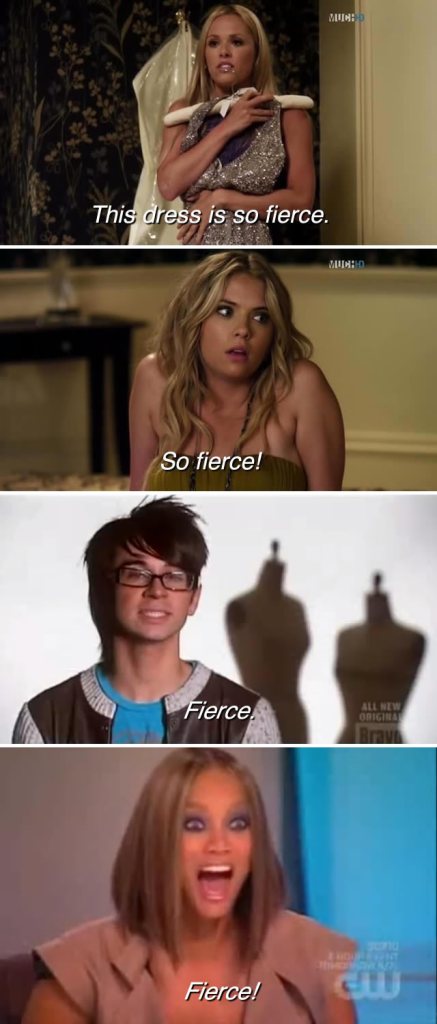 I'm sorry. I'm not clear. Hanna/drunko, what do you think about this dress?

Unfortunately this dress wasn't long for this world. Because Hanna puked on it.
School wasn't much better because The Only Therapist In Town came and lectured about cyber bulling. Cyber bulling is so not hot right now.
Arg. I guess now I have an apology.
Dear Aria,
I'm sorry I made fun of your silly Tupac headband that you worse in episode four online. I was wrong to generalize and cyber bully you in that way. Your new Tupac headband looks very cute.
Love always and forever,
Lizz

But seriously, Aria is the cutest ever. Knotted headbands are sweeping in this fall and, as long as your stay away from bandana prints, give a feminine Rosie the Riveter look. The deep fall crimson is the real winner here. I would talk about all the amazing dresses and sweaters in crimson for this fall but I'm scared I'm running out of trends to write articles about. Still, what can I say, I just love that color.
I think the cut of the dress is particularly flattering. Unfortunately, that specific dress is actually a vintage skirt and blouse set and therefore not available to us. American Apparel does make a skirt and top that show the same combination of 3/4 length sleeved sheer blouse with a pleated longer skirt.
Spencer, again, showed true commitment to toning it down this week. And what an adorable, tasteful jacket. Her style here sort of reminds me of her style earlier in the season. Especially that jacket. Hmmm…
Enough about that, on to Maya's return! God wasn't it convenient that she came back right after Samara dumped Emily?!? It's like this stuff is scripted or something. Still, Maya's return was basically as anticlimactic as any love interest's return could possibly be. I would put it on par with Oz's return to Buffy once Willow was already a lesbian.
Fortunately for us, Emily and Maya modeled excellent date attire. It's adorable because they're both dressed to impress and are all bold and stuff.
Just last week I was saying there was a right way and a wrong way to wear shoulderless shirts. Emily, congrats. This is the right way.
I think Maya looked stunning in this Anthropologie blouse, particularly with the sweater over it to tone down the colorful pattern.
It seems, however, that I might be alone on this one.
My Roommate: Oooh. Hm. Ouch. I don't like… anything about that. I wouldn't wish that shirt on my worst enemy.
Well I guess I can't be right all the time. Next week I'll continue to not be right all the time as I fashioncap the summer finale!