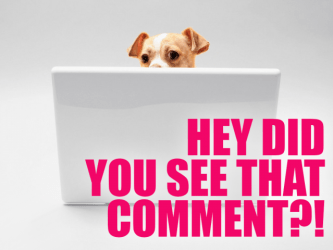 It's the most wonderful time of the year! No, not Christmas: back to school! This is the first time in 20 years I won't be going back to actual school, but I'm not letting that put a damper on things. Having fun isn't hard when you've got a library card and the Internet. Back to school means fall is coming soon, which means it's almost sweater season (and time for other cute fall clothes)! While not particularly fall-ish, Autostraddle t-shirts are on sale again and look fly 365 days a year, eight days a week. You can make the best of the last few weeks of summer by grilling pizza and making mayonnaise-free potato salad because really, who likes mayonnaise? We've got some new music for your ears, namely Wild Flag's new album and all the other albums coming out in September. In music television, we liveblogged the VMAs, in internet television, Taylor interviewed with "My Drunk Kitchen's" Hannah Harto, and in television television, Lizz fashioncapped Pretty Little Liars. In the ethics of lust we discussed stripping and burlesque and Whit played some hilarious video games filled with nearly-naked women. You needed help with online relationships, but you could just embrace your singlehood and watch the newest episode of Unicorn Plan-it. Let's head over to Brianna for the latest news on Hurricane Irene–I mean the ASS Group of the Week.
Academics Anonymous: Study Trouble R' Us
It's that time of the year for some of you. Here's a place where you can vent your frustrations and share thesis-related feelings! Paloma says there will be "tales of insomnia, spells of headaches and a dark horse called procrastination." That sounds like my kind of night.
---
On British Blues Queen Chantel McGregor Shreds Jimi Hendrix's 'Red House':
The So That's What They Mean When They Say All Lesbians Play Guitars Award to kat: "When I was younger, I kept my fingernails cut ridiculously short for guitar playing. Now I keep them ridiculously short "for guitar playing.""
On MTV Video Music Awards 2011 Liveblog and Open Thread:
The She's A She's A A Di-va Award to mkr: "That baby is going to have a hard time getting out with all those fans blowing her hair back."
On You Need Help: Being a Chick Who Wants to Bang Her Co-Worker:
The Talented Neophyte Award to El Valentine: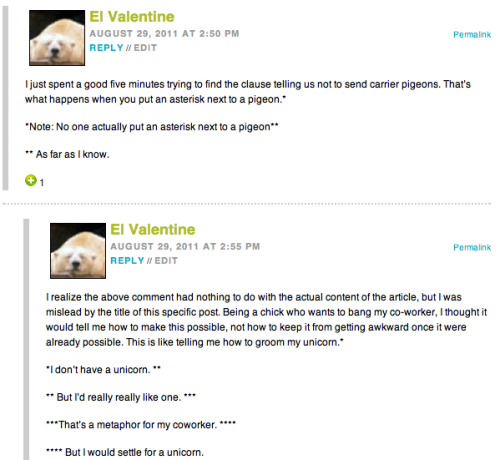 On You Need Help: Falling in Love In One (Digital) Dimension:
The Well, This Award to Labhraisin: ""You can't have sex with a computer."
Challenge accepted! "
On Gaga Queers Up MTV VMAs with Drag Performance Art:
The Some Sharks Speak Whale Award to L: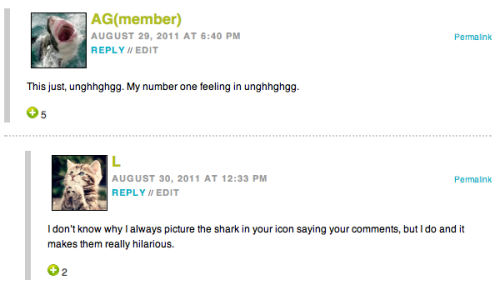 On OPEN THREAD: Back to School!:
The Story of My Life Award to hmhr: "for my last year of undergrad, i've decided to bump my monthly existential crises up to weekly (or maybe daily?). so that seems like a plan for success."
The That's The Spirit! Award to isa: "im a couple weeks into my freshman year of college. i came out to my close friends from high school about a month ago so i went to a meeting for queer women on campus last night…it was really scary and took a few tries before i could actually step into the room. i am proud of myself for doing it, though! when the meeting was over i went to the bathroom and cried for a minute. then i happily walked back to my dorm "
The Maybe It Was AG? Award to difficiledame: "Some girl just ran into a door I was opening at my campus library and made a really cute noise and I might have fallen in love. I'm gonna like, hit the missed connections board on Craigslist like "HEY I SMASHED YR FACE WITH A DOOR, wanna go get dessert?""
On Unicorn Plan-It Episode #3: A Single Ceremony:
The Just The Tip Award to prolittering: