Boobs! Big hair! Rampant gender stereotypes! These are a few things that plagued some of the "adult" video games that popped up in the late '80s and early '90s. "Adult" might not be the right word for it — it's more like "filled with innuendo and illustrations of fully-covered boobs that only a 13 year old would find titillating." These mildly erotic games often starred a white male protagonist who struggled in his quest to lay all of the girls on yon digital hillside (entirely unexpected premise!). Some games are worse than others, all have penis jokes and some have ridiculously innuendo-filled names, like Leather Goddesses of Phobos 2: Gas Pump Girls Meet the Pulsating Inconvenience from Planet X! (I shit you not — real title, complete with exclamation point).
So for the honor of Autostraddle, I sat down with Leather Goddesses of Phobos 2 for several hours to see how bearable or unbearable the experience was. Here's a handy recap in case you want to skip the game for now (I wouldn't blame you).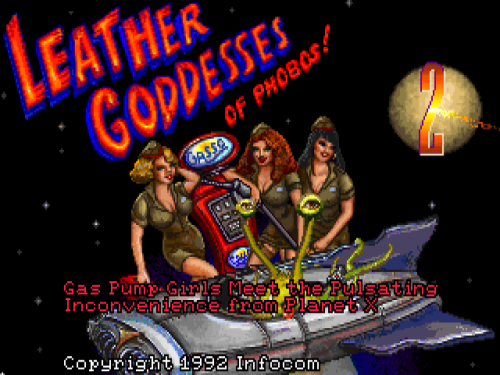 Leather Goddesses of Phobos 2 is a graphic adventure game published in 1992 by Infocom. The Leather Goddess series is known for its throwback sci-fi 1950s feel à la genre pulp novels, the first of which was a text-based interactive fiction adventure (meaning that there are no images; you type in commands like WALK NORTH or PICK UP BASSOON to advance the game using your handy abilities of imagination).
LGoP2 takes place years after the original game and is set in 1958. The story begins when a mysterious meteor lands in the desert, ruffling the sensibilities of the sexist, racist and Communist-hating town of Atom City, Nevada. The town features, among its many highlights, a movie theater that shows a repeated 3-second clip of a woman's boobs bouncing up and down in 3D, a brothel filled with 12 prostitutes to pick from (one of which is a sheep named Laced Mutton) and an "Indian reservation" complete with incorrect English, feathered headdresses and an "Authentic Indian" gift shop inside of a teepee.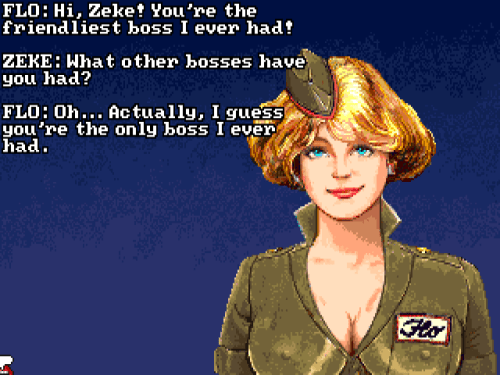 And I'll be honest here: Never before in my life have I played a game and seen so many nipples in it — they peek through every single shirt and bikini. The game's dialogue even includes charming lines like "What's gotten into you, Zeke? Nothing's gotten into me … yet …" and "I'd never seen anyone lube a chassis as fast as Doe." The descriptions of the women usually stereotype them as the bimbo, the old cougar, or the bombshell, and criticizes women generally for being either inherently dumb, ill-achieving or generally untrustworthy liars. Some highlights:
"Not the brightest of my girls, 'Slow Flo' was … one of the sweetest things on two legs. I'd never been sorry I hired her — maybe because of the way she filled out that uniform so nicely."
"Zoe was a real dilemma. Nobody could align a front end better than she; but her own front end was so well aligned that I could never keep my mind on my work when she was around."
"Selma wasn't the brightest person in town, and she'll probably never be anything more than a waitress, and a mediocre one at that. On the other hand, she was a pretty good looker, though not as good as she made herself out to be."
"My pop once told me, 'Zeke, never trust any woman who claims she can see the future — women claim to have all the answers often enough as it is!' And whenever I'm in the presence of Madame Chavez, I think my pop may have been right."
This isn't the end of the overzealous gender stereotyping! It so happens that the fallen meteor is actually a tentacle-laden, oddly pin-cushion-like alien named Barth who crash-landed on Earth while trying to escape from the horrible, meddlesome Leather Goddesses of Phobos, a group of '90s-hot (gigantic-haired, perm-laden) alien women whose main offenses seem to be having S&M tendencies (whips and knives are abundant), wearing leather full-body thongs, being sexually dominant and wanting to enslave humankind as their love slaves. The Goddesses (named, appealingly, Lubanna, Balfurra and Melcinda) often have the most ugh-worthy lines, including "The Earth man wants to play! Shall I see if he's UP for the occasion?" and "Your name is nothing to me, human. I never remember men by their names, I remember them for … other things." Information garnered: Women with sexual desires are creepy, but hot. But creepy!
These antagonistic women are put in blatant contrast with the female protagonist, Lydia, who is the daughter of a wheelchair-bound, space-obsessed scientist who loves to "play with his gigantic telescope," as the game snidely comments. When you play as Zeke, the male main character, Lydia is gloriously passive — an empty, balloon-headed virgin to counteract all of the Leather-Goddess whore. She plays as any stereotypical blank-canvas object of desire: she loves her father, doesn't have any original thought of her own ("As for me … I don't know what to think," she says about the meteor), is essentially getting married off by her dad to the protagonist and her dialogue contains a shoe reference in the first five seconds of the game: "I was just on my way to investigate [the meteor] but my new shoes are killing me! Would you be a dear and check it out for me?"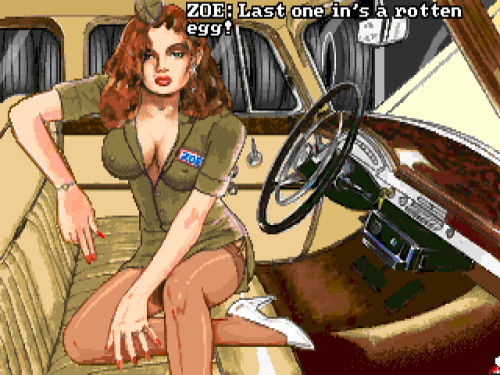 The virgin / whore complex is madly stuck in place in LGoP2. As far as the untouchable desirability of a female protagonist goes, Lydia remains the ever-chaste beauty, her dialogue image curiously lacking the copious amount of mammary spilling out of all of the other female characters' shirts. "I'd never gotten as far as first base [with her]," Zeke thinks about her. "As far as I knew, nobody had."
Which is to say she's unlike any other female character in the game. The game play of LGoP2 features the creepy option to kiss any opposite-sex character — when you play as Zeke, every woman is fair game for come-ons, which you select by clicking on an image of puckered red lips. Every woman yields in a uniform, lobotomized "Oh, I've wanted you to do that for so long!" kind of way. And for some women, after the laborious task of clicking the kiss icon once, a screw icon appears. Well.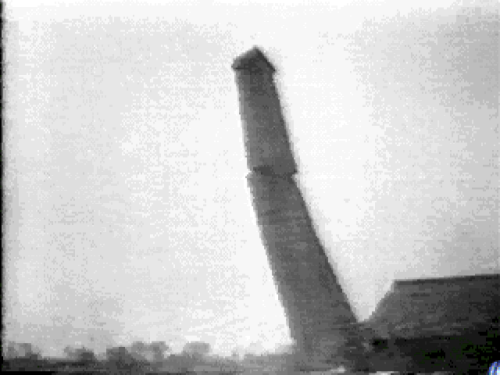 In the case of the Zoe the mechanic (who also happens to be one of your employees), clicking the screw button starts a scene of her unzipping her shirt inside of a car she's fixing. The shot immediately cuts to stock video footage of phallic objects being hefted off in the sky: a blimp glides across the screen, a rocket jettisons into the air, and a narrow, skyscraping, mushroom-headed building collapses in a slow, very phallic, curve. You can "screw" several ladies in the game, while Lydia remains carefully untouched throughout except for a tender, romantic kiss at the conclusion.
The difficulty with playing a game like LGoP2 is that while it's trying oh-so-hard to be ironic, it simply isn't. It's trying to be self-aware, I can see that — for example, the dialogues that happen at the "Indian Reservation" include some horribly racist dialogue spoken in broken English only to end in sentences spoken in perfect English. The "Mesquito Tribesman," as he's called, is pulling on a ruse of "Indianness" as a touristy play-act. "How," he greets. "No playun Bingo tonight; Big Chief angry at White Leaders for taking too much of our wampum. By the way, have you heard whether the Dodgers won tonight?" It is kind of self-aware, but the offensiveness outweighs the humor; the attempt at political incorrectness is perhaps a little too politically incorrect, as these stereotypes have been, and likely still are, being used negatively against Native Americans.
The same can be said for the depictions of women. While it could be funny if a white male protagonist were sexist and objectifying all of the women he encounters like a hopped-up lothario, it could result in a self-depreciating, sometimes-funny Johnny Bravo-type character (remember, from Cartoon Network?) or just an asshole. The problem is that the game's treatment of women is never presented ironically, and that the gender stereotypes used are still those used against women; they hit too close to home — especially with Zeke's discussion of hiring not-so-bright women only for their bodies.
It's difficult to play a game like LGoP2 and not do a face-palm every five seconds. The game is trying to be self-aware, but only ends up solidifying conventions of gender stereotype and race in its attempt to be over-the-top. The objective of the game is to provide a marginally sexy experience for the easily-titilated male adventure gamer, and this means playing on established jokes about women in a way that's entirely played-out, big boobs and all.
So can you think of any games, TV or films that try to dissect or hyperbolize gender stereotypes, only to end up perpetuating them?