The best part of reading lesbian pulp fiction is the tone, and the worst part is that everyone turns out straight, because the publishers had to get the books past censors somehow and the best way to do that was to portray the girls who went gay as either a. going back to boys in the end, b. drowning in their own misery or c. actually drowning or dying in some other way that was supposed to be cleansing/cathartic for everyone else in the cast, but especially the dudes and straight ladies who might have felt threatened by the bout of alternative lifestyle going around.
Titles not on this list include Her Raging Needs, Mama Dyke, Governed by Lust, Madame Butch, Another Kind of Love, In the Shadows, These Curious Pleasures, The Third Street, Her Lesbian Half, 21 Gay Street, Maid Service, Babes Behind Bars, Suburban Sexpots, Bisexual Beds, Midnight Orgy, Return to Lesbos, and The Beds of Lesbos. And those are just the ones I could find in five minutes on the Internet.

Women's Barracks was published in 1950 and was the very first pulp with lesbians. It was also a fictionalized version of Torres' own military history in WWII and was marketed as "the frank autobiography of a French girl soldier." Also: the original cover featured partially naked girls in bustiers.
As a novel, completely separate from any of its historical or lesbian-pulp-fictional significance, Women's Barracks falls on the rougher end of the five star spectrum. The first person narration is a little too Carrie Bradshaw voiceoveresque, and there is very little actual action, either of the plot-moving kind or the in-your-pants kind. But it was still one of the very first lesbian pulps, and what it says about the genre is far more interesting than what it says about military non-scandal.
Spring Fire is widely recognized as the first real lesbian pulp fiction book, which basically just means it's smuttier than Women's Barracks (and also: was the first original paperback with all-lesbian content). It was only re-released in 2004 because the author (whose real name is Marijane Meaker) didn't like the very tragic ending she was forced to give it — because the book had to be sent in the mail, positive portrayals of gay lifestyles would mean it wouldn't pass the censors — and withheld the rights for years.
The story is based on Meaker's actual experience. Mitch, whose main personality trait is "awkward," is in her first year of college and meets Leda, a girl in her sorority who she becomes roommates with. They have an affair, and it does not end well.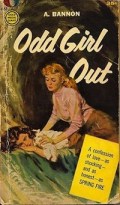 Laura is just starting university when she meets Beth, who is outgoing, attractive, and in a sorority, which she convinces Laura to join. Here's a hint about how this will end: Bannon was heavily influenced by Meaker, who she wrote to when she was trying to get published. And altering content so it could get through the post was very much still a thing.
The predecessor to I Am a Woman (and several of Bannon's other novels), this novel introduces Laura and chronicles the love affair that drives her from college. Beth takes sorority sister Laura as her roommate-and more-then betrays Laura with a man. Laura ultimately thanks Beth for showing her "who she really is."
Three Women, by March Hastings (1958)
Paula is beautiful but broke, and is planning to marry Phil, who is both wealthy and an excuse for her to escape her alcoholic father. Phil, who has had some thoughts in an entrepreneurial direction, goes to visit his aunt Byrne, who is incidentally a smokin' hot 'spinster,' in the hopes that she will spot him a downpayment. Of course he brings Paula along. After Paula meets Bryne, who is stunning, silk-shirt-wearing, and oozing charm like it's her job, she starts to stalk her and eventually they fall in love. Of course, Bryne has a dark secret from her past that threatens to destroy everything, which is pretty standard, as these books go.
There are actually two versions of Three Women: the original from 1958, and a slightly different one from the late 80s, in which Hastings rewrote part of the ending so it was less depressing.
Girls in 3-B, by Valerie Taylor (1959)
The Girls in 3-B is especially fun because rather than starting off with emotions and insecurities, it skips right to the deep personal struggles and drug hallucinations.
After graduating high school, Pat, Annice, and Barby move to Chicago, move in to an apartment (and, if the cover is any indication, spend a lot of the time in said apartment undressing in front of each other), and deal with narratives of sexism in the workplace, the emphasis on masculinity in alternative culture, and being a lesbian. Analysis of culture: this book has it. There are affairs, there is work place drama, at least one person gets knocked up. The only thing you'd need to turn this book into Mad Men is a few more shots of whisky and a reference to Lucky Strike. While there is less focus on the lesbian story line than elsewhere, the emphasis on watching characters subvert gender norms regardless of how they do it is what makes this book so great. Best of all, the lesbian story line is far less depressing than in, for instance, Spring Fire (though also, most lesbian story lines are less depressing than they are in Spring Fire).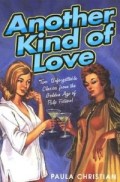 In Another Kind of Love, magazine writer Laura Garraway falls in love with the young starlet Ginny Adams. They kiss and it is magical and stays that way until Laura realizes Ginny will never leave her lover, Saundra, because Saundra can help her be more famous and Laura can't. Heartbroken, Laura moves to New York, discovers the Village, and, in a pretty surprising twist, gets a happy ending.
Happy endings basically never happen in these books, so this is pretty awesome/uplifting.
… Comparatively.
Lesbo Lodge, by Harry Barstead (1963)
Lesbo Lodge, which is a title that I am not making up, is even worse than a lot of other lesbian pulp because it is, if possible, even trasher. The front cover reads, "A gripping story that sheds brutal light on the passions of unnatural love." The back cover reads:
It was night…
They were alone…
She found herself beckoning urging her to calm the angry fires of her tortured soul.
Something happened to women when they came to love camp, the secluded summer resort with a sordid reputation.
The rest of it involves the idea that lesbians just need to have affairs with men, because it was the early 60s, which means this book is still pretty depressing. But also: hilarious.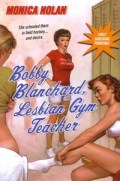 "This past summer it seemed like wedding invitations or engagement announcements arrived almost weekly from the girls Bobby had gotten especially friendly with at Elliott College. Sometimes she got a panicky feeling that the supply of young, nubile girls, which had seemed inexhaustible during her college days when a fresh batch arrived every fall, was inexplicably drying up."
Published last year, Bobby Blanchard, Lesbian Gym Teacher has all of the drama and most of the charm of the original pulps, with a lot more puns about which team everyone's playing for.
After an injury forces her to leave the pro-field hockey world, Bobby gets at job at a girls' boarding school and enters a world of drama, angst, and more love triangles than season two of The L Word. Plus, who doesn't want to read about posture, married art mistresses, math teachers with natural eyes for figures, widowed housekeepers, murder investigations, or promising athletes interspersed with make out scenes and more campy references to the books above than I can reasonably reference? (Answer: no one). That said, satire works best when you know what it's making fun of, so Bobby Blanchard probably shouldn't be first on your list (Nolan has written two other books in this series and has at least one more coming, so it shouldn't be last either).