When female models do drag we think it's hot and edgy or a whole new kind of beautiful. We love the girls in suits and suspenders, the girls with dirt on their faces or ties around their necks. We like girls in "boyfriend jeans" and girls posing like boys next to girls dressed like girls. We put them in ads and we put them on the runway and we put them on our tumblrs and on our walls and it's mostly okay. People are always saying that female models have bodies like teenage boys, which probably has something to do with why the mainstream can handle a wiry female fashion model in a cumberbund but is generally disturbed by real-life displays of female masculinity, which are treated as subversive and often frightening.
But where is the love for men who fuck with gender on their own terms? Where are the effeminate men? They're plentiful behind the runway, but in mainstream culture male cross-dressing is almost always treated as a punchline or a perversion and effeminate behavior or attire is scorned and ridiculed. (Thank you, patriarchy!) This leaves fashion somewhere in the middle — though it plays with gender fairly liberally at times, male models are far more limited in their gender expression than females are.
Enter Andrej Pejic, who appears on the cover of New York Magazine's annual Fashion Issue in a story entitled "The Prettiest Boy in the World."
Pejic, 19 and the son of a Croatian father and Serbian mother, was born in Bosnia and grew up in Australia. As a kid Pejic liked to "play dress-up with the girls" but eventually he learned that behavior was "unacceptable" for boys and began to reign it in. But at 13 he changed his mind, went "Fuck it" and "let the platinum blonde out."
Because he lacked the muscle mass and macho stylings of most male models, it took Pejic a while to break into the modeling industry but now his career is taking off. During February's Fashion Week, he modeled in five men's shows and four women's shows. Pejic was signed to Storm Agency by Sarah Doukas, who also discovered Kate Moss, and she posts Pejic on both the male and female boards. Doukas remembers:
 "When I first met ­Andrej, I didn't think, What a beautiful boy or girl, I certainly didn't want to put him in one particular box."
Pejic doesn't really consider himself male or female but doesn't care what you call him — he uses male pronouns but is also perfectly content passing for female and being treated as such. "I guess professionally I've left my gender open to artistic interpretation," he explains. I feel like Judith Butler would really like this guy.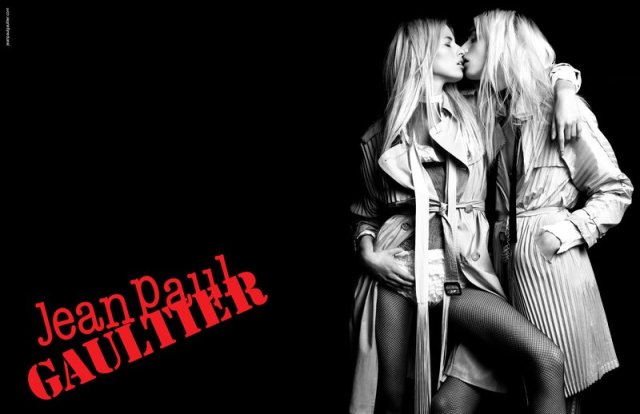 The article's author, Alex Morris, points out that although "androgyny has been a selling point in the fashion world since Coco Chanel jettisoned corsets in favor of sailor suits… it's always been a trickier, and more sexualized, endeavor with men."
Although I personally have nothing but excited feelings about any time a man fucks with gender and dares to go femme, the world's reaction to Pejic has been varied — comment threads on Pejic-related articles online include vile comments like "Yuck!", "He's beautiful, but I prefer my men to look like actual men" and "He's a BIG ICK to me. I wouldn't want to look like that." Good to see that misogyny is alive and well on the internet, much to everybody's surprise.
Haters gonna hate, but Pejic is getting a lot of work these days — magazine covers, runway shows, and shoots with top photographers. In his homeland of Australia, he's famous enough that he has to wear sunglasses to go outside! He jokes:
"I don't get out of bed for less than $50 a day," he deadpanned. "I want to make that clear to America. This is a new age of androgynous supermodels. We don't get out of bed for less than $50 a day."
There have been a few high-profile incidents of gender-related discrimination in Pejic's career thus far — like when Barnes & Noble allegedly mis-identified Pejic as female when Pejic appeared topless on the cover of Dossier and required the magazine wrapped in opaque plastic.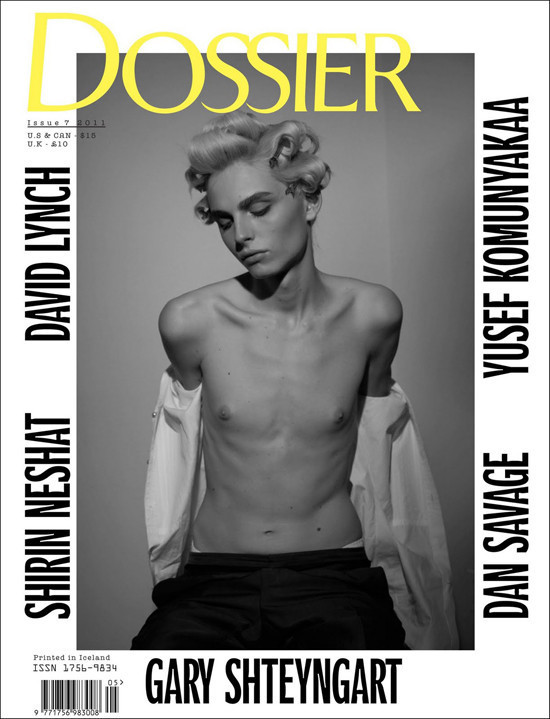 Then there was the heinous misstep by lad rag FHM, who referred to Pejic as a "thing" when ranking him the 98th sexiest woman in the world. Their description of him couldn't possibly be any more revelatory of society's discomfort with femininity:
"Designers are hailing him as the next big thing. We think "thing" is quite accurate… The gender bender has jumped the gun in hoping he might one day be signed as a Victoria's Secret Model (pass the sick bucket)."
(FHM later issued an apology.) Pejic doesn't care though, he says "my whole life is controversy, what can I do? I'm like Britney Spears!"
According to Morris, Pejic is, then, doing something very different. We haven't seen male models quite this androgynous before. She links this to an overall industry trend with more expansive ideas about gender — for example the recent success of transgender model Lea T — and cites the case of April Ashley, a 60's model whose career was "destroyed" when her trans status was revealed as evidence of how far fashion has come. Pejic describes the style of transgender fashion icons like Candy Darling and Connie Girl as a "We're fabulous; fuck off" look. What's Pejic's look? Pejic's look is however you want him to look.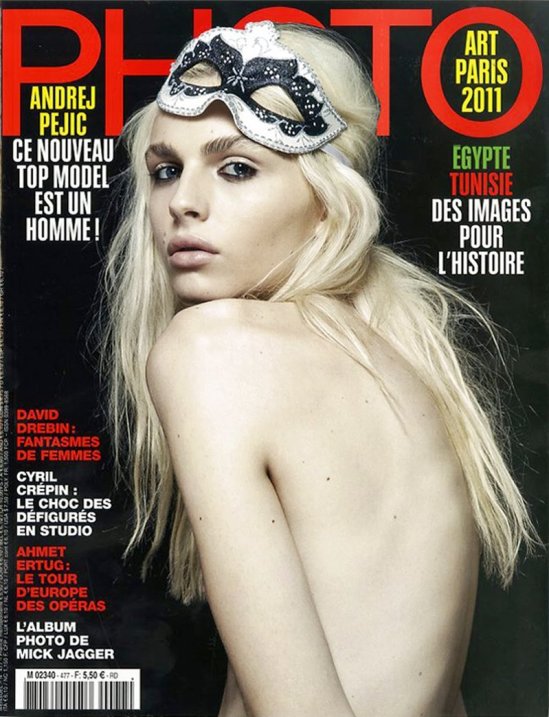 Here's how Pejic describes his gender identity:
+ "When I started experimenting, it was to make myself feel happy, to look in the mirror and be satisfied. I never did drag or anything like that. It was always that I wanted to be pretty, to look beautiful, as a girl would want to."
+ "It's not like, 'Okay, today I want to look like a man, or today I want to look like a woman. I want to look like me. It just so happens that some of the things I like are feminine."
+ "I don't really have that sort of strong gender identity—I identify as what I am. The fact that people are using it for creative or marketing purposes, it's just kind of like having a skill and using it to earn money."
Also, this:
+ "Though he once joked to a reporter that he'd get a sex change if that would secure him a Victoria's Secret campaign ("You'd kind of have to, wouldn't you?"), he knows his look will never become commercial enough to command that kind of money, nor is a sex change something he's really considering. "Obviously, as a kid you'd think about it—"What would life be like if I was born a girl?" and stuff. But at this point, I'm happy with the situation as it is."
[The usage of the term "sex change" is so very retro, isn't it? Way to go, New York Magazine!]
So he's pretty and witty, but is he gay? Either Pejic is saying he's asexual and Morris is ignorant, or Pejic is just being sassy:
"Pejic is surprisingly cagey about his love life, and especially so about his sexual orientation. He says he tends to attract straight men and bi-curious women, "like the wilder girls," but in keeping with his philosophy that, for him at least, gender is irrelevant, he won't get specific about who attracts him. "You know, I wouldn't say that I'm really a sexual person," he said—a statement that's almost impossible to believe. "But I do appreciate love, and I would love to experience it someday. I don't think I have yet." When pressed, the only trait he'll admit he finds alluring is humor. "I find myself to be quite sarcastic, and I wouldn't want to be with someone who didn't get that."
Morris suggests that his success has more to do with fashion's preference for hipless/curveless women than it does any kind of social sea change — like the world wasn't necessarily ready for a male model who could model womenswear and then they found Pejic, it seems like they found Pejic and then had to become ready for a male model modeling womenswear. But thank G-d they did, because it's long overdue.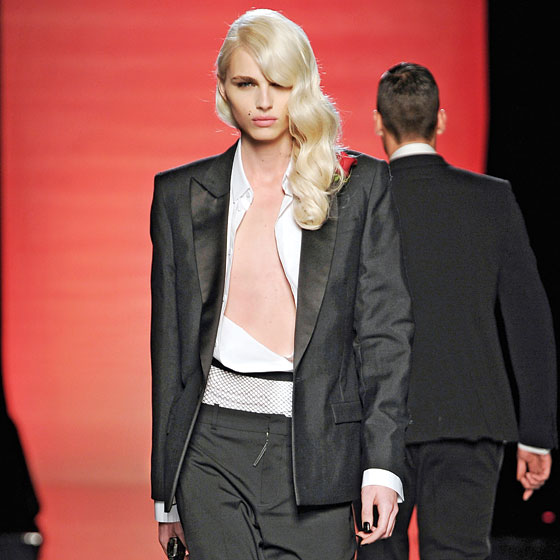 But Pejic's not blind to the various incarnations of sexism/trans-misogyny controlling discourse and gender expression in the world today. In fact, when I read this part of the article…
..though he may not exactly bristle at the gender distinctions made by others, he does question their underlying assumptions. "In this society, if a man is called a woman, that's the biggest insult he could get." He arches his eyebrows skeptically and asks, "Is that because women are considered something less?"
…it reminded me of a Patrick Califia quote I found in Julia Serano's Whipping Girl:
"I seems the world is still more titillated by a man who wants to become a woman' than it is by ' a woman who wants to become a man.' The first is scandalous, the latter is taken for granted. This reflects the very different levels of privilege men and women have in our society. Of course women want to be men, the general attitude seems to be, and of course they can't. And that's that."
At the end of the day, Pejc's inclusion might change fashion's gender problem a bit, but unfortunately it isn't going to change the world for gender non-conforming or transgender kids. Pejc is lucky: he was born beautiful and model-thin, and unlike the 61% of transgender and gender non-conforming students who reported significant abuses at school, Pejic attended an artsy progressive high school in Melbourne where he was encouraged to be himself. Maybe that contributes to his confidence and ability to brush off haters while confidently rising to #11 on the Top 50 Male Models list. But now Andrej is visible, and we can see him and hopefully some of those kids who feel like they don't fit in can see him too and visibility is important across all media platforms — especially when it looks this good.