Lesbian pulp novels were around in the 1950s and '60s and were notorious for featuring suggestive covers, tragedy and tons of smut. Sold in train stations, drugstores and newsstands or mailed out like magazines and named for the low quality of the paper they were printed on, these novels depicted the possibility of queer relationships, but also suggested that if anyone pursued such a relationship she would in many cases end up institutionalized, hospitalized or really heterosexual all along.
However, lesbian pulp fiction also suggested the possibility of queer sex. Specifically, hilarious queer sex. With discussions of the "silken pliancy of her thighs," euphemisms and lots of music-related metaphors, the following excerpts from sex scenes show why critics complained about these novels and why readers were eager to open them.
---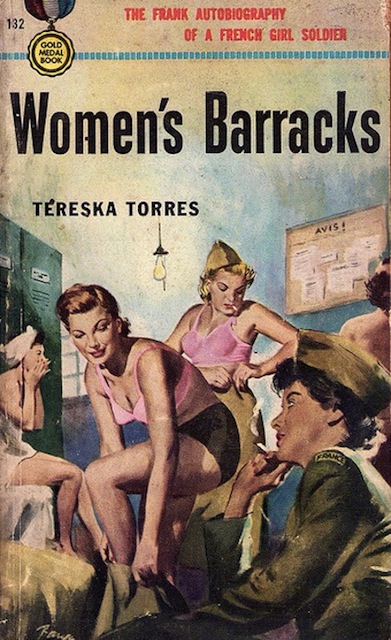 Ursula felt herself very small, tiny against Claude, and at last she felt warm. She placed her cheek on Claude's breast. Her heart beat violently, but she didn't feel afraid. She didn't understand what was happening to her. Claude was not a man; then what was she doing to her? What strange movements! What could they mean? Claude unbuttoned the jacket of her pajamas, and enclosed one of Ursula's little breasts in her hand, and then gently, very gently, her hand began to caress all of Ursula's body, her throat, her shoulders, and her belly. Ursula remembered a novel that she had read that said of a woman, who was making love, "Her body vibrated like a violin." Ursula had been highly pleased by this phrase, and now her body recalled the expression and it too began to vibrate. She was stretched out with her eyes closed, motionless, not daring to make the slightest gesture, indeed not knowing what she should do. And Claude kissed her gently, and caressed her.
"Just stand still," she said. "Just let me take everything off and look at you. I want to look at you."
The skirt fell to the floor, and the blouse. Mitch stepped out of her shoes and stood before Leda.
"I want to love you," Leda said. Her hands stroked Mitch's body gently. She leaned over to kiss her lips and her forehead and the closed eyelids. She said her name and held her, feeling the fast beat in her pulse and knowing that she had almost lost her.
The blood beat furiously in Mitch's throat and she could feel a mounting strength in her legs and arms. With the arrogance of a master, Mitch's nails dug into Leda's flesh as she began to pull the sweater and the thin blouse from her shoulders. She let her teeth sink into Leda's neck.
"No, faster!" Leda cried. "Faster, Mitch!"
Leda's gasp was one of pleasure and desire and it moved Mitch to more violence, pinning Leda's wrists behind her back and jerking at her skirt.
Neither of them heard the door open.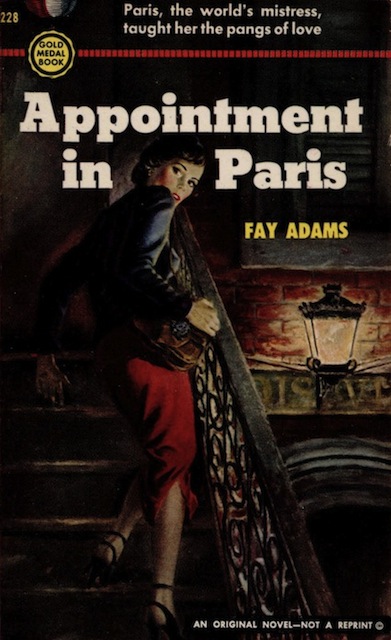 Her hand curled and uncurled against Marcelle's bare breast. Marcelle drew her closer. Marcelle's hand began that tender exploratory creeping down Havoc's spine. The shuddering began — Havoc's and this time Marcelle's, too. It was a curious sort of desperate rhythm that they played together like musicians toward some crashing finale. Havoc had no clear idea of what was happening. It was all a great rhythmic tenderness. There was no shock, no brutality. There was no part of her body that Marcelle did not explore and come to know. It was so skillful that there was no shame. Shame was a little word, it was Aunt Julia's word. This was a wonderful delight, far beyond shame.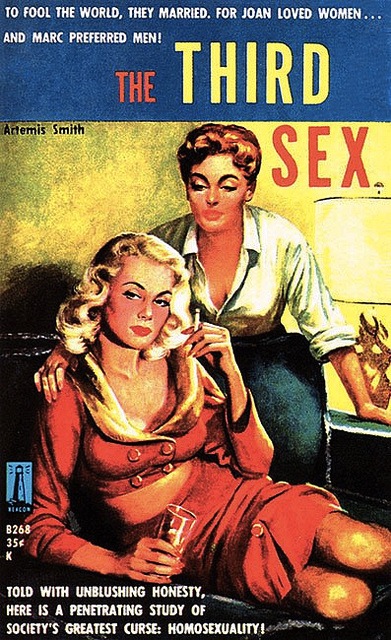 It turned into more than a kiss and they both lay back on the bed, each caressing the other simultaneously, lost in a hunger both had for the body of a woman. Joan felt that this wasn't the same as it had been with Gig. Kim was more her type, was even a potential lover, and so there was more than animal passion here, there was a beginning, a beginning of a good, clean feeling, a beginning of love. And Joan felt very butch. She forgot Jay, forgot about everything except making love to Kim.
Joan's lips and hands seemed to be electric with awareness as she gently opened Kim's blouse and slipped off her bra; and then she let Kim undo her own blouse and bra. They were both half naked on the bed and they paused for a word or two in order to establish some feeling of contact on another plane. They were both embarrassed at having skipped the preliminaries of love.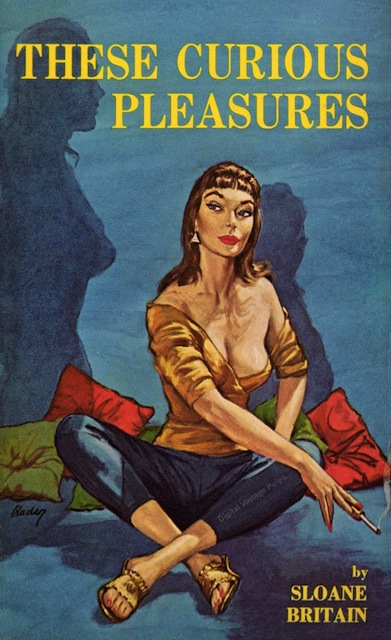 Marilyn was coaxing the nightgown up over my body and off me. She took off her pyjamas. Now I could feel her lovely smooth skin. No rough hair and muscles like a man would have.
Her long slim fingers traveled all over my body. I was trembling and nearly delirious with pleasure. Then she trailed her mouth down my neck and chest. Shocks of pleasure went through my entire body.
Then she bit. Not too hard but hard enough to hurt with a pain that was more pleasure. I gasped.
Marilyn moved. Her lips were everywhere. Her soft cheek caressed my thighs.
Deep within me the joy spread. Violent spasms shook my body. As my whole being convulsed in ecstasy I could feel Marilyn sharing my miracle.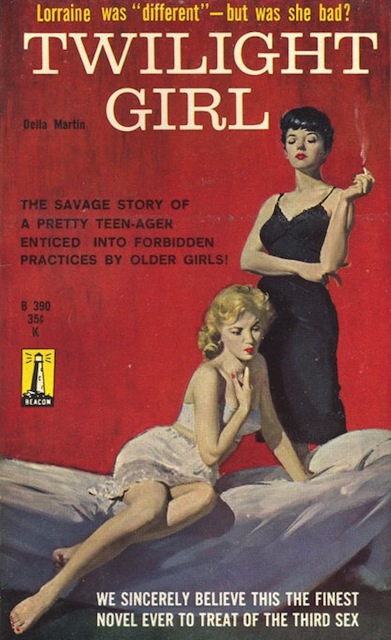 They faced each other for what may have been an eon or perhaps only a grace note in time. And then the coil-spring that had lain wound and waited freed itself inside Lon. With a cry that culminated all the cries suppressed within her, that echoed the muffled sobs of lonely nights when the softness was only a pillow, she grasped at the proffered body. Her sudden movement threw them to the couch, Violet squealing her delight. And Lon's kisses were the repeated, thirsty gulps of a body parched, a spirit long dehydrated. Kisses prodded into frenzied repetition by the tinny, ecstatic sound that reached her ears: "Oh, Jeez, Lon! Oh, Christ, you're ketchin' on-" Violet voicing her approval, the beer-numbness shutting out Lon's fear of venturing to where Violet's approval became an inarticulate sound, like the moaning of wind.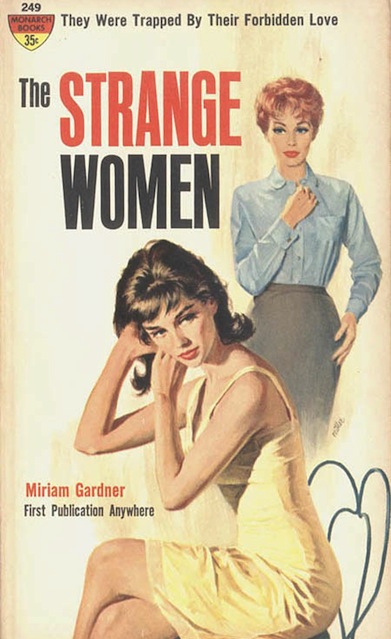 Her hands, instinctively seeking softnesses, seemed to have a life of their own. She pressed Jill's head to her breast, feeling the soft lips close over the hardening nipple with strangely pleasant pain. And then she lost track of separate sensations, conscious only of softness, of sweetness, of wave after wave of spreading small shivers that carried her along on their crest.
Through it all she was conscious of immense surprise, of growing tenderness like a counterbass chord pattern to the singing in her nerves. As the diffuse patterns swept to their summit, she heard her own cry, hardly more than a whisper, like a final, explosive cadence; then silence.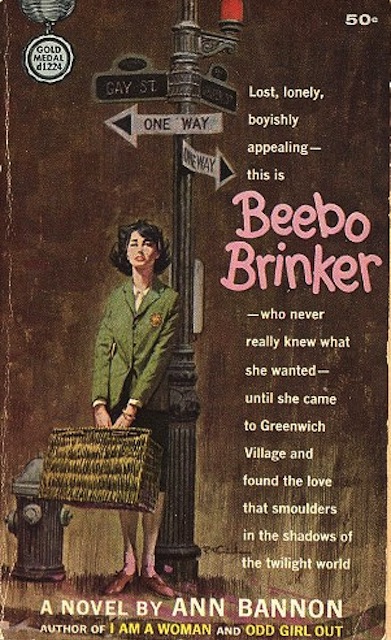 It was no longer a question of proceeding with caution, of "learning how." The whole night passed like an ecstatic dream, punctuated with a few dead-asleep time-outs, when they were both too exhausted to move, even to make themselves comfortable.
Beebo had only a vague idea of what she was doing, beyond the overwhelming fact that she was making ardent love to Paula. She seemed to have no mind at all, or need of one. She was aware only that Paula was beautiful, she was gay, she was warmly loving, and she was there in Beebo's arms: fragrant and soft and auburn-topped as a bouquet of tiger lilies.
Beebo couldn't let her go. And when fatigue forced her to stop she would pull Paula close and stroke her, her heavy breath stirring Paula's glowing hair, and think about all the girls she had wanted and been denied. She was making up, this night, for every last one of them.
Summer Camp by Anne Herbert (1963)
Peggy thrust her forearms under Beth's armpits, cupped the big breasts. She wrestled the nurse into a supine position, then threw herself upon her.
Wildly, the girls locked to each other. Their bodies were gleaming now with sweat. Lip to lip, breast to breast, thigh to slippery thigh, they heaved and gyrated, ecstasy rising like a lava wave. Eyes rolled, fingers clutched, light hair mingled with darker. Skin slithered slickly and long legs kicked. Murmuring endearments, panting like beasts, the counsellor and the nurse felt the white-hot wave engulf them, drown them in fiery exaltation while their very guts shook and convulsed.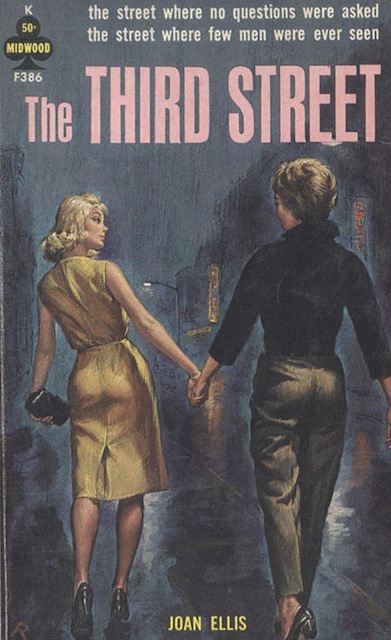 Karen lay breathlessly, waiting, savoring. Fingers roamed about her body, building the desire Karen knew was there, that Stan could only kill. Pat's tongue withdrew from hers, but brought fresh heat to the white mounds of panting satin. Finding a delicate pink nipple, she teasing it into flame. A low sound of excitement escaped Karen and she moved beneath Pat.
"Easy, darling," Pat said, and Karen sensed her pleasure.
And then they both forgot to be easy because Pat's mouth was loving her, building her to a wild impassioned crescendo that was vocal in its demands. Pat's hands caressed and teased, everywhere that desire soared. Pat, so gentle, so sure. Pat's fingers brushing her thighs, Pat's mouth finding the core of her. Oh, God, Karen thought, she couldn't bear it! She couldn't bear this another moment!
---
Some of these excerpts (and many more, both sexy and unsexy) were found in from novel excerpts in Katherine V. Forrest's Lesbian Pulp Fiction: The Sexually Intrepid World of Lesbian Paperback Novels 1950-1965. Strange Sisters is an excellent compendium of lesbian pulp covers and is the source of some of the covers in this post.