I used to dream of being that culinary bad bitch who makes her own artisanal ice cream. Churning up batches of sweet creamy goodness whenever my heart desired.
I dreamt of it so much that I finally marched into Macy's one day with newly received gift card, headed straight to the kitchen appliances, grabbed the Cuisinart ice cream maker I'd decided on, and bought it without hesitation. I was on a mission – in and out in ten minutes. Of course my next stop was the grocery store so I could buy all the ingredients for the peanut butter coffee ice cream recipe I picked out. I got home, ran to the kitchen with my new toy, started reading the manual and the recipe and was immediately halted. I didn't realize I'd have to wait hours for the ice cream freeze bowl to cool, or that most ice cream bases have to sit overnight. Frustrated, I cleared out space in my freezer for the bowl while cussing myself out for not realizing how long of a process this would take. I wanted ice cream RIGHT then. I decided to pick things back up in the morning, and when morning came I did not make that ice cream base. I didn't make it the next day either, or the next.
You wanna know when I made it? Never.
I left all my visions of becoming an ice cream queen behind, used all the ingredients for other things, and y'all! I left that freezer bowl IN MY FREEZER FOR THREE YEARS. For Three. Entire. Years. Of COURSE every few weeks I decided this was the week I would make ice cream so I might as well leave it in there so I'd be ready, and of COURSE it was never true.
That three year mark was a couple months ago. I finally stared down that freezer bowl, admitted to myself that it was unrealistic to keep up the belief that I'd "make ice cream soon" and needed to give up that shelf real estate to the Trader Joe's Mac and Cheese that had been blocking the door all week. I don't know what the act of defeatedly removing that freezer bowl from its home of three years did to me, but something snapped. The next day all I could think of were ice cream recipes. The day after that I was buying ingredients, and the following day? I made ice cream. I made ice cream so hard! This ice cream to be exact. Fresh lemon juice, buttermilk, and thyme blended together and frozen into the sweet, tart, bright and herby ice cream of my literal years long dreams. There's something about lemon and thyme that really makes me ship them as a couple. I think it's cause they both have floral flavor notes, but thyme is smoky and earthy where lemon is bright and acidic. Together its a complete and well balanced experience. The silky sweet but still slightly tart buttermilk comes through for the finish and all I can think of is taking another bite. And I do because I've waited three years for this, but you don't have to. You can have this ice cream that smells like sunshine and tastes like spring in your life tomorrow morning if you grab your ice cream maker (or borrow one from a friend/neighbor/parent) and head to the store now. And yes, I'm advocating for ice cream for breakfast. Especially if there's blueberries on top.
Ingredients:
1/2 cup fresh lemon juice
3/4 cup granulated sugar
1 cup buttermilk
1 cup whole milk
1 cup heavy cream
2 sprigs of fresh thyme
4 large egg yolks
Makes 1 quart of ice cream
1. Prepare your ice cream maker according to manufacturer's instructions. For me, this meant placing the ice cream maker bowl in the freezer so it would be ready to go in the morning. 
2. Measure out your fresh lemon juice, then add 1/2 cup of the granulated sugar (leaving 1/4 cup behind for later) and whisk until fully dissolved. Set aside.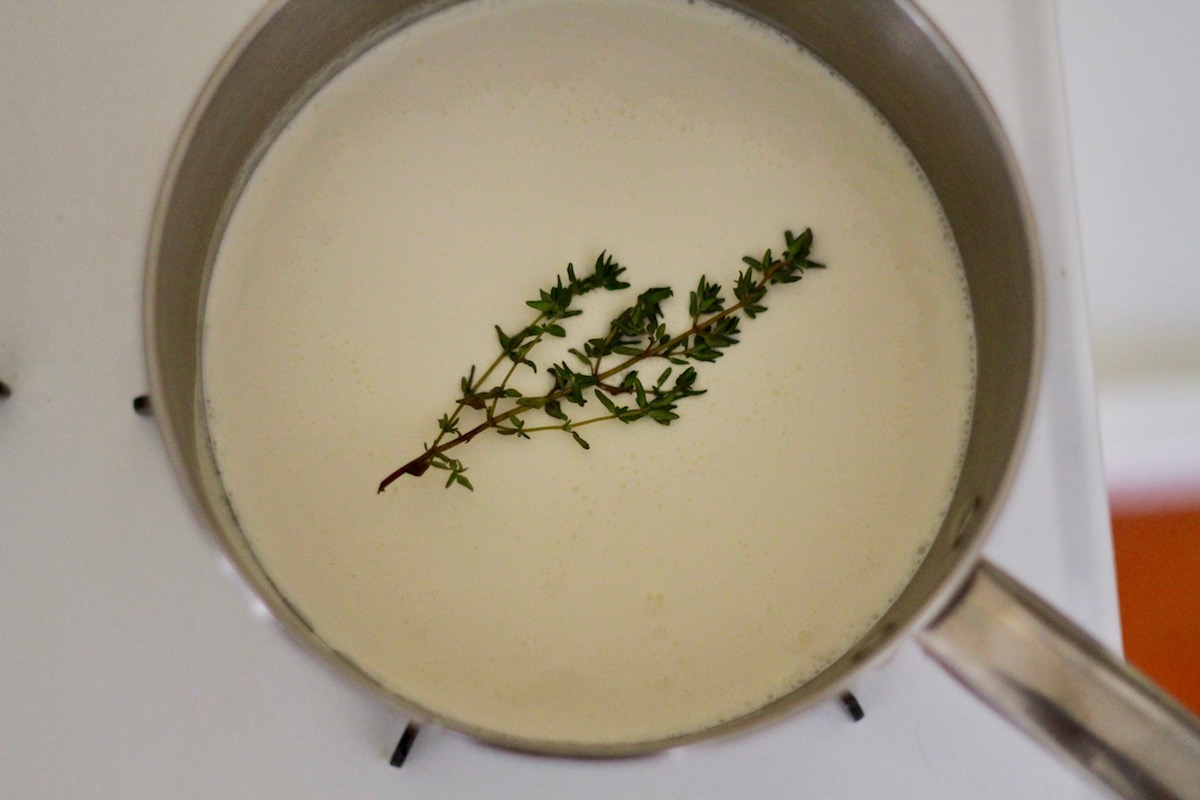 3. Grab a medium sauce pan and add the buttermilk, whole milk, heavy cream, and thyme sprigs. Place over medium-low heat, stirring regularly and heat just until it starts to steam. Reaching a simmer or boil will cause the mixture to curdle which is not the mood we're going for here, so keep an eye out and once you see steam rising from the surface, remove it from the heat. Scoop out the thyme sprigs and set them aside. 
4. Now, in a large bowl, whisk the egg yolks and remaining 1/4 cup sugar together.  Next you're gonna temper them.  Here's a video to help you out in case you're stressed about this part. Take about a quarter cup of the warm milk mixture (ice cream base) and slowly and steadily pour it in a thin stream into the egg yolks while whisking quickly and continuously. You'll know you went too fast if you end up with little clumps of scrambled eggs, the mixture should be smooth. Once you've tempered the eggs, pour the mixture back into the pan with the rest of the ice cream base and lemon juice mixture. Put the thyme sprigs back in as well and heat again over medium-low for 2-3 minutes or just until it steams, whichever comes first.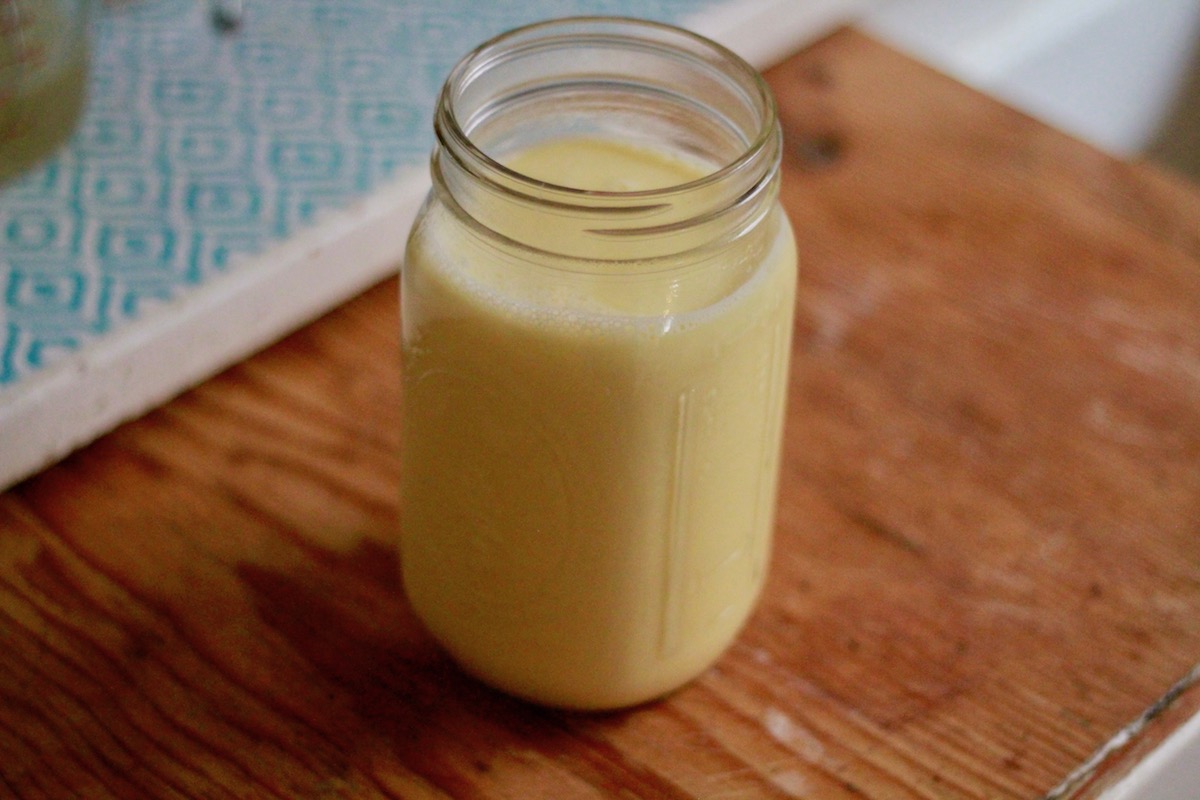 5. Strain the ice cream base into a bowl, add the thyme sprigs back and pour everything into a large preferably glass jar or container with a lid. Refrigerate overnight.
6. It's finally ice cream time! Assemble and power on your ice cream maker according to your manufacturer's instructions. Remove the thyme sprigs from your ice cream base then pour the chilled ice cream base into your ice cream maker's freezer bowl, and allow to churn until it's nice and thick. For me this was about 20 minutes.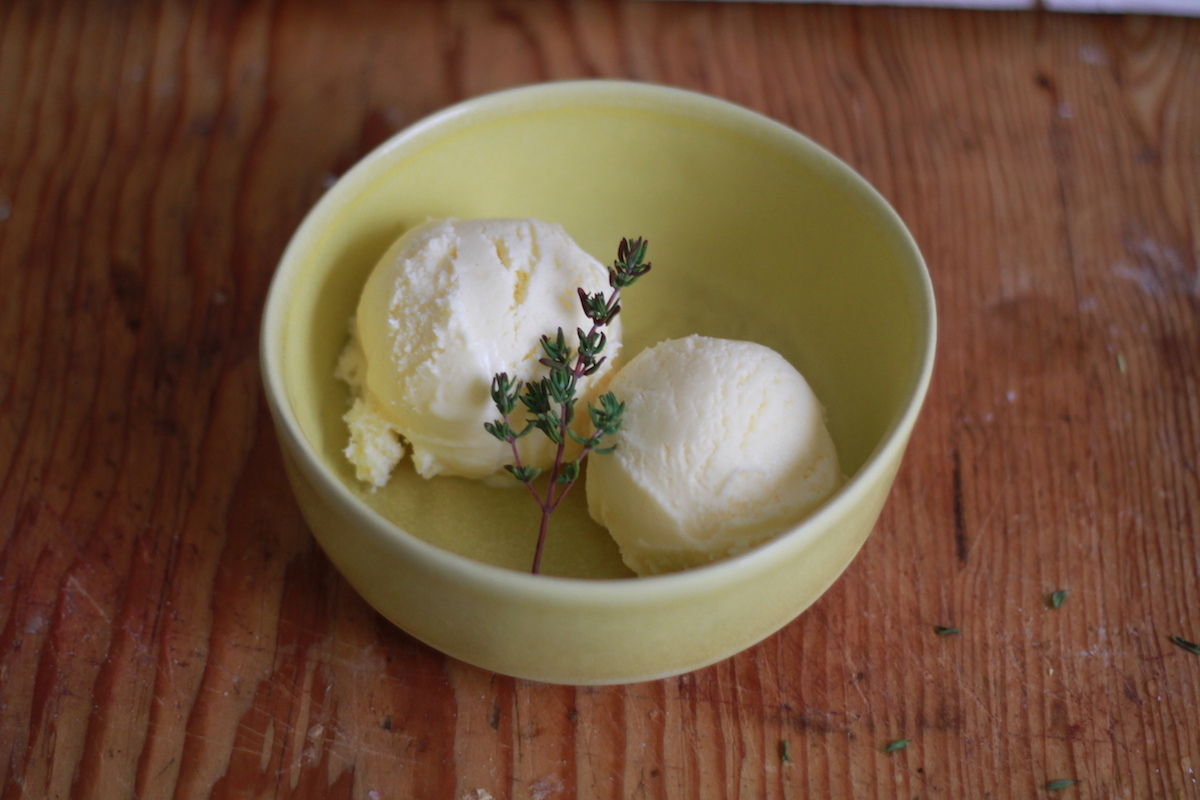 7. If you're into a soft ice cream consistency you can eat some right away, but if you like it to be scoopable, transfer to a freezer safe container and freeze for 1 hour before serving.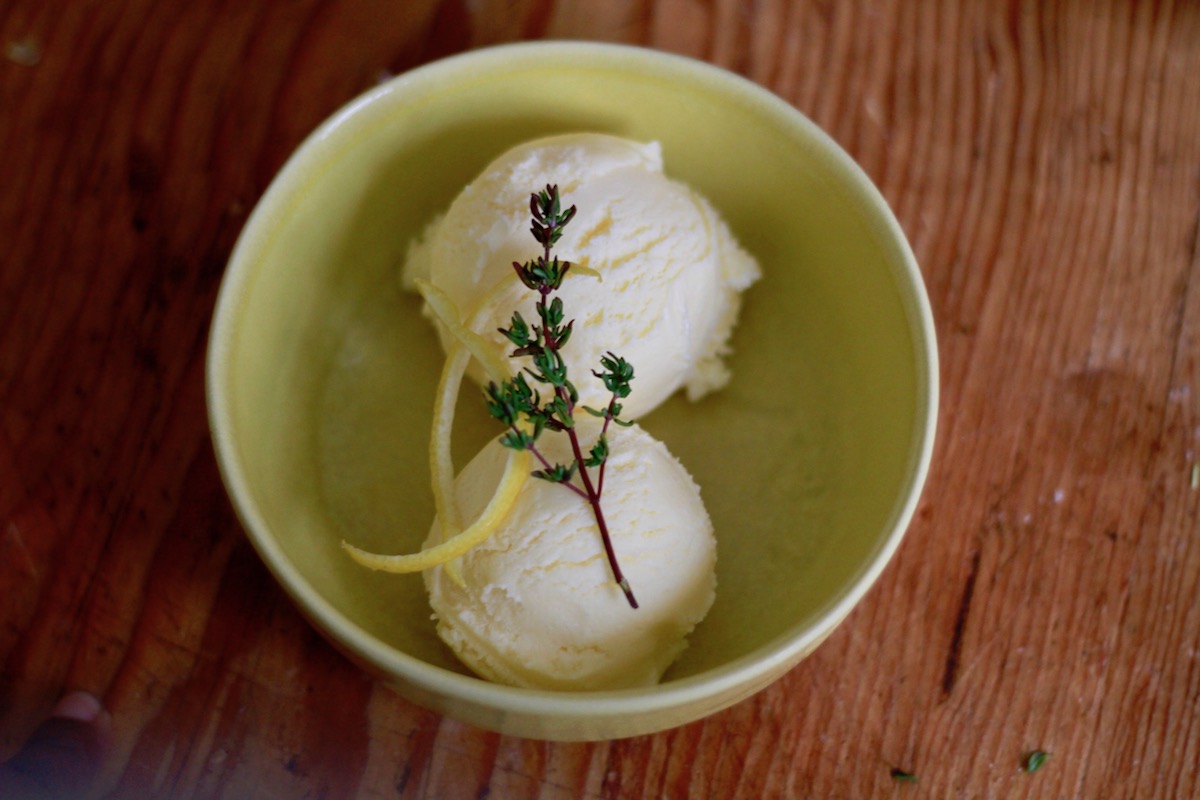 Viola! You are now that bitch that makes artisan ice cream.