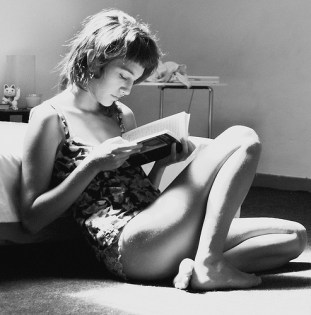 The Lambda Literary Awards, first presented in 1989, exist to honor "the finest lesbian, gay, bisexual and trans literature" written each year. Previous winners have included Kate Bornstein, S. Bear Bergman, Audre Lorde, Leslie Feinberg, Adrienne Rich, Eileen Myles, David Sedaris, Michelle Tea, Alison Bechdel, and Ali Liebegott. It reads like a roll call of some of the most influential and interesting queer writers today. But the Lambdas haven't always been reserved for queer writers; the policy was officially changed to reflect that the awards would be given to LGBT-identified writers in 2009. Some of the board's statement on the decision at the time:
Today we continue to be excluded in heterosexual society as we have been historically. Our books are taken from the shelves of libraries all over the country and even from the website of Amazon.com this year. It is more difficult to be an LGBT writer now than it has been in many decades, more difficult to make any income from our written words, much less a living. Publishers have closed, stores have closed, the markets seem to be shrinking with each passing day. It seems more urgent than ever that LLF be as active and supportive a service organization as we possibly can be for our own writers, and that's what we're working on, with a Board that could not be more passionate in our commitment.
Not everyone was pleased with the controversial announcement. Now, as of a press release on Monday, that policy is changing again.
The release reads, in part:
After careful consideration of all [the] factors, the Board crafted a new policy designed to honor excellence in writing about LGBT lives. The new policy has three components:
LGBT authors will be recognized with three awards marking stages of a writer's career: the Betty Berzon Debut Fiction Award (to one gay man and one lesbian), the Jim Duggins Outstanding Mid-Career Novelist Prize (to one male-identified and one female-identified author), and the Pioneer Award (to one male-identified and one female-identified individual or group). Awards for the remaining Lambda Literary Award categories will be based on literary merit and significant content relevant to LGBT lives. These awards will be open to all authors regardless of their sexual identity. The award judges will still be self-identified LGBT.
It's a tough call, because all these considerations are true. It's true that LGBT writers need support as much as ever, and that the places from which that support might be forthcoming are few and far between. Does it follow that "the finest lesbian, gay, bisexual and trans literature" can only come from that self-identified group? It's possible that it does. But the LLF seems to no longer feel like it can commit to that in print. If an awards panel of self-identified LGBT judges feels that the material has literary merit and is relevant to their lives and their community, how much does the author matter? It's a little bit of a question of literary theory, but it's maybe more a question of how important creative expression is to our community's identity, and how much we have staked on telling our own stories.
The Awards have never been without their problems — for instance, only male- and female-identified award winners? For queer writing? (Which would they mark S. Bear Bergman as?) But it is a cornerstone of how we talk about and recognize queer literature, and the way we think about and categorize the art we create says something about our community. What is gained from restricting the awards to self-identified LGBT writers, and is it worth giving up for the principle of a non-exclusionary policy?