Most of us have spotted it on Halloween night: the Racially Insensitive Costume. The kind that makes you want to avert your eyes and feel empathetic embarrassment for the dressee. Within the Halloween sea of sexy [insert plural noun], you'll spot the occasional person dressing up in yellowface, blackface and other "faceswp_postsassociated with various races and ethnicities, from the "geishawp_postsand the "illegal immigrantwp_poststo the "terroristwp_postsand other stereotypical caricatures of race and ethnicity.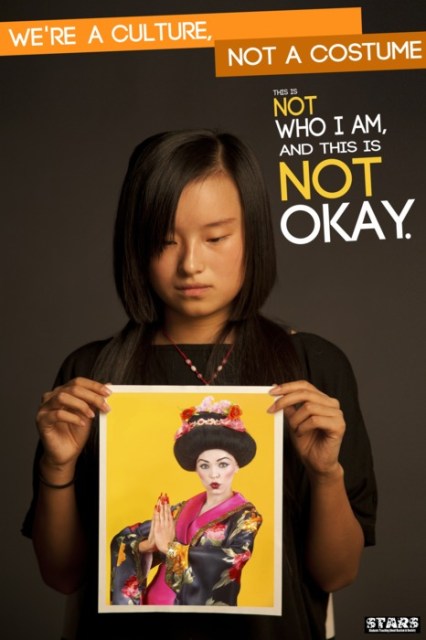 In response to these unsavory costumes, Ohio University student group, STARS (Students Teaching Against Racism in Society) recently put together a Halloween poster campaign with the tagline, "We're a Culture, Not a Costume.wp_postsThe five posters feature individuals of different races and ethnicities holding up signs that depict people dressing up as racial and ethnic stereotypes — an Asian/American student holds a picture of a woman in yellow face wearing a kimono, white face paint and black wig; a Native American student holds an image of a man with face paint, a feather on his head and a sign that reads "Me wantum piece [sic] … not war.wp_postsAbove the image is the sentence, "This is not who I am, and this is not okay."
I am totally in support of this campaign. And while the blog post containing these posters has been widely re-blogged by mainstream websites like The Huffington Post and Jezebel, what has bothered me the most is people's negative responses to the campaign. Most individuals don't seem to understand why the "We're A Culture, Not A Costumewp_postscampaign is important or relevant — often to the point of angry reaction ("Why are you trying to control the costume I'm going to wear?wp_postsand "You're too sensitive!") to shameless parody (such as the campaign's spin-off meme, listed on KnowYourMeme.com).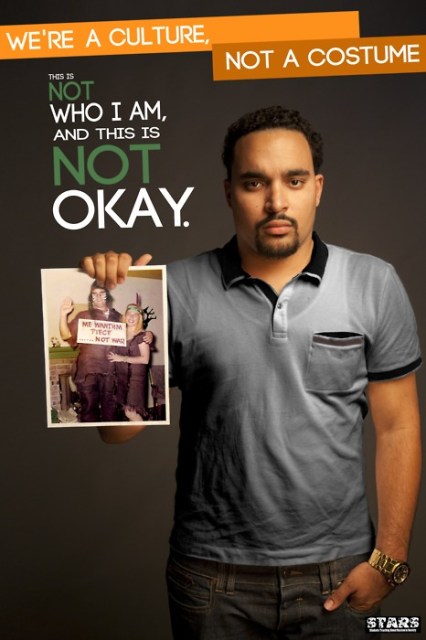 The responses vary, but generally range from the "I don't see how this is offensive and I'm going to equate race with some arbitrary / fictional groupwp_posts(like this comment on Clutch Magazine):
ugh seriously….people are so sensitive nowadays!! Its Halloween!! I wonder what kind of backlash I'm going to get from the turtle species for dressing up as Leonardo from TMNT.
Problem: Equating people of color with turtles.
To the "let's make fun of the discrimination that minorities face and equate it with the 'struggles' of a nonexistent / arbitrary / majority groupswp_posts(like this, from the Know Your Meme comment thread):
Every year, on Halloween, I see people walking around, dressed as though they are Zombies […] Do you think that's funny? It's isn't. The Walking Dead didn't choose to be that way […] And yet, still I see walking hate crimes, laughing in the face of the social status that Zombies have attained after years of discrimination, humiliation and dehumanization.
Problem: Equating people of color with fictional monsters; mocking the efforts of people of color to acquire civil rights.
And the "why is racial sensitivity relevant? I'm [insert nationality] and I wouldn't be offended if you dressed up as people from [insert location]wp_posts(as found on The Huffington Post):
I went as Cleopatra one year–should Greeks be offended? […] I'm of Hungarian, Russian, and Polish ancestry. Would I be offended if someone dressed up like that? NO! So few people even know anything about Hungary that I would be impressed if they even tried an authentic costume!
Problem: Assuming there is anything even remotely authentic about these costumes.
And even the "the perpetuation of racism is not my problem, it's your ancestors' problemwp_posts(as seen on Jezebel):
I refuse to act differently because of the actions of former white people (not my family, who were indentured servants and little better than slaves). [Dressing in blackface is] human and it's not malicious. Our history is not yours. Please don't impose it on us.
Problem: Racism? What racism?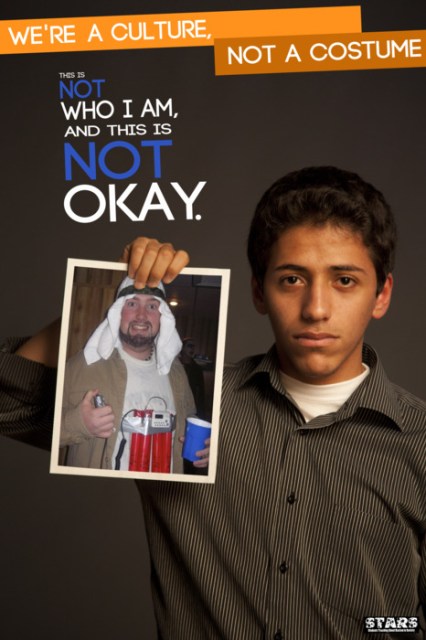 The thing that unites these responses is people absolving themselves of responsibility for perpetuating racial stereotypes, whether it's "we shouldn't be sensitive about race,wp_posts"the problems associated with discrimination aren't realwp_postsor "racism is not my problem.wp_postsThere's a disconnect here where people don't realize that the perpetuation of racial caricatures like "the geishawp_postsin Halloween costumes means perpetuating an assumption about people of a certain race — that an Asian woman ("the geisha") is quiet, demure, sexually available, subservient and naïve. You're not dressing up as an Americanized, somewhat derogatory, not at all historically accurate version of high-class Asian prostitute in a vacuum. You're presenting a culturally derogatory image of a woman, and this notion of the "geishawp_postsis mapped on to every Asian / American woman.
I won't be the first person to say that I look Asian just about every day of the year. And because of this I've been approached by men randomly on the street who will try to take me aside and say things to me like, "I love your black hair and your white skinwp_postsor "Talk to me like you talk to your peoplewp_postsor "I love women like you.wp_postsThey'll even try to kiss me when I've never seen them in my life (true story: some of the guy's spit landed on my face before I managed to dodge his mouth; I rushed to the nearest bathroom to wash my face eight times with soap and was late for class). This happened a lot particularly when my hair was long — I'd be accosted from time to time by random people, or by people I knew who creepily wanted to date an Asian girl. It's been happening from high school to present.
People have automatically assumed several things when they have accosted me: 1.) I don't know how to speak English. 2.) I am automatically straight. 3.) I am sexually available. 4.) I am demure to the point of dudes shoving their lips in my general direction and assuming that I'm totally okay with it. Where are these assumptions coming from? GEE I DON'T KNOW.
The same thing happens with the other racial stereotypes noted in the "We're a Culture, Not a Costumewp_postscampaign. People of color become stereotypes, and stereotypes affect the way people of color are treated. Playing in to racial stereotypes for even one evening out of the year is perpetuating an uncomfortable system of oppression, where individual people become concepts, stereotypes and objects of ridicule. Honestly, if the "geisha / Asian girlwp_postsstereotype is taken to its logical extreme, the conclusion is unsettling — I become an exotic sex object open to (and receptive of) sexual advances, domination and possession by other people. The power dynamic inherent to this stereotype is ultimately terrifying.
The problem with racially insensitive Halloween costumes: While people who dress up as racial stereotypes might be able to take the disguise off the day after Halloween, people who are minorities can't. And the resonance of everything from a geisha to a terrorist stereotype persists long after the end of October.