Annika's Team Pick:
I love living in San Francisco, but it's not always easy being queer in the Golden State. LGBTQ Californians still face routine prejudice in schools, the workplace and at the ballot box (Exhibit A: Prop 8). But despite the best efforts of a shrinking intolerant minority, we're making progress! Earlier this month a petition to overturn the Fair, Accurate, Inclusive, and Respectful (FAIR) Education Act failed to collect enough signatures before the deadline to place it on the 2012 ballot. The FAIR Education Act, which was signed into law by Governor Jerry Brown on July 14, is a landmark bill requiring public schools to include the contributions of LGBTQ people, those with disabilities, and people of color in history and social science lessons. In other words, schools will no longer be able to only present the cisgender able-bodied straight white male version of America.  Which, as Sebastian discussed earlier this week, will do more to provide a safer environment for queer students than wearing purple once a year.
The FAIR Education Act is a promising step in the right direction, true social justice in Californian is still a long ways off. Enter the LGBTQ Reducing Disparities Project, which is attempting to document this inequality through a study on the psychological and emotional tolls of discrimination. The project, which is funded by Equality California, is collecting information from LGBTQ Californians through an online survey; the results of which will have a direct impact on how mental health services are operated in the state.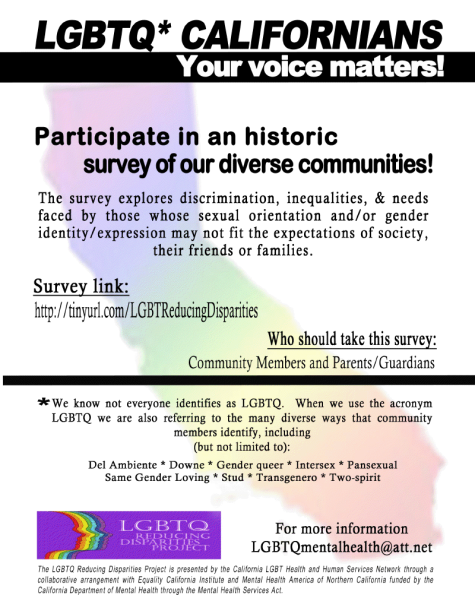 Daniel Gould at Equality California explains more:
"This survey is for any Californian who is or might be LGBTQ, as well as parents/guardians of LGBTQ individuals. We particularly want to be sure we reach people whose cultural, ethnic, and racial community traditions have other ways of describing sexual orientation and gender identity, such as same-gender-loving and Two-Spirit.  It is vital that we show the true diversity of California in this survey! 
This groundbreaking, community-based research project will document the inequalities and discrimination faced by LGBTQ people which negatively effect mental wellness. The resulting report to the California Department of Mental Health will include recommendations for eliminating the disparities LGBTQ people experience.  This historic report will be shared with LGBTQ communities in the spring of 2012 and disseminated to health and human service providers throughout the state. 
This project is presented by the California LGBT Health and Human Services Network through a collaborative arrangement with Equality California Institute and Mental Health America Northern California funded by the Mental Health Services Act."
So if you live in California, please take 15 minutes to make your voice heard! The link to the survey is: http://tinyurl.com/LGBTReducingDisparities