Last Thursday, schools, companies, media outlets, and individuals were encouraged to "go purple." No doubt, many of you wore purple t-shirts or, for those of us lacking purple wardrobe options, turned your facebook or tumblr purple to celebrate Spirit Day — a GLAAD-sponsored event to show "support for LGBT youth and to speak out against bullying."
I don't know the statistics, but I'm guessing a LOT of people "went purple."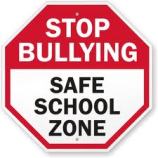 Are our schools safer today because of it? I mean, yes, I tweeted for #SpiritDay; I tried to find something purple to wear. I showed my support and stood up against anti-LGBTQI bullying. I'm all for solidarity and visible allies, but really – is a gay kid safer in school today because half of his peers wore purple? Will the trans girl in 9th grade start feeling safer now?
The question here is not about the efficacy of #SpiritDay and similar campaigns against bullying; what I'm questioning is the scope of these efforts. What does it mean for LGBTQI kids to be safe at school? Does school safety only mean protection from physical and verbal assault?
Let's step back for a second, to our school days. Maybe some of you are still in school and won't have to move through the cobwebs in memories like the rest of us (I turned 24 recently and middle school seems like ages ago).
What did you get out of school? An education? Fine motor skill development? A friend group? A loose direction in life? The development of an ultimately lifelong passion? A respect for authority and walking in straight lines?  Probably these things. How about identity development? I wish we were all in a room so I could say, "If you are LGBTQI, could you please raise your hand if you believe you had room to develop your identity at your preK-12 schools? Your full identity?"
Listen, I'm not raising my hand, and my queer and trans friends aren't either. Almost every school lists in their mission or their educational philosophy that they want to develop the "whole child." They're shaping people not manufacturing educated machines. And yet, there was a very large part of my identity that I didn't even get to explore in school. I am of course talking about my gender identity and my sexuality. I was talking to friends about this recently – about how I was never offended by the fact that I couldn't bring a girl to a dance, for example (oh remember that at this time I was presenting as a woman, didn't know I was a guy, and sort of identified as a lesbian). My friends agreed that we just assumed school wasn't the place for that part of us.
But looking back, school did seem to be the place for that part of my straight and normatively-gendered peers. Heterosexual, cisgender people, for the most part do get to develop their gender and sexual identities in school. From early childhood through high school graduation, schools seem a little more committed to the development of the whole child for those guys.
How?
+ Through the families depicted in children's books
+ Role-playing options in PreK and Kindergarten
+ Characters studied in literature and film
+ Gender segregation (boys' line, boys' sports, boys' bathrooms)
+ Pairings supported by faculty and administration (whether it's a teacher commenting on the cute "couple" in 1st grade or the awarding of Homecoming King and Queen – again, gendered – to the well-liked straight couple in high school)
+ Alums whose weddings or work are celebrated in publications
+ Sex education classes that only talk about heterosexual sex or marriage
+ Teachers who talk about their personal lives and families
+ Photos on seemingly-benign motivational posters or in textbooks
+ Science courses that only address the binary sexes and genders in biology
+ History lessons that include spousal and familial details for heterosexual figures, but not homosexual figures.
School life from age 3 to 18 has images of what it is to be boys and men and what it is to be girls and women in our society. If you're lesbian, gay, bisexual, queer, transgender, intersex or even gender non-normative (the butch girl or effeminate man), don't count on having your gender or sexual identities represented, let alone celebrated, like those identities of heteronormative students. How can students feel safe – or even BE safe – at school when parts of their identities are ignored and even denied 8 hours a day, for 13-14 years?
Adrienne Rich (who has been one of my heroes since I was 15 or 16 – she's brilliant right? I saw her do a reading once and almost died… but now I'm rambling) captured the significance of this lack of room for identity development in her 1984 essay Invisibility in the Academe:
"When someone with the authority of a teacher, say, describes the world and you are not in it, there is a moment of psychic disequilibrium, as if you looked into a mirror and saw nothing."
Yes, the bullying needs to be curbed. It is hurting our students. It is the catalyst leading them to take their lives. But I think the bullying would be far less potent (and perhaps even less frequent on the end of the bullies themselves) if LGBTQI students weren't looking into a blank mirror.
So I'm going to use Rich's simile here and say that real school safety for LGBTQI students means being able to look in that mirror and see themselves, and to see possibilities of whom they might become. Being safe in school in its simplest step means being visible and having the affirmation and opportunities that come with that visibility.
Rich also writes that invisibility is a way of fragmenting people, of preventing them from integrating the different components of their identities and feelings and ideas. This invisibility is preventing schools from completing their missions of developing the whole child. Further, years and years of invisibility of one group and visibility of another unconsciously establishes a hierarchy – why wouldn't a straight, masculine student (who sees himself and his relationships celebrated daily) feel his identity was more valid or "better" than the effeminate bisexual male student (whose sexual and gender identities have never even been discussed in school)?
PFLAG made a checklist of things educators can do to make schools truly safe for non-heteronormative students:
A harassment policy or student bill of rights that explicitly includes sexual orientation and gender identity/expression that is being implemented, monitored, and enforced
Annual, mandatory training for teachers, counselors, librarians, nurses, and other staff about sexual orientation and gender identity, and on anti-GLBT bullying intervention
A student group for GLBT and straight students
Accurate information in the library on GLBT lives, history and issues
Accommodations for students identifying as transgender including bathroom use, dress codes and athletic teams
Resources for parents and family members of GLBT people
A GLBT-inclusive curriculum – including current events, history, social studies, literature, political science, health, arts, etc.
I think there is way more to be done. LGBTQI people and lives need to be fully integrated into school life. We need to reevaluate the purposes of certain traditions and social events, and expand them to be inclusive of non-normative genders and non-heterosexual pairings. We need LGB families to be presented as normally as heterosexual families (though admittedly less frequently, as representative of the population) – for example, the problem solving questions in children's math classes could every once and a while include two dads. Or cheesy posters that feature girls with short hair and loose-fitting clothing? And how about publishing a story about an alum working for marriage equality or trans rights? It's not just about studying the contributions of LGBTQI people, it's about reflecting our presence in day-to-day life. It's about giving students a reflection of their own identities and providing them with role models and ideas of what it means to emerge from adolescence and into adulthood with those identities.
Don't get me wrong – I want to thank all of you for going purple. I commend the anti-bullying campaigns, I commend the LGBT-support campaigns, the GSAs, the messages of stopping the hate. They're all doing important work. But you know? Even more, I commend the school districts making LGBT-inclusive curriculums mandatory.
There's so much more work to be done. We can't keep failing these kids. In the Rich quote I used earlier, she concludes with this:
"Yet you know you exist and others like you, that this is a game with mirrors. It takes some strength of soul–and not just individual strength, but collective understanding–to resist this void, this nonbeing, into which you are thrust, and to stand up, demanding to be seen and heard."
Five year olds, 6 year-olds, even 16 and 18 year olds don't always have that kind of strength. Some don't even know others like them exist. It's up to us — the advocates, the educators — to help them fight this invisibility, to help them be seen and heard, and to give them the opportunity to develop their whole and many identities.
—
In addition to writing for AS, Sebastian is a research assistant to Dr. Jennifer Bryan, a psychologist and educational consultant who works with schools to help them acknowledge and address (and ultimately embrace) the diversity of sexual and gender identities, expressions, and behaviors among their students, families, teachers and communities. If you're looking for more on this topic or for a more strategic and pedagogical approach, keep an eye out for her book, From the Dress-Up Corner to the Senior Prom: Navigating Gender and Sexuality Diversity in PreK-12 Schools, which will be coming out next year.