This week marks the first time in literally a year that I've felt excited to be on Google+. I created my account on July 10, 2011 because everyone told me I had to if I wanted to stay relevant, and I've pretty much ignored it ever since. But today all that changes, thanks to Maker Camp!
Maker Camp is exactly what is sounds like: a camp where you learn to make things. But there's a twist — this camp is virtual, which means it's completely free and available to anyone who has an internet connection and a Google+ account (cue the long-awaited relevance). It's actually designed for teens, but I'm 23 and still super excited, so I imagine many other humans of various ages will be pretty psyched, too. I mean, who doesn't want to learn how to make rockets, animated gifs, and mason jar terrariums? And that's just in Week One! And you don't even have to leave your house or put on pants! This is definitely our kind of camp.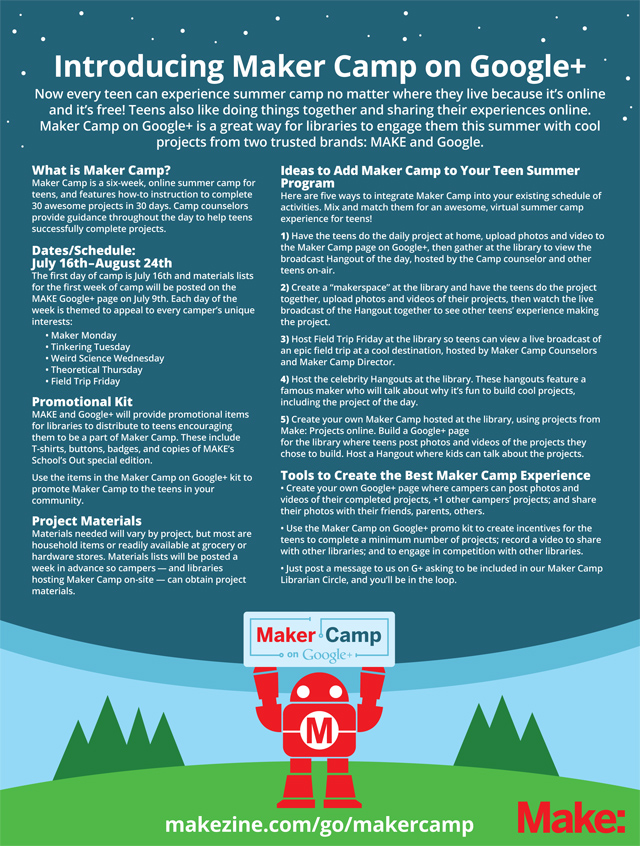 This exciting situation runs from July 16 until August 24 and presents a total of 30 potential projects, one each day. There will also be a weekly virtual field trip. Those of you paying close attention at home will realize that camp started yesterday, but no worries — better fashionably late than never! You missed out on making rockets but you'll be okay. Anyway! The projects are posted a week in advance so campers have time to gather the necessary materials, most of which are household items or readily available at grocery or hardware stores. In the mornings, an expert camp counselor will introduce the new project and give tips and advice on completing the project successfully. Campers can upload photos of their project and tag them with the designated tag for the day (today is #TinkeringTuesday, for example.) Counselors will host an afternoon hangout on Google+ to talk about the project and admire all the pretty hash-tagged pictures.
You can watch this video to learn more from camp director Nick Raymond. He seems really enthusiastic and adorable, plus he just blew my mind talking about a 3-D printer.
What do you guys think? It seems like if you ever once enjoyed any of our DIY articles, you'll probably love this camp. I'm feeling particularly thrilled because of my own very complex relationship with camp as a teen. Personal story time: I attended sleepover camp for nine years both as a camper and as a counselor, and I really wanted to love it. And while I do have some good memories from my time at camp, the truth is, I often felt like an outsider. I never liked the right activities, never had a date for the social, never got picked as Color War captain, never wanted to talk about the same things all the other girls were talking about. I was never cool enough. But I kept begging my parents to send me back because I had convinced myself that I was supposed to love camp. Even now, I'll readily tell people that I'm a "camp person." I'm not sure what that means, but I do know that the stereotypical sleepover camp experience was probably not right for me.
But you know what could have been right for me? A camp like this one. The fact that it's inclusive (insofar as you have a computer and internet access, of course) and free means a lot, because it gives teens and even preteens — or unteens, like myself — one more accessible space to just be people. People who want to make terrariums and not feel weird about it. Maybe right now a young person is participating in Tinkering Tuesday: Animated Gifs and feeling really good about themselves. And hey — maybe that young person is you! In which case, please show us your gifs immediately.
Happy Tinkering Tuesday everyone!