In completely shitty news from the world of retail and white-washing disguised as "brand management," it seems that Wet Seal, a popular retail company that sells "fast fashion at affordable prices" to tween and teen girls, has a top-down racial discrimination policy in place. The New York Times reports that three of the retail company's former managers have filed a race discrimination lawsuit against their former employer, seeking back pay as well as general and punitive damages. They are also hoping the case will become a class-action suit that will represent more than 250 current and former black managers at Wet Seal.
Most people experience discrimination without having any hard evidence to present in a court of law (which I'll get back to in a second) but the thing about this case is that there is, actually, hard evidence to present to a court of law. A major piece of the lawsuit is the inclusion of an email sent to lower-level managers in March 2009 by the company's then senior vice president for store operations, Barbara Bachman, after she inspected several stores. "African American dominate — huge issue," she wrote.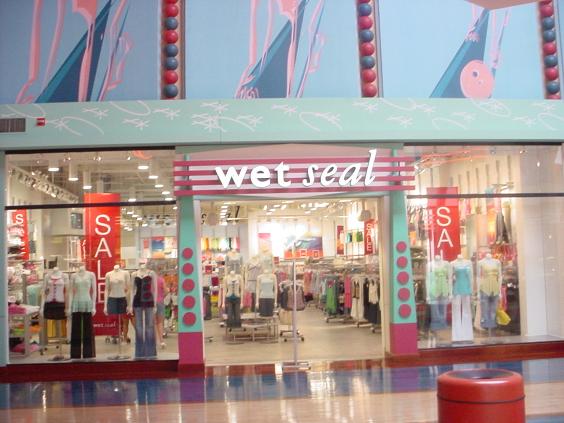 The day after the offending email was sent, plaintiff Nicole Cogdell was terminated. Kai Hawkins, another plaintiff who worked at a different mall (in a different state) was told to either hire more white employees or risk losing her job. Both Cogdell and Hawkins also witnessed other explicit incidents of racism within the corporation: Cogdell heard Bachman say she wanted someone with "blond hair and blue eyes" to work at the store, and Hawkins reported many black employees lost their jobs with no explanation, despite their positive performances at work.
Wet Seal, which is based in California, has issued a statement denying "any and all allegations of race discrimination" while claiming they're "an equal opportunity employer with a diverse work force and customer base." They've promised to "vigorously defend this matter," however I suspect they're going to have a little bit of trouble seeing as there is tangible evidence against them.
I'm not the only one thinking (well, let's be real, hoping) the company's defense won't hold up in court. The plaintiffs' lead lawyer, Brad Seligman, seems confident that his clients have a strong case. Seligman is no stranger to corporate class-action cases for discrimination in the work place: he was the lead lawyer in the class-action gender discrimination suit against Wal-Mart, which was filed on behalf of more than 1.5 million women. Riese wrote about the case and the outcome extensively (spoiler: Wal-Mart won, justice lost) and the whole thing was really upsetting and infuriating. So what gives Seligman "high-hopes" for this case?
Basically, unlike the Wal-Mart case, Wet Seal's discrimination is "an explicit corporate policy…This is old-school, straight-up discrimination," Seligman said. While it's unbelievably horrible that this is still happening, the fact that the discrimination occurring was so blatant and so sanctioned by the company may actually help the plaintiffs in court.
This is not the first time a situation like this has come along. The Times recalled the 2003 federal lawsuit against Abercrombie & Fitch for similar race biases in hiring. But what is really troubling when examining these lawsuits is thinking about all the times things like this happen in the world and we do not hear about people going to court. Racism is real, just like sexism is real, but as Rachel wrote when analyzing the Supreme Court decision over the Wal-Mart class-action case, "there isn't strong interest from the judicial branch [in our country] in confirming that women, and other groups, face institutionalized oppression…"
Hopefully in the case against Wet Seal, there will be enough evidence to make a strong case in court and win justice for the employees who lost their jobs thanks to a company's misguided and bigoted branding strategy. But what about the people who do not have tangible evidence for the oppressions they face? What about the workers whose bosses don't send explicit emails but rather make lewd comments or pass over them for promotions? What about the workplaces that just happen to pay their male staff more than they pay their female staff for the exact same job, and no one is the wiser because it's not polite to ask your co-workers what they're making? What about all these small, insidious, seemingly "not a big deal" injustices that happen every single day? A 2000-2002 study by The Poverty Action Lab on racial discrimination in the hiring process found that "resumes with white-sounding names received 50 percent more callbacks than those with black names." Researchers determined that "a white name  name yielded as many more callbacks as an additional eight years of experience."
These things add up to be a Very Big Deal, but as of this moment, we cannot always take legal action to make things right. In fact, we rarely can. In this economy, we're more likely than ever to put up with perceived injustice at work in order to make ends meet, and cases like this could go a long way towards making sure having to make that choice isn't the rule, but the exception.