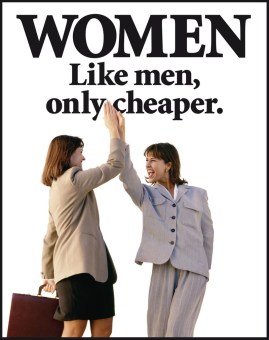 Tomorrow, the Supreme Court of the United States will conduct a "limited review" of the Ninth Circuit's order upholding class certification in what will be (if all goes well tomorrow) the biggest f-cking class action lawsuit of all time: Dukes v. Wal-Mart. From The Impact Fund:
Four lower court rulings over the past ten years of litigation have agreed that plaintiffs have presented significant evidence of company-wide pay and promotion discrimination, that Wal-Mart has lagged far behind its competitors in its promotion of women, and that Wal-Mart has failed to address gender discrimination against its female employees despite being well aware of its prevalence.
If the Supreme Court sides with the defendants, aka Wal-Mart, it could bring "a virtual end to employment discrimination class actions filed under Title VII of the Civil Rights Act of 1964." So it's kinda important that we win this thing.
+
Do the Women of Wal-Mart Constitute a Class?
Well, firstly — you might be wondering — what is a class action lawsuit? It's basically when heaps of plantiffs, all making basically the same claim, collectively bring their claim to court or file a lawsuit. This particular lawsuit was initially filed in June 2001 by six current/former Wal-Mart/Sam's Club employees, including  some who alleged female employees were discriminated against when making decisions about making promotions, job assignments, training opportunities and pay decisions:
Generally stated, plaintiffs allege that women employed in WalMart stores (1) are paid less than men in comparable positions, despite having higher performance ratings and greater seniority; and (2) receive fewer promotions to in-store management positions than do men, and those who are promoted must wait longer than their male counterparts to advance.
Wal-Mart has spent the last ten years staving off this lawsuit by arguing that these million or so women represented by the six do not constitute a "class."
In other words — Wal-Mart's not saying these allegations aren't true, they're just saying it's not really fair to lump all these cases together because "the numbers alone make this case impossible.":
Plaintiffs' entire case is premised on the discretion afforded individual managers to make pay and promotion decisions, yet they concede that this "subjectivity" is exercised within a company-wide framework of objective standards that prohibit discrimination and require equal employment opportunities.   Discriminatory decisions made by individual managers within such an objectively nondiscriminatory system are, by definition, aberrational and unauthorized rather than "common" or "typical."
In 2004, Judge Martin J. Jenkins of the district court sided with the plantiffs, and subsequently the Ninth Circuit (that's right, our favorite Judge Vaughn Walker) also sided with the women of Wal-Mart. So now Wal-Mart is taking this ish to the Supreme Court, which The New York Times says is a good idea for Wal-Mart:
It is probably a smart legal move, given the court's clear tendency to rule in favor of corporations, particularly when big classes or discrimination claims are involved. We hope the court resists the temptation to toss out the case, which would force women to file lawsuits one by one. Wal-Mart's employment practices deserve a full hearing.
+
Who is a Part of this "Class"?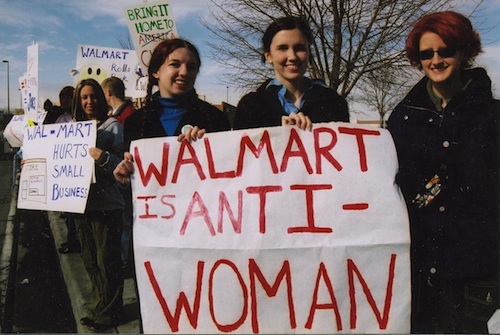 In 2004, the Court declared "all women who worked at Wal-Mart retail stores in the U.S at any time since December 26, 1998" a member of the "class." Jenkins found that statistics on Wal-Mart, the largest private employer in the world,  showed female Wal-Mart workers were paid less than men in every region and most job categories with a salary gap widening over time.
If you're a woman who works at Wal-Mart, then, you're a part of this class being represented by these six women. If we win, lady Wal-Mart employees will have a chance to exclude themselves from the class and later, if they choose to be included, will have a chance to file a claim to share in the settlement.
The payout would be in the neighborhood of a billion dollars — which honestly isn't much when you consider that Wal-Mart makes $405 billion in annual sales and operates more than 8,400 stores.
The Waltons personal assets qualify as the richest private wealth accumulation ever in the whole world, running over $8 billion dollars. Wal-Mart is considered one of the most profitable companies in America. The average yearly earnings for a Wal-Mart employee is $13,861. The cost of the Waltons' Jet fleet totals over $125,350,000.
The Evidence
The evidence used in the case will include statistics as well as the testimonies of these 115 unique declarants. I've read like 50 of them with my mouth agape. You must read a few or at least read summaries of some of the cases here.
These women report dozens of instances each of being passed over for promotions or otherwise hoodwinked out of positions they'd expressed interest in and were qualified for. There's little things too; like men getting requested time off or store transfers while women were denied those same requests. Some women report working 60 hours a week without overtime and still making less than their male counterparts. Eventually many of these women realize that it's just never going to happen, and they leave Wal-Mart, many of these women get fired for speaking up, and many stay at Wal-Mart because they don't have any other options.
Each singular incident of gender discrimination — and each brief contains at least 10 or 30 — of gender discrimination — would be enough to make a woman want to quit her job and enough to send a Smith College Women's Studies undergrad into epileptic fits. Women moved their families around the country in a wild goose chase. Women devoted 20 or 30 years to a company that basically cockblocked them at every turn. It's like the Biggest Cockblock of All Time.
Even more shocking are the reports of sexual harassment in these reports which, when reported, were categorically dismissed, ignored, or, often ridiculed.
+ [District Manager Salby] was very abusive in his language, and called me a "worthless broad."
+ [Mr. Miller] forced his hand down the front of my shirt  and grabbed my  left breast. I was 17 years old at the time.
+ The district manager would sometimes hold the lunch meeting at Hooter's restaurant… during the meeting, I was forced to listen to lots of discussion among the male managers about the waitresses' breasts and butts and which sexual experiences they would like to have with them… I knew from attending the annual company meetings that the male managers often went out together to strip clubs after the meeting.  It seemed to me to be an accepted part of the culture.
+ Support Manager Gilbert Hill, my direct supervisor, repeatedly harassed me with comments and questions such as, "when are we going to have sex?"
+ [Co-Manager Ryan] would, frequently, touch me including brushing up against me, touching my butt and massaging my shoulders… at one point he asked that I join him in his hotel room… he pushed me against some pallets and put his hands up the front of my shirt.
+ [Produce Manager Donnie Gateley] was constantly saying things to me like, "Can't you wear lower cut shirts?" "You have a nice ass."  "Women are put on this earth for one thing.  My wife isn't any good at it.  Are you?"
When the lawsuit was filed in 2001, women occupied 14 percent of store manager positions and more than 80 percent of lower-ranking supervisory jobs with hourly raises.
Average Hourly Rates
4 Largest Hourly Jobs, 2001
Total
%

Average $/Hour
Job
EEs
Women
Men
Women
000101 DEPT HEAD
63010
78.5
11.13
10.62
000201 SALES ASSOC
96539
68.1
8.73
8.27
000469 HD/HM O/N
28408
57.8
9.56
9.29
000501 CASHIER
49261
92.6
8.33
8.05
Total All Hourly
463526
70.6
9.55
9.26
Following the 2001 lawsuit filing, the company made a few changes — for example all open positions are now posted electronically, preventing the men in charge from keeping women out of the loop altogether. Directly after the suit was filed, it's reported that many women were immediately promoted, though subsequent pay raises never came.
In my non-expert opinion, it seems like in many Wal-Mart stores, management is just a Boy's Club. The men want to keep their culture of lunch meetings at Hooters, misogynistic jokes and field trips to strip clubs and they do this by locking women out of the Club.
+
Wal-Mart Has a Proven Track Record of Being an Asshole:
Is this new for Wal-Mart? Hardly. Here's just one of many lawsuits filed against Wal-Mart, this one from 2007:
The United States Labor Department announced yesterday that Wal-Mart Stores had agreed to pay $33.5 million in back wages plus interest to settle a federal lawsuit that accused the company of violating overtime laws involving 86,680 workers.
Department officials said many of the violations involved failing to pay time-and-a-half premium pay to managers in training, programmers in training and some other salaried, nonmanagerial employees when they worked more than 40 hours a week.
The department also accused Wal-Mart of violating the Fair Labor Standards Act, the federal law that governs overtime, by failing to properly include factors like bonuses and geographical differentials in calculating the base wages to determine the time-and-a-half rate.
A lot of communities, then, have successfully rallied to keep Wal-Mart out of their city. In New York, the Gay and Lesbian Task Force got involved, too:
The task force criticized Wal-Mart for denying employee benefits to same-sex partners and for failing to prohibit discrimination based on gender identity. By comparison, the group said two other chain stores with a strong presence in New York, Costco and Walgreens, did much better.
You can (and should) read the heaps of evidence against Wal-Mart on this website. These offenses include driving down wages in urban areas, costing the taxpayers millions in Medicaid given to uninsured Wal-Mart employees, using illegal surveillance techniques to monitor union activity while refusing to monitor its parking lots, which have become hotspots of violent crime, exploiting its workers abroad, using illegal immigrant labor, destroying small businesses, abusing the environment and violating Clean Water Act policies.
Have you seen Wal-Mart: The High Cost of Low Prices? If not, you must. This section discusses some of the gender and racial discrimination that happened at Wal-Mart:
There's a rally tomorrow in support of the Women of Wal-Mart, and you should go. You can read more about the case here.