Mike Huckabee has never been and will never be a Friend To The Gays. For instance, he argued last year that we should not be allowed to adopt children because we might think of them as puppies and forget to walk them, or something. Most recently – with the specter of the 2012 presidential election looming – Mike Huckabee has taken up aggressively proselytizing an anti-gay gospel to his constituents.
While speaking at the Rediscover God In America Conference (which may recall for some people the America Return To God Prayer Movement, which is led by none other than William Tam of Prop 8 Trial fame), Mike Huckabee called upon his listeners to become "spiritual warriors" who will fight against social issues like marriage equality for queers at all costs. He specifically mentions that you should be willing, as a straight person, to risk your job security to somehow battle the progress of equality. This is interesting in that it pointedly addresses those strides queer activists have made in getting disciplinary measures in the workplace to respond to discrimination; Huckabee is indicating that he and the ideology he represents see these as a kind of conspired hindrance to the real work that either God or the GOP or both (I mean really, what's the difference?) have called them to. Or I could just let him explain it.
Of course, the "Rediscover God In America" Conference is probably a pretty self-selected group of people; it's sponsored by the American Family Association, and its website claims that "We are called to be thermostats that set the moral temperature of our country and not thermometers that only measure the moral temperature." (???) Huckabee is a politician and not stupid, so he's going to tailor a reactionary message to a reactionary group of people. But his decision to attend is telling, and his speech there has been widely reposted and discussed. And once you've digested that situation, think about this: Mike Huckabee is currently the top GOP candidate for 2012.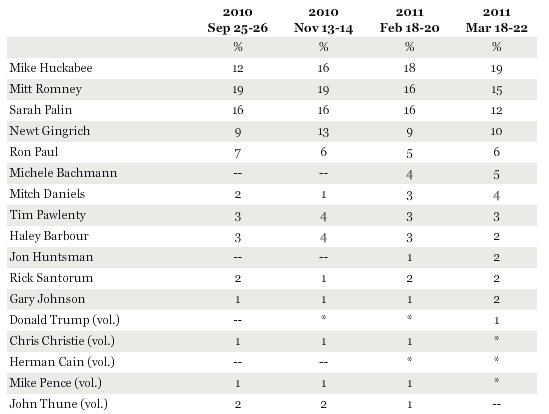 That's not good news, but not really shocking either. It's a confirmation of what we've seen anecdotally for a while; that in response to a dire economic situation and a more progress on gay and social issues than was predicted (in the space of just a few months, DADT was repealed, DOMA was declared unconstitutional, binational gay couples are having their deportations put on hold, and public opinion is developing more strongly in favor of gay marriage than ever before, with even people like Cindy McCain and Barbara Bush supporting it), conservatives are reacting by retreating into more extreme and less rational political views. The Tea Party's bizarre rise to power is maybe the most obvious example, but the Republican-majority House's knee-jerk attacks on anything even vaguely 'liberal' in sensibility (NPR, Planned Parenthood, giving up on DOMA and therefore saving the country millions of dollars) is maybe a more dangerous one. Even if Mike Huckabee's "spiritual warriors" stay mostly in the conference arena and don't actually try to battle social progress in the workplace, they're the face of the current political climate, and that should be taken seriously.