Barbara Bush, one of George W. Bush's twin daughters, has released a short video supporting same-sex marriage in New York as part of a campaign sponsored by the HRC.
She says this:
"I'm Barbara Bush, and I'm a New Yorker for marriage equality. New York is about fairness and equality, and everyone should have the right to marry the person that they love. Join us."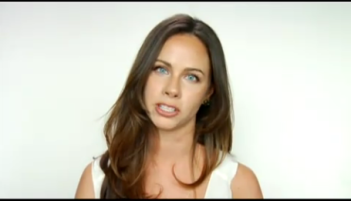 Gay marriage is not currently legal in New York, and the New York Senate rejected same-sex marriage legislation in late 2009. However, New York is one of the states expected to consider legalizing it in 2011 (Maryland and Rhode Island are the others).
According to the New York Times, the video confirms a position that Bush has had for a while:
"For years, those close to her say, she has surrounded herself with gay friends — at Yale, where she was an undergraduate, and in New York City, where she worked in the design world.
C. Brian Smith, a friend from college who is gay, recalled that the Yale Ms. Bush inhabited was filled with openly gay students and unbothered by questions about sexuality. 'She had that mind-set,' he said. 'She was loved by the gay community at Yale.'"
While no family members have commented on the video, last spring Laura Bush, on Larry King to promote her memoir Spoken from the Heart, said, "When couples are committed to each other, and love each other, they ought to have, I think, the same sort of rights that everyone else has." Later in the same interview she said that legal abortions are important.
In the memoir itself, she wrote that for the 2004 election, she asked G.W. to not make gay marriage a significant issue which he could not POSSIBLY have ignored less — he opposed gay marriage and even endorsed a constitutional amendment to ban it.
Bush joins Meghan McCain and Cindy McCain in the "we are way smarter than our Republican family members" camp. The GAY REPUBLICAN "EPIDEMIC" marches boldly on, led, obviously, by ladies! Democrats can feel free to catch up any time.
Vanity Fair says Bush is stealing Meghan McCain's thunder by releasing this video:
As The New York Times's Michael Barbaro notes, Bush "rarely speaks out on American political issues, making her foray into the same-sex marriage debate so striking." McCain, who frequently speaks out on all American political issues, does not appear to have responded on Twitter or the Daily Beast to Bush's column. Her only tweet since the story broke has been off-topic: "It's really been quite the few days – I DID NOT pose for Maxim magazine, people doctoring my head on a body doesn't make it real."
McCain's silence on Bush's declaration is not at all surprising given the frostiness the McCain-Bush relationship… McCain [has] expressed dissatisfaction about a 2008 visit to the White House, where she had met with Jenna and Laura Bush. "It seemed like a place of almost cultish exclusivity. I was excited to be there, but they weren't excited to have me." She added, "I hope Laura and Jenna Bush won't be angry for me for dishing like this. But I use Taylor Swift as a model: if you don't want her to write a song about you, don't give her a reason."
Is it remotely meaningful that Republican women are more likely to be pro-gay than their male relatives, or is it just easier to hold an unpopular position when you're not the one in office? Certainly having a gay relative does not a pro-gay politician make, or is it a woman thing?
In 2000, when Vermont voted on Civil Unions, men in the legislature voted against the idea by a margin of 60-41. Women favored it by a four-to-one margin, 35-9. A recent poll in Michigan found men opposing gay marriage (57 to 33 percent), and women supporting allowing it (44 percent to 43 percent). In New York, men back gay marriage by 54 to 40 percent and women support it by 58 to 34 percent.