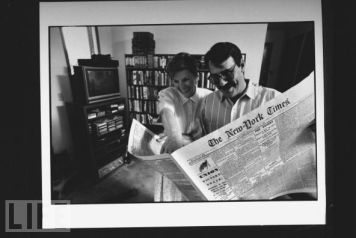 When I was a kid growing up in Michigan, my parents subscribed to the Sunday New York Times, which I anticipated with frenzied fervor — as a lifetime Magazine junkie, The Magazine was, of course, a primary draw of the Sunday edition. But mostly I wanted to wistfully flip the giant pages of the Arts & Leisure section, dreaming of my big bright future on Broadway, where I could perform songs from Oliver & Company while wearing a softball uniform.
Over a decade later, living some monumentally depressing variation on that childhood dream, my roommate — a passionate liberal with strong feelings about the importance of donating to Planned Parenthood even when you're broke — subscribed to the paper edition despite being able to access it online. She'd fold it into squares to read on the subway and then these multi-folded situations would eventually find their home in our couch or on the floor of our East Harlem hovel.
Call me a liberal elitist douchebag but seriously — The New York Times is an institution, and it's important, and I don't want to see it die. We are, after all, staunch opposers to The Death of Print. The Death of Print is bad and The Times is a thing that's done a lot of stuff. It's a thing and if we want it to remain a good thing (and it's not always a good thing — they f-ck up a lot too) then at some point the reader has to pony up. Starting today, The New York Times is asking its heavy users to pay for the content, because the ad sales model for online media just isn't enough to run their business properly:
… the introduction of digital subscriptions is an investment in our future. It will allow us to develop new sources of revenue to strengthen our ability to continue our journalistic mission as well as undertake digital innovations that will enable us to provide you with high-quality journalism on whatever device you choose.
The Great Paywall of New York begins today. Readers can enjoy 20 free articles a month but any more than that will require a $15 monthly payment. $15/month gets you digital access and an app for your phone. $20 also gets you an iPad app, Times Reader 2.0 and NYTimes App for the Chrome Web Store. $35 a month combines the features of the other two plans, logically enough.
However, The Times didn't tell us until today about this:
The Onion says it best in this satiric bit:
"In a move that media executives, economic forecasters, and business analysts alike are calling "extremely bold," NYTimes.com put into place a groundbreaking new business model today in which the news website will charge people money to consume the goods and services it provides. "The whole idea of an American business trying to make a profit off of a product its hired professionals create on a daily basis is a truly brave and intrepid strategy," said media analyst Steve Messner, adding that NYTimes.com's extremely risky new approach to commerce—wherein legal tender must be exchanged in order to receive a desired service—could drastically reduce the publication's readership.
"To ask NYTimes.com's 33 million unique monthly visitors to switch to a cash-for-manufactured-goods-based model from the standard everything-online-should-be-free-for-reasons-nobody-can-really-explain-based model is pretty fearless. It's almost as if The New York Times is equating itself with a business trying to function in a capitalistic society."
I think the $15 pricetag is slightly steep — $10 seems better. But I'm not against the paywall idea and I hope it works. Here's why:
1) Writing is worth something: When we refuse to pay for quality writing, we are saying that quality writing is worthless. That makes me want to spill whiskey all over your laptop.
2) The New York Times has people on the ground. Blogs (including us) wouldn't have anything to write about if institutions like The Times didn't have reporters finding the news in the first place.
3) This is called investigative reporting. This is the most necessary type of reporting and there's rarely enough funding for it. From Gawker:
The New York Times cover story about a euthanizing, beleaguered hospital during and after Hurricane Katrina in New Orleans dropped today. It's estimated to have cost around $400,000. What kind of reporting does that buy? The expensive, endangered type.
The kicker? The New York Times didn't even have the money to fund that investigation. Most of the bill was footed by ProPublica, a independent non-profit "newsroom" doing investigative journalism. Gawker again:
What's going to happen to investigative journalism because of blogs? Important question with hard answers nobody's sure of yet (except for blogs doing their own investigative journalism, maybe). Just as important, however, are the number of readers who are going to click through to Fink's story. Bringing into question a $400,000 story's costs misses the larger point of how much the actual information contained within the story's worth to readers, and who's going to capitalize on it. Again: it took a non-profit to get a story of this size out there. Who's going to pay for the next Watergate? Or the next Torture Memos? And what kind of models are going to emerge from it?
4) Its digital version is pretty f*cking good.


For the parents of the children who are grooming themselves to be Ado Annie and for the die-hard liberals who need to spread the paper out all over the floor in order to properly consume it or fold it into portable pieces for a morning commute, your home delivery subscription automatically includes digital access including tablet and mobile versions of the site.
What do you think? Is this an ethical decision? Is it worth it? Are you just gonna use the hacks described here instead of subscribing? Do you think The New York Times writes so many stupid articles that you really don't give a shit? Is anyone else excited about UNLIMITED ACCESS TO THE ENTIRE ARCHIVE IF YOU PAY THE FEEEEE!?!?!??!?!!