Today Barney Frank will re-introduce ENDA, with trans-inclusive language protecting people from being fired from their job because of their sexual orientation or gender identity or presentation, to the House of Representatives. Since this bill has already been brought up and voted down approximately infinity times, no one, including Frank, have high hopes for its passage this time. A trans-exclusive version passed back in 2007, but since then legislators have not been very enthusiastic about including trans people in the protections it offers, and since the current strict conservative House majority has already proven its agenda to discriminate against groups much larger than the trans community, like "all women and most other humans," chances are basically zero . So why bother to bring it up at all? Frank says it's not about the legislation itself, but the rallying point it provides.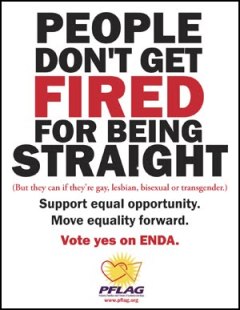 Although the bill is not expected to move forward in the House under the leadership of Speaker John Boehner (R-Ohio), Frank, talking with Metro Weekly on Sunday, March 27, says, "It's an organizing tool. Obviously, with the Republicans in power, you're not going to get the bill even considered."
But, Frank — the longest-serving out member of Congress — says, "I'm going to be urging people to spend their time talking to those who have voted in the past for ENDA and are supportive of ENDA but where we're not certain they're still with us on the transgender issue."
Frank is also quoted as saying that far from being overshadowed by DOMA proceedings, he thinks we'll see ENDA passed in Congress before we see a legislative repeal of DOMA. His reasoning is a little unclear – it's true that high-profile social issues like marriage might be more meaningful for the House to oppose, especially with an election looming, but the history of the legislature leaving the trans community behind again and again is hard to ignore. But he's right in that there's a momentum building around pro-gay legislation despite the climate in Washington DC, and it's possible that some of that love will eventually find its way to the trans people who have been made to wait for it for so long. This doesn't look like ENDA's year. But if Frank is right, maybe it's coming sooner than people think.