Spoilers below for the final season of Grace and Frankie.
When Grace and Frankie landed on Netflix seven seasons ago, I knew I would love it, but I thought I'd love it in a two-thirds of 9 to 5 kind of way. I had no idea it would become one of the best love stories in TV history, and one of my personal favorites. The show begins with the end and ends with the beginning: the lives Grace and Frankie had that they thought they wanted, and the life they make together that's better than everything that came before it. Season 7B finally finds both of them coming to fully realize what they mean to each other, just as they're also fully accepting what it means to be women of a certain age. Frankie's arthritis gets so bad she can't paint. She also hears from a psychic that she'll be dying soon and decides to just roll with it and start investigating her own murder. Grace finds herself flattened by panic attacks at just the thought of losing Frankie, the only other person besides her dad that ever made her feel safe. (Lily Tomlin is daddy, confirmed.) And they're still trying to land a deal with a toilet manufacturer for their latest invention.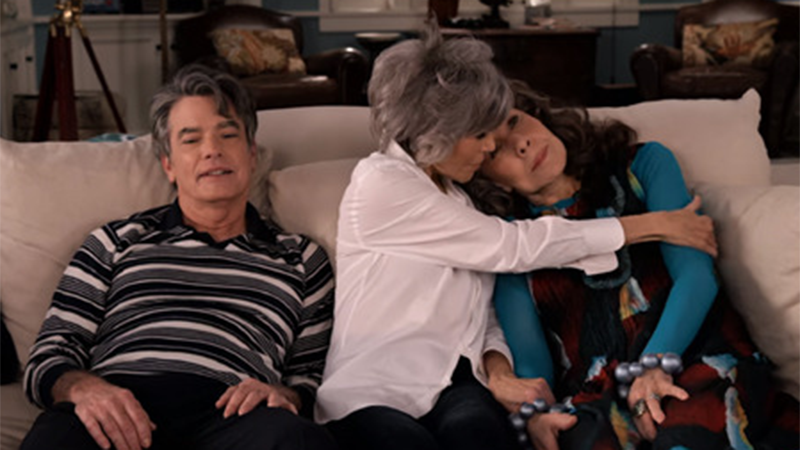 Of course, there's one thing that's been coming between them now for a while and it's got to go. It's Nick. He moves in to the beach house when he gets out on parole, but finds that Frankie is always stealing away Grace's, cuddles and that honestly both of them just want him to move back out, even if it means he has to go back to jail. When Nick confronts Grace, he asks her if she can even begin to understand how humiliating it is that every day he wakes up and wants to have a life with her, and every day she wakes up and wants to have a life with Frankie. She doesn't argue. She says she always knew it, from the very beginning, and she never should have married him. Frankie throws a martini in his face, but does accept his proffered chocolate bar.
Wild that Nick's entire storyline can be summed up by the Dolly Parton classic "Jolene."
As usual, Grace and Frankie's entrepreneurial spirits collide with Frankie's daily life hijinks, and the series begins its final arc with Grace and Frankie fighting because Grace has a meeting planned with some toilet people but Frankie is throwing herself a funeral the day before her predicted death. The only way Frankie's family can get her out of her bedroom is by convincing her to officiate an impromptu wedding for Bud and his fiancee — but, of course, the whole thing gets overtaken with Grace and Frankie yelling at each other about how much they love each other. Right there at the wedding altar on the beach. And then! Grace electrocutes them by spilling some gin on Frankie's microphone!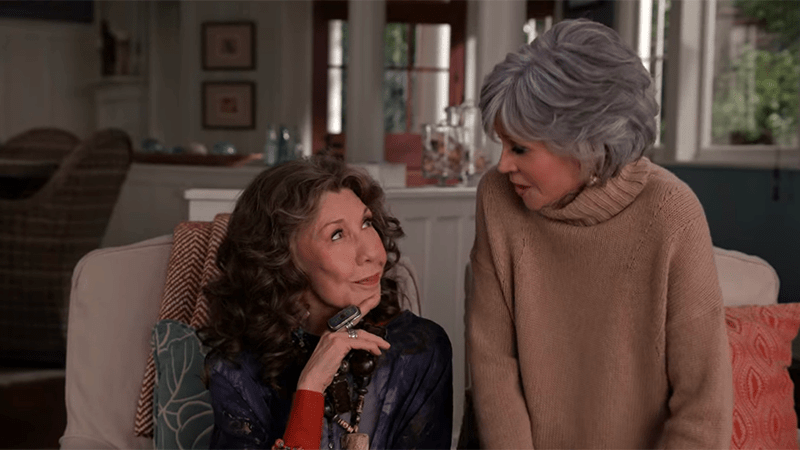 Luckily, it turns out their guardian angel is Dolly Parton, who greets them with a "Hello, girls!" in heaven, and a few choice 9 to 5 callbacks. She agrees Grace can go back to earth and live out her life, but she says Frankie has to stay. Until they, once again, confess their love for each other. They don't know how to say goodbye! They would never be apart if they didn't have to be! And yeah, sure, it's scary getting older and watching your body do all the weird and painful things that come with aging. But dammit, they want to grow older together! Whatever hard stuff happens, they'll never be alone! Frankie says they haven't had enough time together, that she wishes they'd known each other since they were little girls. Dolly Parton is so moved, she wheels around in her office chair and leaves the "return" stamp out on Frankie's paperwork.
Back in the earthly realm, Frankie starts saying goodbye to her paintbrushes, but Grace shows up behind her, puts her hand on top of Frankie's, and helps her hold the brush so they can paint a picture of themselves frolicking gaily in the ocean waves.
I was so worried the show was going to kill one or both of them. But they lived! Grace and Frankie lived — happily ever after.